What's Your Shakeology Horoscope?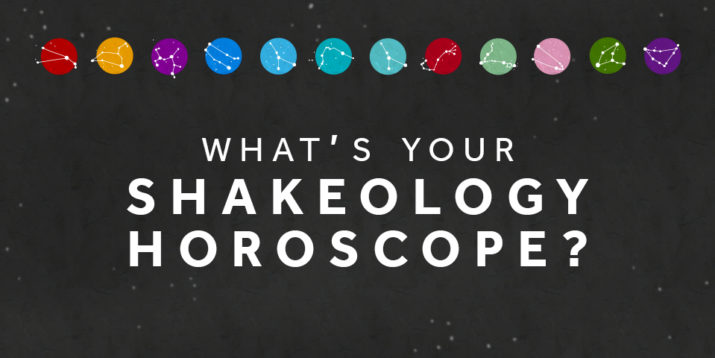 "It's Mercury in retrograde!" — says everyone when anything goes wrong.
Missed that morning meeting? ("Sorry/not sorry, but I blame Mercury retrograde.")
Box of donuts fell into your mouth? ("Don't look at me; Mercury is in retrograde!")
Astrology is a fun (albeit unscientific) way to see how the planets and stars may influence your path in life.
Your zodiac sign can reveal much about your personality, strengths, weaknesses, and even the types of foods you prefer.
So, if you're the type of person who checks their horoscope to see how your month is going to unfold, then let the universe guide you to your next Shakeology recipe!
Check your sign to see what to blend up next…
Pro tip: Don't have Shakeology yet? Talk to your Team Beachbody Coach or find your favorite flavor here.
Shakeology Recipes for Your Zodiac Sign

Aries (March 21 – April 19)
Aries is the sign of the Ram and people born under this sign are bold, ambitious, and confident. And that boldness extends to foods — you prefer strong flavors like ginger and grapefruit, among others.
Here are your Shakeology recipes:
No-Blend Green Ginger Latte Shakeology
Pumpkin Ginger Spice Shakeology
Pro tip: Get even more Shakeology recipes here!

Taurus (April 20 – May 20)
Tauruses are practical, responsible, and persistent. You seek out succulent, rich-tasting flavors and foods like avocados, bananas, coconut milk, cloves, and cardamom.
Try one of these Taurus-approved Shakeology recipes:
Ricotta Pound Cake Birthday Bites
Berry Avocado Breakfast Smoothie
Sweet Creamy Coffee Shakeology
PB and Banana Latte Shakeology

Gemini (May 21 – June 20)
Geminis are curious, playful, and clever and the Shakeology recipes reflect playful flavors, too. Think: citrus, mango, cucumbers, celery, and greens.
Here are some Shakeology recipes that people born under the sign of the Twins will enjoy:
Ambitious Strawberry Orange Shakeology

Cancer (June 21 – July 22)
Cancers are highly imaginative, tenacious, and persuasive. Some of your favorite foods are arugula, peaches, coconut, figs, and greens.
Shakeology recipes for Cancers include:
Coconut Dreamy Cookies & Creamy Shakeology
Frozen Strawberry Peach Bellini
Chocolate Birthday Cake Shakeology

Leo (July 23 – August 22)
Lions are natural leaders, creative, and passionate. You gravitate to the flavors found in foods like sunflower seeds, watermelon, peaches, and spinach.
Here are some Shakeology recipes that will satisfy your flavor cravings:
Mint and Avocado Green Smoothie
Watermelon Mint Lemonade Shakeology
Tropical Watermelon Splash Shakeology
Strawberry Watermelon Surprise Shakeology
Isabelle Daikeler's Signature Shake

Virgo (August 23 – September 22)
Virgos are practical, hardworking, and logical. Your tastebuds prefer raspberries, blueberries, almonds, and mint. Get your flavor fix with one of these recipes!
Mint Chip Cookies & Creamy Shakeology
Chocolate Raspberry Shakeology
Glow Getter Shakeology (with a scoop of Collagen Boost!)
Limitless Blueberry Blackberry Shakeology
Powerful Blueberry Banana Shake

Libra (September 23 – October 22)
Libras are born diplomats who seek balance and harmony. The same goes for your preferred flavors — nothing too spicy or too sweet. Vanilla, apples, walnuts, pomegranates, and cinnamon are your go-to ingredients.
Chocolate Cherry Pomegranate Shakeology
Iced Cinnamon Almond Milk Macchiato
Vegan Snickerdoodle Shakeology

Scorpios are resourceful, brave, and intuitive. You love pure, strong-flavored foods like pumpkin, chocolate, and beets. Whip up one of these Shakeology recipes when your cravings hit:
Cookies & Creamy Breakfast Smoothie Bowl
Mini Chocolate Cheesecake Bites
Raspberry and Oats Smoothie Bowl
Gluten-Free Baked Pumpkin Donuts With Maple Glaze
Creamy Pumpkin Spice Vanilla Shakeology
Pumpkin Spice Latte With Vanilla Shakeology

Sagittarius (November 22 – December 21)
If you were born under the sign of the Archer, you're generous, idealistic, and a thrill-seeker. Dates, pecans, plums, persimmons, and nutmeg make your tastebuds happy, so make one of these Shakeology recipes to keep them that way!
Salted Chocolate Maple Pecan Bars
No-Bake Cinnamon Sugar Donut Holes
Chocolate Matcha Vegan Energy Balls
Chocolate Almond Spice Shakeology

Capricorn (December 22 – January 19)
Capricorns are responsible, disciplined, and optimistic. You seek out foods like kale and cranberries when hunger hits. Try one of these shakes or bars to keep you from getting hangry:
Cranberry Clove Chocolate Shakeology

Aquarius (January 20 – February 18)
Aquarians are original, free-spirited, and offbeat souls who prefer tart, sweet foods like lemon, oranges, and strawberries. Make one of these Shakeology recipes to keep your free-spirited self happy, not hangry!
Lemon Blueberry Cheesecake Bites
Lemon Raspberry Ricotta Shakeology
Strawberry Frozen Yogurt Bites
Greek Strawberry Banana Shakeology
Strawberry Cheesecake Smoothie Bowl (with a scoop of Collagen Boost!)
Fearless Strawberries and Cream Shakeology
Berry Extraordinary Shakeology
Pisces (February 19 – March 20)
Pisces are artistic, intuitive, and wise. You lean toward simple, delicate-tasting foods like honey, pears, and melon.
Pear Ginger Vanilla Shakeology
No-Bake Shakeology Breakfast Cookies
Honey Pumpkin Spice Shakeology