Chris Downing's Excellent Vegan Adventure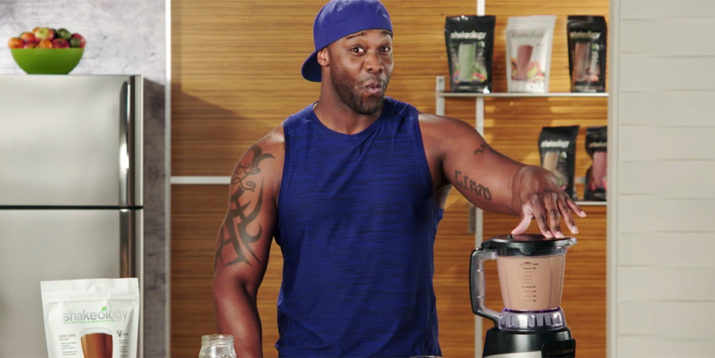 By Super Trainer Chris Downing
I've always been a high-protein guy.
If you've done SHIFT SHOP and followed my Simple Shift Nutrition Guide with its progressive carb reduction, you've probably already figured this out.
But several months ago, I started wondering if this was the best thing for me. I'm all about challenging myself and trying new things — but here I was, eating the same things over and over.
Around the same time, I learned a fun fact that really got me thinking: The two strongest animals in the world — the elephant and the silverback gorilla — don't eat meat.
If they don't need it, why do I?! And look at antelopes and gazelles. They'll tear your legs off in a running contest and all they eat is vegetables!
It was time for a change. I just had this internal feeling that I wanted to give my body a break from digesting meat. At the same time, I knew I had Plant-Based Vegan Shakeology and Plant-Based Recover to meet my nutrition and post-workout protein needs.
Originally, I wanted to make it a 30-day challenge; I wanted to spend a month getting my nutrition from the earth's plants and nuts and seeds.
But here's the thing; I felt so great after 30 days that I just stuck with it!
Going Vegan
First, I cleaned out my kitchen. Going vegan means more than just ditching meat. I also needed to get rid of eggs and all dairy.
Honey had to go, and so did anything containing gelatin — which is in everything from marshmallows to the gel caps of some supplements.
Once that was done, I thought the rest would be easy. It wasn't. I immediately got what felt like the flu. I had a fever of 103 degrees, chills, sweats — everything.
It turns out this was a side effect of my shift in diet. My body was going through withdrawals. It was trying to get me to go back to eating meat!
But instead of giving in, I applied Shop rules: I celebrated the challenge, like with SHIFT SHOP and Proving Grounds; I used it to motivate me to keep pushing.
But I was smart about it and I respected my body. It's important to understand the difference between pushing yourself to the next level and pushing yourself off a cliff.
My energy was low, so once I got tired, I was done. I didn't push myself.
Then two weeks after going vegan, I had a breakthrough.
I went to work out like I always do, but then I started to sweat and it was like I pushed through; I went to a whole new level. Just like that, my workouts changed — and everything else fell into place.
I started feeling a lot more vibrant, my thoughts were clearer. I felt like my youth was renewed. My digestive tract felt better — and I lost 32 pounds!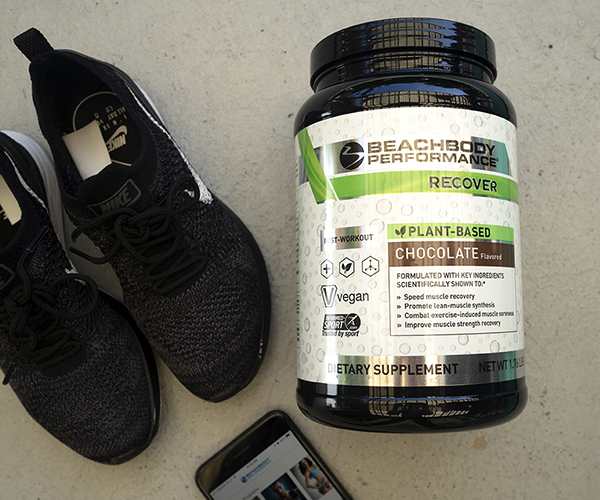 How I Eat Vegan
Most importantly, I found support. I learned how to do it right and found experts I could trust.
Health Coach Callie Calabrese was especially helpful, providing me with the recipe for a kombucha tonic to help my gut transition away from all those animal products.
When it comes to diet, most of the time, everything is pretty consistent. The key is to keep everything balanced with a healthy mix of carbohydrates, protein, and fat.
I start my day with some fasted-state cardio. Then I break my fast in the late morning with a glass of organic, fresh-pressed celery juice.
At around 12pm, I have a Chocolate Plant-Based Vegan Shakeology. I add in a handful of spinach leaves, half a banana, a heaping tablespoon of powdered peanut butter, hemp and chia seeds, unsweetened almond milk, and ice.
A few hours later, I'll have lunch. Usually, it's a black bean or hemp burger with a side salad or at least two different greens. Asparagus or cucumber slices, for example.
And for dinner: a big, colorful salad loaded up with celery, mixed greens, pumpkin seeds, green peppers, yellow peppers, red peppers, radishes, onions, chickpeas, broccoli.
I put all the vegetables in it and make it as colorful as possible so I'm assured to get all those phytonutrients.
I also like to throw in a few cranberries, raisins, and blueberries, and top it off with balsamic vinaigrette. It's incredible, delicious — and huge! If I make it from a store salad bar, it ends up being around $15 because it's so heavy.
In between meals, if I need a snack, I might have an avocado (although sometimes I put one in my Shakeology!).
Or I eat an apple. I'm crazy about Honeycrisp apples right now, so I eat at least one big one every day. I finish my day with weight training — and then Beachbody Performance Plant-Based Recover.
That's my treat after my last workout and I tell you, this stuff is a real game-changer.
Psychologically, not eating meat made me feel like I was missing something. At first, I blocked that, but then I added Recover and I feel complete now. It put everything together. No side effects and I don't feel like I need meat.
And it tastes amazing!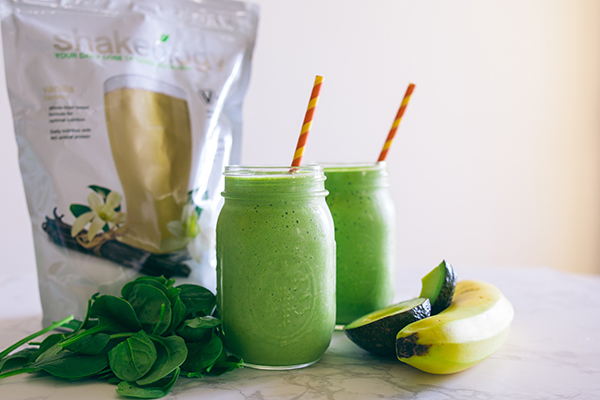 How You Can Go Vegan, Too
It's possible to do a vegan version of your Simple Shift eating plan, but the guide really wasn't created for that, especially since Week 3 is so high in protein and low in carbohydrates.
One solution would be to repeat the Week 1 eating plan the whole time you're doing SHIFT SHOP, selecting only plant-based foods.
If you're already a vegan, that might work, but if you're just starting to eliminate animal products, you probably want to do it a different way.
But even if you don't use the Simple Shift Nutrition Guide, going vegan can be a challenge by itself, so it still fits in with SHIFT SHOP.
Both of Beachbody's nutrition programs, 2B Mindset and Ultimate Portion Fix, include vegan plans that work perfectly with SHIFT SHOP and Training Grounds, so check those out.
And no matter which one you chose, remember Plant-Based Vegan Shakeology and Plant-Based Recover are incredible sources of protein for any vegan or vegetarian (or meat-eater!) to help them get the most of their workouts and life in general.
I'm not saying going vegan is for everyone. Still, you can never be 100 percent sure that the way you eat now is perfect for your needs, so it could be time to check in with yourself and try something new.
The shift will do you good!
Chris Downing's Noontime Vegan Power Shakeology
(Makes 1 serving)
Made Without Dairy, High in Fiber, High in Protein, Vegan, Vegetarian
Total Time: 10 min.
Prep Time: 10 min.
Cooking Time: None
Ingredients
1 cup unsweetened almond milk
1 cup ice
1 scoop Chocolate Plant-Based Vegan Shakeology
1 cup raw spinach
½ large ripe banana, cut into chunks
2 Tbsp. peanut butter powder
1½ tsp. dry roasted hemp seeds
1½ tsp. dry roasted chia seeds
1. Place milk, ice, Shakeology, spinach, banana, peanut butter powder, hemp seeds, and chia seeds in blender; cover. Blend until smooth.
2. Serve immediately.
Nutritional Information (per serving):
Calories: 368
Total Fat: 12 g
Saturated Fat: 1 g
Cholesterol: 0 mg
Sodium: 601 mg
Carbohydrates: 43 g
Fiber: 15.5 g
Sugars: 16 g
Protein: 26 g
The Nutritional Facts have been estimated for this recipe.
Container Equivalents
Green 1
Purple ½
Red 1
Yellow ½
Orange ½
tsp. 1