Salted Chocolate Maple Pecan Bars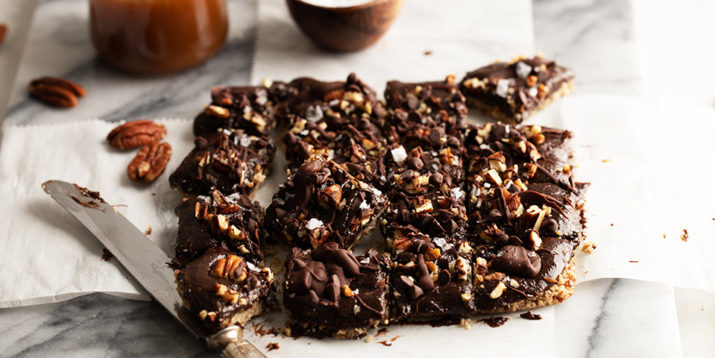 This layered chocolate bar recipe hits all the right notes with a cookie-like crust, gooey chocolate interior, and crunchy nuts on top.
These homemade bars are the perfect pick-me-up for that afternoon slump — skip the junk food and nibble on these salty-sweet, chocolatey, crunchy bars instead.
It looks like a fancy store-bought chocolate treat, but it's actually pretty simple to make!
For the crust, all you have to do is blend almond flour, pecans, dates, sea salt, and coconut oil in a food processor to create the slightly sweet, cookie-like bottom layer.
For layer #2, blend almond butter, maple syrup, and Chocolate Shakeology for a creamy, chocolatey sweet hit and then top with crunchy pecan pieces and drizzled melted chocolate.
(Is anyone else's mouth watering right now?!)
Pro tip: Get hundreds of delicious Shakeology recipes like this one on the BODi blog. Can't get enough bar recipes? Try these 10 homemade bar recipes!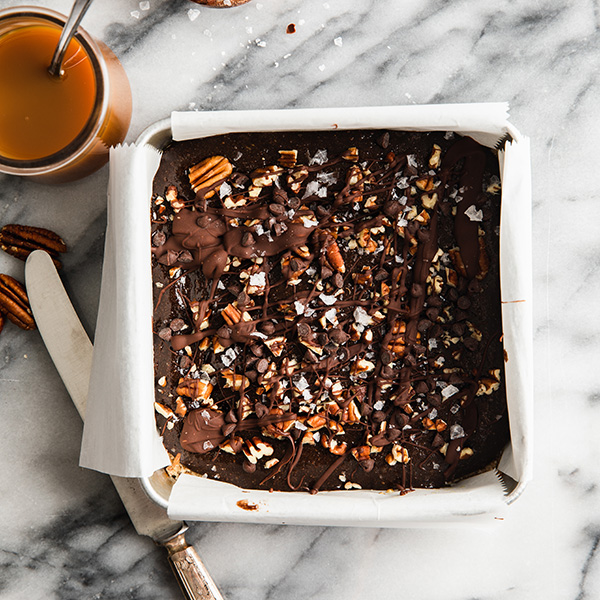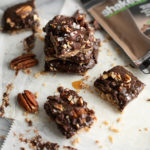 Salted Chocolate Maple Pecan Bars
Prep Time 9 mins
Cook Time 1 min
Total Time 1 hr 10 mins
Servings 9 servings
Calories 187 kcal
Ingredients
FOR CRUST:
½ cup / 50 g almond flour
¼ cup / 30 g raw pecans
2 dates, pitted
1 Tbsp. extra-virgin coconut oil
⅛ tsp. sea salt (or Himalayan salt)
FOR CHOCOLATE LAYER:
¼ cup / 60 g all-natural almond butter
¼ cup / 80 g pure maple syrup
2 Tbsp. water
1 scoop Chocolate Shakeology
FOR TOPPING:
2 Tbsp. chopped unsalted pecans
1 Tbsp. semi-sweet chocolate chips
¼ tsp. extra-virgin coconut oil, melted
Instructions
To make crust, place almond flour, pecans, dates, oil, and salt in a food processor; process continuously until pecans are crushed into fine crumbs. Setaside.

Line an 8 x 8-inch (20 x 20-cm) baking dish with parchment paper. Using clean hands (or a rubber spatula) press crust mixture into dish to form an even layer. Set aside.

To make chocolate layer, combine almond butter, maple syrup, water, and Shakeology in a medium bowl; mix well.

Press chocolate mixture on top of crust to form chocolate layer.

Gently press chopped pecans into chocolate layer.

Place chocolate chips in a small bowl; microwave on high for 20 seconds. Stir; microwave on high for an additional 20 seconds. Stir. Repeat until chocolate is evenly melted (about three times). Add oil; mix well.

Using a fork, drizzle chocolate over prepared pan. Refrigerate for 1 hour before serving. Refrigerate in an airtight container for up to 1 day.
Recipe Notes
Vegetarian (VG)
The Nutrition Facts box below provides estimated nutritional information for this recipe.*
*Total Sugars 11 g, Added Sugars 7 g
Nutrition Facts
Salted Chocolate Maple Pecan Bars
Amount Per Serving (1 serving)
Calories 187 Calories from Fat 108
% Daily Value*
Fat 12g18%
Saturated Fat 2g13%
Sodium 73mg3%
Carbohydrates 16g5%
Fiber 3g13%
Sugar 11g12%
Protein 6g12%
* Percent Daily Values are based on a 2000 calorie diet.
Container Equivalents
1 Yellow
½ Blue
1½ tsp.
2B Mindset Plate It!
Enjoy as an occasional treat. Be sure to track it.