Ultimate Almond Butter Dark Chocolate Martini
It's happy hour somewhere, so it's the perfect time to whip up a rich, creamy chocolate martini, amirite?
But you know what's better than a regular chocolate martini?
A chocolate martini mocktail made with Chocolate Shakeology!
Which means you don't have to wait for happy hour to indulge — you can have this "martini" WITH YOUR BREAKFAST or any time of day.
How to Make a Chocolate Martini
This virgin chocolate martini features Chocolate Shakeology with creamy avocado, cocoa powder, vanilla extract, maple syrup, almond milk, and almond butter for an ultrarich experience.
The secret to the silky deliciousness of this shake is combining avocado (trust us on this one), cocoa powder, and a touch of maple syrup to create a creamy, chocolately, slightly sweet mixture before adding it to the blender.
Even better? This martini is high in protein and fiber and vegan.
Mix things up even more with our other Shakeology mocktail recipes: Try an Espresso Zabaione with Cafe Latte Shakeology or a Frozen Strawberry Peach Bellini with Strawberry Shakeology.
Pro tip: Don't have Shakeology yet? Talk to your Team Beachbody Coach or find your Shakeology favorite flavors here.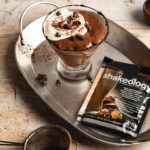 Ultimate Almond Butter Dark Chocolate Martini
Enjoy this delicious, high-protein and high-fiber recipe for the Ultimate Almond Butter Dark Chocolate Martini, made with plant-based vegan Chocolate Shakeology.
Prep Time 5 mins
Cook Time 0 mins
Total Time 5 mins
Servings 1 serving
Calories 301 kcal
Ingredients
⅛ medium ripe avocado
2 tsp. unsweetened cocoa powder
1 tsp. pure maple syrup
1 cup / 240 ml unsweetened almond milk
1 cup / 170 g ice
1 scoop Chocolate Plant-Based Vegan Shakeology
1 tsp. all-natural almond butter
½ tsp. pure vanilla extract
dark chocolate shavings (for garnish, optional)
Instructions
Combine avocado, cocoa powder, and maple syrup in a small bowl; mix until smooth.

Place almond milk, ice, Shakeology, almond butter, and extract in blender; cover. Blend until smooth.

Place avocado mixture in a serving glass; use a spoon or rubber spatula to spread as a coating on the inside surface of the glass.

Top with smoothie mixture; garnish with chocolate shavings if desired. Serve immediately.
Recipe Notes
High in Fiber, High in Protein, Quick 'n' Easy, Vegan, Vegetarian
The Nutrition Facts box below provides estimated nutritional information for this recipe based on the U.S. formulation of Shakeology. Not all flavors are available in all markets.
Nutrition Facts
Ultimate Almond Butter Dark Chocolate Martini
Amount Per Serving (1 serving)
Calories 301 Calories from Fat 117
% Daily Value*
Fat 13g20%
Saturated Fat 2g13%
Sodium 470mg20%
Carbohydrates 29g10%
Fiber 9g38%
Sugar 12g13%
Protein 20g40%
* Percent Daily Values are based on a 2000 calorie diet.
Container Equivalents
1 Red
½ Blue
2 tsp.
2B Mindset Plate It!
Makes a decadent protein. Be sure to track it.