Strawberry Frozen Yogurt Bites
Greek yogurt with all its beneficial bacteria and potential weight loss advantages is much more than just a quick snack. A significant source of protein, calcium, and phosphorus, unsweetened plain Greek yogurt is a nutrient-dense creamy treat. These Strawberry Frozen Yogurt Bites take your average parfait to a whole new level.
Tip: Don't just limit yourself to topping these yogurt bites with strawberries! Use whatever fruit is your favorite. Consider changing it up with blackberries, blueberries, or raspberries for a fun blast of berry goodness.
Can't get enough Greek yogurt? Check out our other delicious recipes using this good for you ingredient.
Strawberry Frozen Yogurt Bites
These berry-licious yogurt bites are a refreshing summery snack!
Prep Time 15 minutes
Total Time 6 hours
Servings 6 Servings
Calories 129 kcal
Ingredients
½ cup finely chopped raw almonds
1 tbsp. coconut sugar
1 tbsp. extra-virgin organic coconut oil melted
½ tsp. ground cinnamon
¾ cup reduced-fat (2%) plain Greek yogurt
2 tbsp. raw honey
1½ cups finely chopped fresh strawberries
Instructions
Prepare 6 muffin cups by lining with silicone or parchment cupcake liners. Set aside.

Combine almonds, sugar, oil, and cinnamon in a small bowl; mix well.

Divide almond mixture evenly between muffin cups. Set aside.

Combine yogurt and honey in a small bowl; mix well.

Evenly top almond mixture with yogurt mixture and strawberries.

Freeze for 6 hours, or until firm.

Remove from cupcake liners to serve.
Nutrition Facts
Strawberry Frozen Yogurt Bites
Amount Per Serving (1 yogurt bite)
Calories 129
* Percent Daily Values are based on a 2000 calorie diet.

Nutritional Information (per serving):
Calories: 129
Total Fat: 7 g
Saturated Fat: 3 g
Cholesterol: 1 mg
Sodium: 10 mg
Carbohydrates: 14 g
Fiber: 2 g
Sugars: 11 g
Protein: 5 g
P90X/P90X2 Portions
½ Fat
1 Single Serving Snack
P90X3 Portions
1 Carb
1½ Fat
Body Beast Portions
½ Starch
½ Fruit
½ Protein
1½ Fat
Portion Fix Containers
½ Purple
½ Yellow
½ Blue
½ tsp.
Not familiar with Portion Fix? Find out how Portion Fix can make losing weight simple.
If you have questions about the portions, please click here to post a question in our forums so our experts can help. Please include a link to the recipe.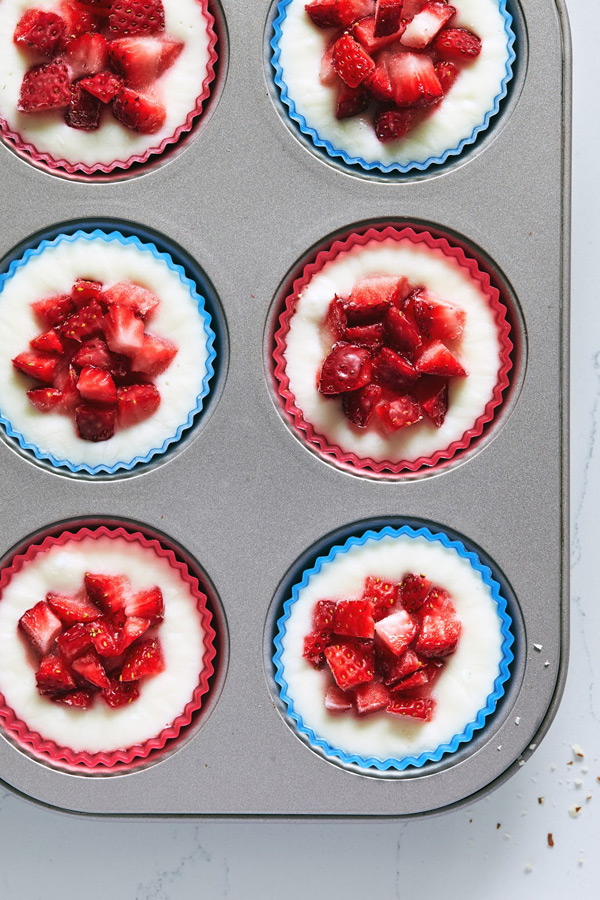 Photographs by Anguel Dimov and Brianne B of Natural Girl Modern World