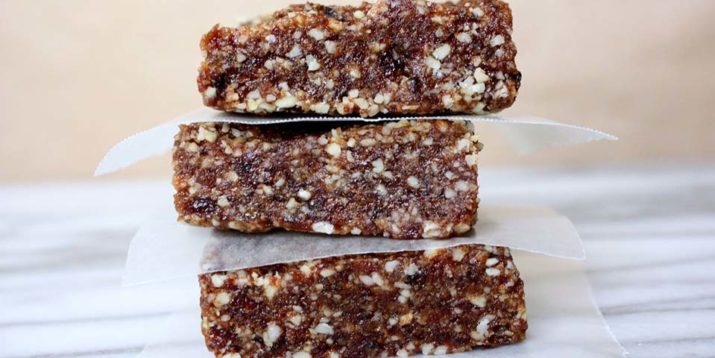 Energy bars are one of those quick, go-to snacks you can grab at any grocery store or vending machine, but a lot of them aren't as healthy as their fancy packaging might lead you to believe.
These Homemade Energy Bars are made with your choice of nuts and dried fruits, plus they have two scoops of Shakeology for a boost of nutrition and filling protein.
It's a perfect snack to refuel after a workout, knock out a sugar craving, or hold you over until dinner.
Dates (or prunes) bring a natural sweetness to our Homemade Shakeology Energy Bars, and they act as the binder.
This recipe is a template you can use to create countless flavors of energy bars. Try different flavors of Shakeology paired with any combination of fruits and nuts.
Or take the flavor to another level by adding natural extracts like vanilla, coconut, or caramel, or add a ½ teaspoon of spices like cinnamon or nutmeg.
You can also add a tablespoon of orange or lemon zest or freshly grated ginger. Or even one or two ounces of dark chocolate morsels or a ¼ cup of coconut flakes.*
For even more flavor, add one or more of the following: ½ tsp. rum extract, ½ tsp. cinnamon, 1 Tbsp. raw honey, ½ tsp. vanilla extract, 1 to 2 oz. dark chocolate chips, or 2 tsp. grated fresh ginger.*
*Swapping in any of these ingredients may change the nutritional information.
https://www.youtube.com/watch?v=huVsYTah3ik&rel=0&modestbranding=1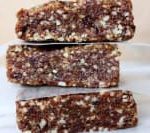 Homemade Energy Bars
In just a few minutes, you can create a healthy, customizable energy bar to help you eat right when you're on-the-go.
Prep Time 10 mins
Cook Time 0 mins
Total Time 1 hr 10 mins
Servings 12 servings, 1 bar each
Calories 149 kcal
Ingredients
1 cup whole Medjool dates, pitted
1 cup dried fruit (like apricots, prunes, figs, raisins, cranberries, blueberries, or cherries)
1 cup chopped nuts and seeds (like almonds, walnuts, cashews, sesame seeds, flax seeds, chia seeds, or sunflower seeds)
2 scoops Shakeology, any flavor
Instructions
Line an 8 x 8-inch pan with plastic wrap. Set aside.

Place dates, fruit, and nuts in a food processor. Pulse for 1 to 2 minutes; scrape sides of bowl.


Add Shakeology; process for 2 to 3 minutes, or until mixture becomes tiny crumbs that can come together to form a loose ball.


Press mixture into prepared pan until flat. Cover tightly and refrigerate for 1 hour.


Serve immediately, or store in an airtight container in the refrigerator for up to five days until ready to eat.
Recipe Notes
The Nutrition Facts box below provides estimated nutritional information for this recipe.
Nutrition Facts
Homemade Energy Bars
Amount Per Serving (1 bar)
Calories 149 Calories from Fat 63
% Daily Value*
Fat 7g11%
Sodium 27mg1%
Carbohydrates 19g6%
Fiber 3g13%
Sugar 15g17%
Protein 6g12%
* Percent Daily Values are based on a 2000 calorie diet.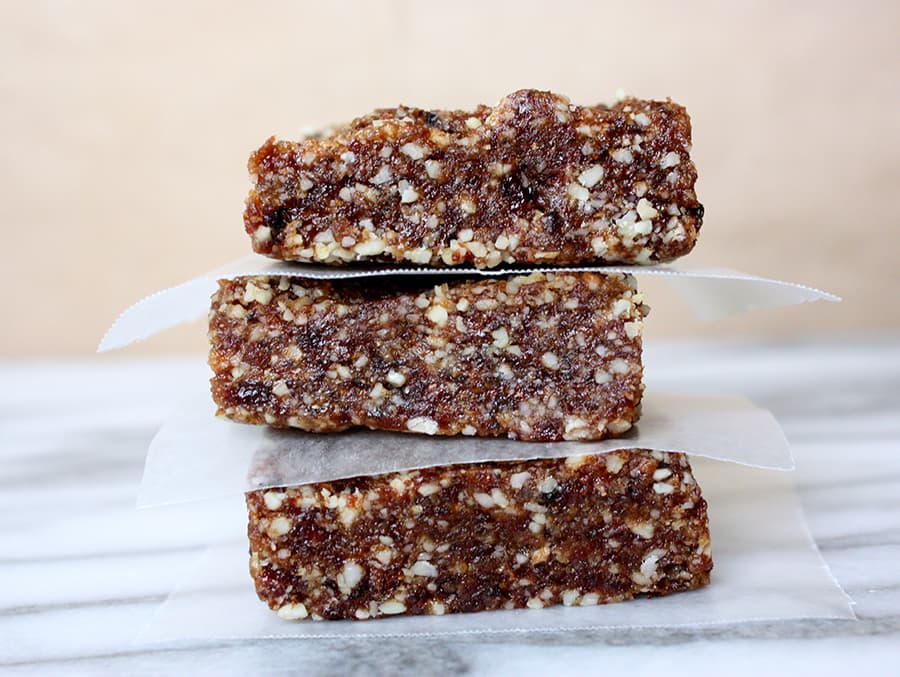 Container Equivalents
1 Purple
1 Blue
2B Mindset Plate It!
Enjoy as an occasional treat. Be sure to track it.
Love this recipe? You can get more delicious recipes like this, meal preps, and more with the 2B Mindset and Portion Fix nutrition programs on BODi.
Photos by Kirsten Morningstar