Lemon Blueberry Cheesecake Bites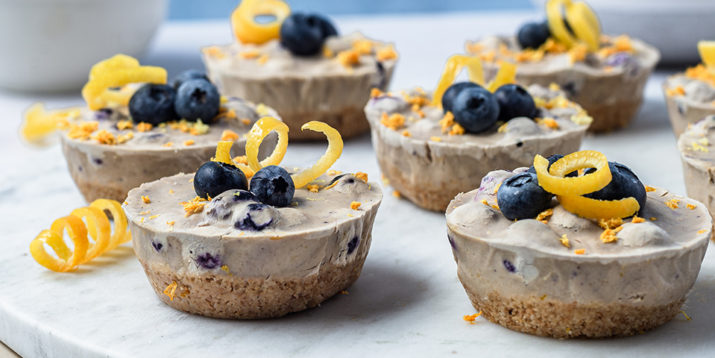 Lemon and blueberry is a classic, taste-good flavor combination that everyone can fall in love with.
There's something about this particular flavor pairing that just hits your tastebuds with the right amount of sweet and tart.
In this recipe for Lemon Blueberry Cheesecake Bites, we blended Vanilla Shakeology with tart Greek yogurt and whipped cream cheese for a ridiculously smooth, creamy filling that features blueberries, the zest of an entire lemon, maple syrup, and vanilla extract.
A Graham cracker crust holds all these delicious flavors together.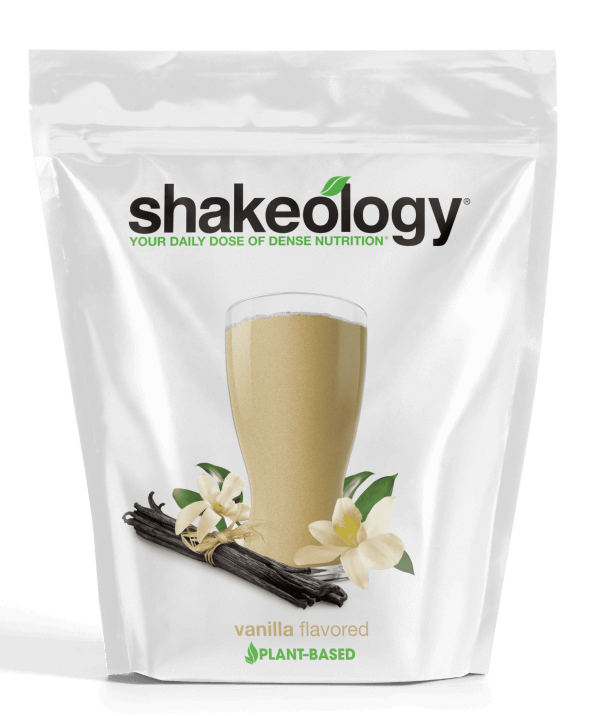 Vanilla Shakeology
Experience the sweet, creamy flavor of robust vanilla as your daily superfood dessert.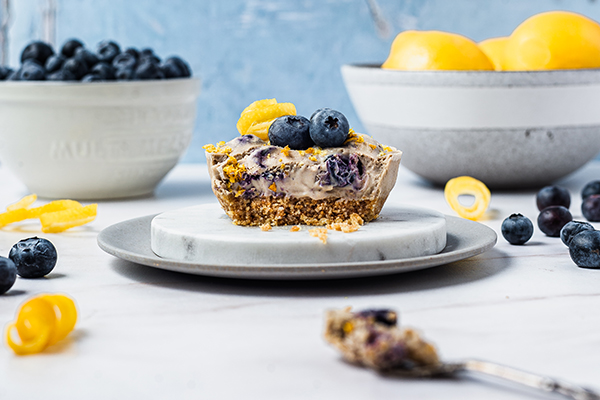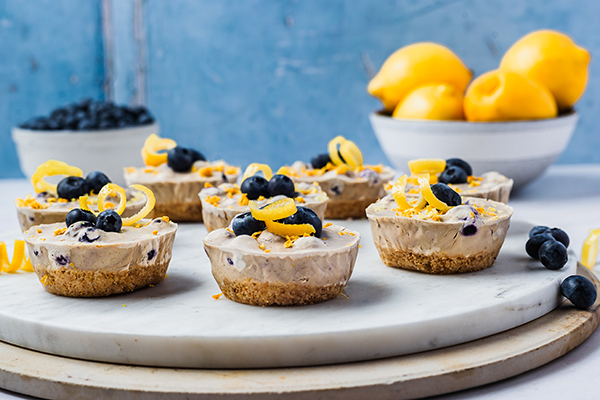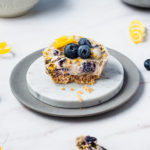 Lemon Blueberry Cheesecake Bites
These cheesecake bites with Vanilla Shakeology feature the classic, taste-good flavor combo of lemon and blueberry.
Prep Time 10 mins
Cook Time 0 mins
Total Time 40 mins
Servings 8 servings, 1 bite each
Calories 141 kcal
Ingredients
Muffin liners
¾ cup / 20 g freeze-dried blueberries, divided use
1 Tbsp finely grated lemon peel (lemon zest) (approx. ½ medium lemon), divided use
½ cup / 50 g Graham cracker crumbs 
¼ cup / 30 g almond flour
3 Tbsp. extra-virgin coconut oil
¾ cup / 180 g reduced-fat (2%) plain Greek yogurt
¼ cup / 45 g whipped cream cheese 
1 Tbsp. pure maple syrup
1 tsp. pure vanilla extract
1 scoop Vanilla Shakeology
Instructions
Line 8 muffin cups with muffin cup papers (or use silicone muffin cups); set aside. 

Reserve 16 blueberries and 1 tsp. lemon peel, to be used as garnish.

Add Graham cracker crumbs, almond flour, and coconut oil to a small mixing bowl; stir to combine. 

Press graham cracker mixture into bottoms and up sides of prepared muffin cups. Set aside.

Add yogurt, cream cheese, maple syrup, and extract to a large mixing bowl; mix well. Slowly add Shakeology, mixing constantly, until fully combined. Gently fold in remaining blueberries and remaining 2 tsp. lemon peel.

Evenly divide yogurt mixture among prepared muffin cups; garnish each cheesecake bite with 2 reserved blueberries and a sprinkle of reserved lemon peel. Freeze in an airtight container for at least 30 minutes. Serve immediately, or freeze in an airtight container for up to 1 month. If frozen, set out at room temperature for 10 minutes before serving.
Recipe Notes
Vegetarian (VG) 
Tip:  After you spoon the yogurt mixture into each muffin cup, tap the tray on the counter to level the cheesecake bite.  
The Nutrition Facts box below provides estimated nutritional information for this recipe.*
* Total Sugars 7 g, Added Sugars 2 g
Nutrition Facts
Lemon Blueberry Cheesecake Bites
Amount Per Serving (1 cup)
Calories 141 Calories from Fat 63
% Daily Value*
Fat 7g11%
Saturated Fat 4g25%
Cholesterol 7mg2%
Sodium 79mg3%
Carbohydrates 13g4%
Fiber 2g8%
Sugar 7g8%
Protein 6g12%
* Percent Daily Values are based on a 2000 calorie diet.
Container Equivalents
½ Yellow
½ Blue
1 tsp.
2B Mindset Plate It!
Enjoy as an occasional treat. Be sure to track it.