9 Pantry Staples for Healthy Eating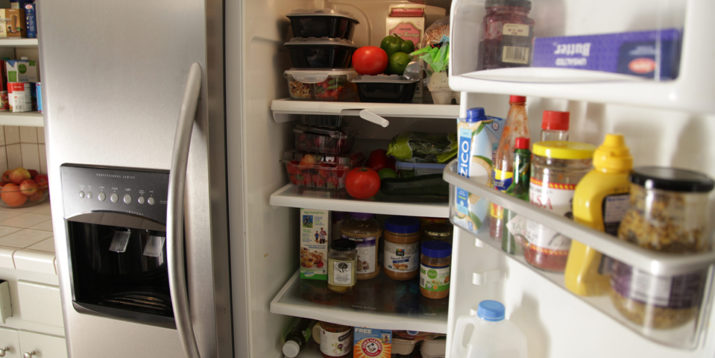 Between work, school runs, errands, and generally busy schedules, cooking a healthy meal after all of that probably makes you tired just thinking about it.
But before you succumb to the siren song of ordering in or heating up a frozen dinner, check out how easy it is to throw together a delicious meal with everyday foods that are probably sitting in your pantry and fridge right now.
9 Pantry Staples for Healthy Eating
1. Brown Rice
Cook up a giant batch of brown rice on Sunday night as part of your meal prep for the week and you'll have the base for a slew of filling meals for lunch you can take to work and eat for dinner when you get home.
(Pro tip: Check out these 7 easy tips that will have you meal prepping like a pro in no time!)
You're probably thinking: "Ugh, brown rice takes forever to cook." "It always ends up sticky." "It always ends up chewy/undercooked/etc." 
Don't be afraid of the rice. Here's exactly how to cook fluffy, nutty, perfect brown rice every time.
Here are just a few of the recipes you can use with brown rice:
Spanish Brown Rice: This is a side you can eat like a meal. Add chicken, tofu, or your protein of choice and dinner is served.
Poached Eggs With Greens and Brown Rice: Who says eggs are for breakfast? In less than 20 minutes, you'll have a simple, flavorful, and healthy dish for breakfast, lunch, or dinner.
Southwestern Rice and Bean Salad: Everybody loves a rice bowl, and this one will bring out the Tex-Mex lover in you. It's got a medium-spicy kick, plus bright flavors of cilantro and green onions.
More brown rice recipe ideas:
Vegan Buddha Bowl With Spring Vegetables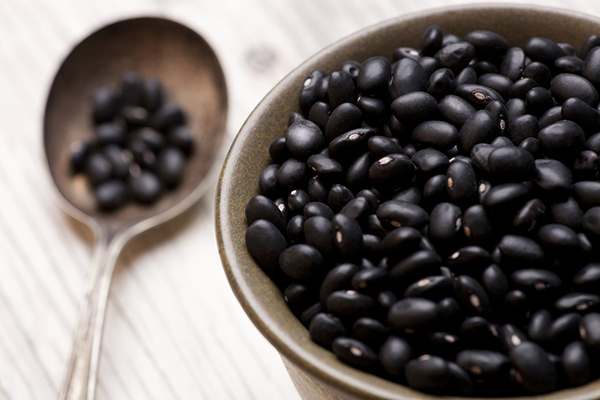 2. Beans
Beans of all shapes and sizes are rich in protein and fiber. Keep a variety of canned beans in the pantry, or cook a big batch that you can quickly heat up and toss with a few spices for a quick meal. Or try one of these bean-centric recipes:
Savory Slow Cooker Beans With Rice: Let's all take a minute to praise the inventor of the slow cooker, the busy person's (and lazy person's) best friend. What could be easier or better than throwing a bunch of ingredients in a slow cooker in the morning and coming home to a hot meal at the end of the day?
Baja Black Beans and Rice: Remember that big batch of brown rice and beans we suggested you cook to use later? Mix them together with cumin, chili powder, tomatoes, and queso fresco. Dinner. Done.
Chicken and Black Bean Burrito Bowl: What's better than a burrito? A burrito in a bowl. This burrito bowl takes 20 minutes and it's endlessly customizable, so skip the calorie-bomb takeout versions and make your own at home.
More bean recipe ideas:
Arugula Salad With Chicken and Black Beans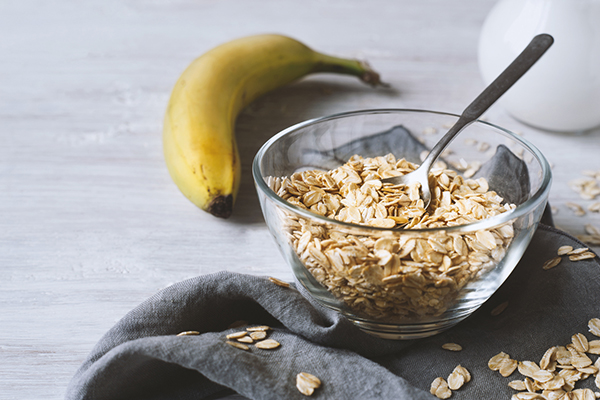 3. Oats
Oats can turn your boring breakfast into a fiber- and protein-packed meal to keep you fueled all morning. Say goodbye to sugary cereals and protein bars, and explore all the ways you can use oats:
Fruity Whole-Grain Breakfast Porridge: Oatmeal gets a makeover with hearty whole grains and dried fruits in this slow cooker recipe.
Savory Irish Oats With Turkey Bacon, Cheddar, and Chives: Prefer savory instead of sweet? This robust bowl of healthy goodness is the perfect way to break your fast in the morning.
Strawberry Shakeology Overnight Oats: This is the ultimate grab-and-go breakfast that will fill you up and fuel you right for the day.
More oatmeal recipe ideas:
Baked Oatmeal Cups With Berries and Banana
Slow Cooker Banana Bread Oatmeal
Baked Vanilla Oatmeal With Nutmeg
No-Bake Shakeology Breakfast Cookies
4. Canned Tuna
You can add this versatile ready-to-eat protein into salads, casseroles, and sandwiches. It's inexpensive and packed full of vitamins and healthy fats; just make sure to look for tuna canned in water, not oil.
Tuna Noodle Casserole With Veggies: This definitely isn't your mother's tuna casserole. Made with whole wheat pasta, kale, and tuna, this dish is packed with protein and makes great leftovers.
Mediterranean Tuna Salad Sandwich: Typical tuna salad can be a heavy, mayo-filled gut-buster. This version, however, is light and bursting with the flavors of lemon, red onion, capers, bell pepper, and more.
Make a big batch and you can get even more meals out of it: Mix a scoop with greens, whole-grain pasta, brown rice, or raw veggies.
Salad Niçoise: Turn your kitchen table into a European bistro with this classic French salad. It's filled with the goodness of tuna, green beans, potatoes, hard-boiled eggs, tomatoes, olives, and more — and it's only 291 calories per serving.
5. Frozen Shrimp
Enjoying "fancy" seafood meals doesn't mean you have to buy expensive, fresh-off-the-boat fish. With a package of frozen shrimp, you can create a variety of dishes that are inexpensive and fast.
Shrimp Coconut Curry in a Hurry: If you buy frozen shrimp already peeled and deveined, this gorgeous dish can be ready in 10 minutes. We repeat: 10 minutes.
Garlic Basil Shrimp With Zucchini Noodles: This is the perfect opportunity to bust out that new spiralizer, but if you don't have one, a vegetable peeler will work just as well. Garlic, basil, and pesto combine to create a rich, flavor-packed "pasta" dish. (Not a fan of zucchini? Try this shrimp bowl with carrot and squash noodles instead.)
Shrimp Tacos: Mmmm, tacos. We've never met a taco we didn't like, and these tacos are no exception. These are easy to make and tasty to eat; each taco is bursting with ingredients like cumin, chili powder, cilantro, avocado, lime — and more.
More shrimp recipe ideas:
6. Pesto
Believe it or not, you can make pesto in 10 minutes flat. This is another one that you should make in a big batch and freeze for later. Even non-chefs can master this easy recipe for Basil Pesto.
Grilled Veggie Quesadilla: Most people think of pesto as a sauce, but you can use it as a spread, too: A dollop of pesto elevates this roasted veggie quesadilla and can do the same with any sandwich.
Breakfast Caprese With Pesto: Add pesto to your next egg dish for a savory twist to breakfast. This protein-packed egg-white omelet gets an extra boost with a drizzle of homemade pesto sauce.
Quinoa With Sun-Dried Tomatoes and Pesto: The combination of sun-dried tomatoes and pesto sauce is zesty, earthy heaven for your taste buds. This is a hearty dish you can eat hot or cold, and it's perfect to pack for an office lunch.
7. Sweet Potatoes
Packed with vitamin A and rich in fiber, sweet potatoes bring a natural sweetness to so many fast and simple dishes. They can be cooked in batches in the oven, microwaved if you're short on time, eaten plain, or turned into mash, pies, or fries.
When a dish calls for white potato or grains, sweet potatoes are often a great substitute that provide even more nutrients and antioxidants than their counterparts.
Barbecue Chicken Baked Sweet Potatoes: Stuffed baked potatoes are great for when you don't have the energy to cook multi-ingredient/course meals. With only five ingredients, this dish creates a spin on classic comfort food that will satisfy the whole family.
Sweet Potato Latkes: The traditional latke recipe calls for white potatoes, oil, and sour cream, but this dish swaps in sweet potatoes for a healthier version of this classic recipe.
They're great for the holidays, or as a side dish along with chicken or fish. They can also be topped with applesauce for a sweeter snack.
Hearty Chicken, Sweet Potato, and Apples: This easy-to-make recipe is a great way to use up extra chicken. In less than 30 minutes, you can create this hearty, fall-flavored dish in a cast-iron skillet that can be stored for easy leftovers.
More sweet potato recipe ideas:
Sweet Potato Skins With Chicken and Spinach
Zucchini, Red Pepper, and Sweet Potato Frittata
Scrambled Egg Whites With Steamed Sweet Potato
8. Squash
There's a squash for every single season, and they are all so useful in the kitchen: Butternut, delicata, kabocha, spaghetti, and others provide endless options for incorporating more veggies and nutrients into a variety of meals.
Beyond simply being diced and sliced, squash provides the perfect healthy substitute for noodles, tortillas (yes! see the zucchini recipe below), and a variety of other grain-based dishes.
Pad Thai With Spaghetti Squash: Looking for a healthy twist on this traditional dish? Make your own Pad Thai With Spaghetti Squash. Making "noodles" out of shredded spaghetti squash allows you to pack even more veggies into your meal without sacrificing flavor.
Roasted Butternut Squash With Cranberries and Feta: This savory dish is great for any fall or winter meal, and makes a tasty addition to your Thanksgiving spread. Winter squash varieties include butternut, acorn, and pumpkin. They are harvested in the fall and can be used all winter to create flavorful, nutrient-rich meals.
Mexican Chicken Zucchini Boats: What better way to cut down on processed carbs and boost vitamin intake than using fresh zucchini as the base of your dish?
More squash recipes:
Barbecue Spaghetti Squash Sliders
Zucchini Noodle Breakfast Bowl
Pesto Zucchini Noodles With Chicken
9. Eggs
Eggs are nutritional powerhouses that can be part of any meal — add hard-boiled eggs to make a not-sad desk salad or bake savory vegetable frittatas, or use them to craft your favorite meat and cheese quiche.
(Bonus: Pairing eggs with vegetables is a great way to get more veggies in before lunch.)
Vegetarian Eggs Benedict: Tired of scrambled or over-easy eggs in the morning? This vegetarian dish uses a healthier version of hollandaise sauce combined with mushrooms and asparagus for a veggie-packed start to your day.
Sheet Pan Sweet Potato Hash With Eggs: Garnished with cumin, chili, paprika and cilantro, this savory dish is perfect for breakfast, dinner, or anything in between. The combination of sweet potato chunks, over-easy eggs, and beans creates a nutrient-packed, satisfying dish that will keep you satiated for hours.
Mini Denver Quiches: These mini quiches are yummy for a bite-sized breakfast or brunch, and are great for on-the-run mornings when you need a grab-and-go option! Packed with protein from eggs and ham and a hearty serving of bell pepper, this dish will start your day on a balanced foot.
More egg-cellent recipes and tips:
12 Ways to Make Egg Muffins With 5 Ingredients or Less
Mozzarella and Egg Breakfast Sandwich
3 Easy 21 Day Fix Egg Cup Recipes
Stock your kitchen with these key staples and you'll be prepared for a healthy meal any time of the week.