Zucchini, Red Pepper, and Sweet Potato Frittata
Frittatas are Italy's version of an open-faced omelet.
They're so easy to make and the add-in combinations are almost endless — in this incarnation, we've added zucchini, red pepper, sweet potato to the recipe along with fresh basil and a bit of sea salt.
We've put together a sweet potato frittata but you could really throw any fresh veggies in.
Frittatas are a great way to give a second life to leftover cooked veggies from last night or that half of a cauliflower left over from your meal prep.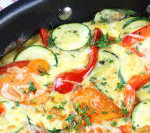 Zucchini, Red Pepper, and Sweet Potato Frittata
Our zucchini, red pepper, sweet potato frittata recipe is loaded with fresh veggies and tastes delicious.
Prep Time 15 mins
Cook Time 19 mins
Total Time 34 mins
Servings 6 servings
Calories 162 kcal
Ingredients
2 tsp. olive oil
3 medium zucchini, thinly sliced
1 medium red bell pepper, chopped
½ medium onion, chopped
1 small cooked sweet potatoes, cut into 1-inch cubes
¼ cup chopped fresh basil, (reserve a small amount for garnish)
¼ tsp sea salt or Himalayan salt
6 large eggs, lightly beaten
Instructions
Heat oil in 10-inch nonstick skillet over medium heat.

Add zucchini, bell pepper, and onion; cook, stirring frequently, for 2 minutes, or until zucchini is tender.

Add sweet potato, basil, and salt. Increase heat to medium-high; cook, stirring frequently, for about 30 to 60 seconds, or until the moisture has evaporated. Reduce heat to medium-low.

Add eggs. Mix well; cook, without stirring, for about 2 to 3 minutes, or until the bottom is light golden. As it cooks, lift the edges and tilt skillet so uncooked eggs flow to the edges.

Reduce heat to low; continue cooking, covered, for 10 to 12 minutes, or until knife inserted in center comes out clean.

Garnish with reserved basil; serve immediately.
Nutrition Facts
Zucchini, Red Pepper, and Sweet Potato Frittata
Amount Per Serving (1 serving)
Calories 162 Calories from Fat 63
% Daily Value*
Fat 7g11%
Saturated Fat 2g13%
Cholesterol 186mg62%
Sodium 349mg15%
Carbohydrates 17g6%
Fiber 3g13%
Sugar 8g9%
Protein 9g18%
* Percent Daily Values are based on a 2000 calorie diet.
Container Equivalents
1 Green
½ Red
½ Yellow
2B Mindset Plate It!
Double the serving size or add an additional protein and FFC for a great breakfast option. Add veggies or a side salad for lunch.
If you have questions about the portions, please click here to post a question in our forums so our experts can help. Please include a link to the recipe you're asking about.