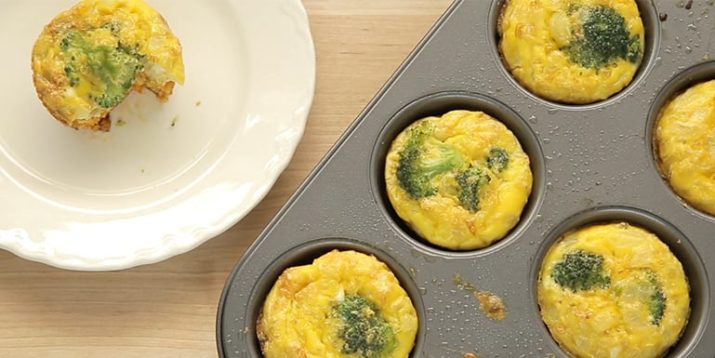 If you're looking for a healthy breakfast that's both high in protein and rich in complex carbs, we've got a recipe for you!
These super easy-to-make Sweet Potato Egg Cups combine the two and essentially creates a mini frittata.
Plus, since you get two per serving, and there are 12 egg muffins — that gives you six days worth of grab-and-go breakfasts.
But, there's something extra special in these egg muffins that helps them stand out from the rest of the egg cup pack — shredded sweet potatoes taste like hash browns.
Once you grate or shred the sweet potatoes using a standard kitchen grater or use the grater attachment for your food processor attachment, give the sweet potatoes a few squeezes with a paper towel to absorb any excess moisture.
Then, press them into a muffin pan, filling the cups about a third of the way. Don't overfill them, or there won't be room for your eggs.
We used onion and chopped broccoli florets in this recipe, but you can substitute with the same amount of your favorite vegetables, like bell peppers, mushrooms, and asparagus, or try scallions or shallots instead of onion.
They can be kept in the refrigerator for a few days, and freeze well if you plan to keep them longer. Simply reheat in a microwave or toaster oven.
Watch the video to see how it's done!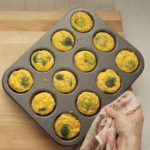 Sweet Potato Egg Cups
Make breakfast easy this week with these tasty Sweet Potato Egg Cups. They're like mini frittatas!
Prep Time 15 mins
Cook Time 40 mins
Total Time 55 mins
Servings 6 servings, 2 each
Calories 223 kcal
Ingredients
Nonstick cooking spray
3 small sweet potatoes shredded
3 tsp. olive oil divided use
Sea salt (or Himalayan salt) and ground black pepper to taste; optional
1 small onion chopped
1 cup broccoli florets chopped
12 large eggs
¼ cup shredded cheddar cheese
Instructions
Preheat oven to 375° F.

Lightly coat a twelve-cup muffin tin with spray. Set aside.

Squeeze moisture from sweet potatoes using a clean kitchen towel.

Combine sweet potatoes and 2 tsp. oil. Season with salt and pepper if desired; mix well.

Divide sweet potato mixture evenly between prepared muffin cups; press sweet potato mixture into bottom and sides of muffin cups. Bake for 14 to 16 minutes, or until edges are golden brown. Set aside.

Heat remaining 1 tsp. oil in medium nonstick skillet over medium-high heat.

Add onions and broccoli; cook, stirring frequently, for 4 to 6 minutes, or until onion is translucent. Remove from heat. Set aside.

Place eggs in a large bowl; whisk to blend.

Add onion mixture; mix well.

Evenly pour egg mixture into muffin cups. Evenly sprinkle with cheese.

Bake for 15 to 18 minutes, or until a toothpick inserted into the center of cups comes out clean.
Nutrition Facts
Sweet Potato Egg Cups
Amount Per Serving (2 egg cups)
Calories 223 Calories from Fat 108
% Daily Value*
Fat 12g18%
Saturated Fat 3g19%
Cholesterol 15mg5%
Sodium 225mg10%
Carbohydrates 15g5%
Fiber 2g8%
Sugar 4g4%
Protein 14g28%
* Percent Daily Values are based on a 2000 calorie diet.
Container Equivalents
½ Green
1 Red
½ Yellow
1 tsp.
2B Mindset Plate It!
Three muffins make a great breakfast or pair two muffins (one serving) with a small additional FFC and protein side like fruit and yogurt.
If you have questions about the portions, please click here to post a question in our forums so our experts can help. Please include a link to the recipe.