Slow Cooker Banana Bread Oatmeal
Whoever said, "Life is short. Eat dessert first," probably meant first thing in the morning. Right?
While birthday cake for breakfast might sound like the stuff of dreams, it certainly won't help you fit into your skinny jeans.
But this Slow Cooker Banana Bread Oatmeal might do the trick.
It's got all of the flavor of a luscious slice of banana bread, without the oily fat (or the extra smear of butter on top). Cinnamon, nutmeg, and three whole bananas give it an authentic "baked-in" taste.
Ground flax seeds give it extra nuttiness and a boost of fiber and omega-3s. And the best part: This recipe cooks overnight and is ready to eat when you wake up!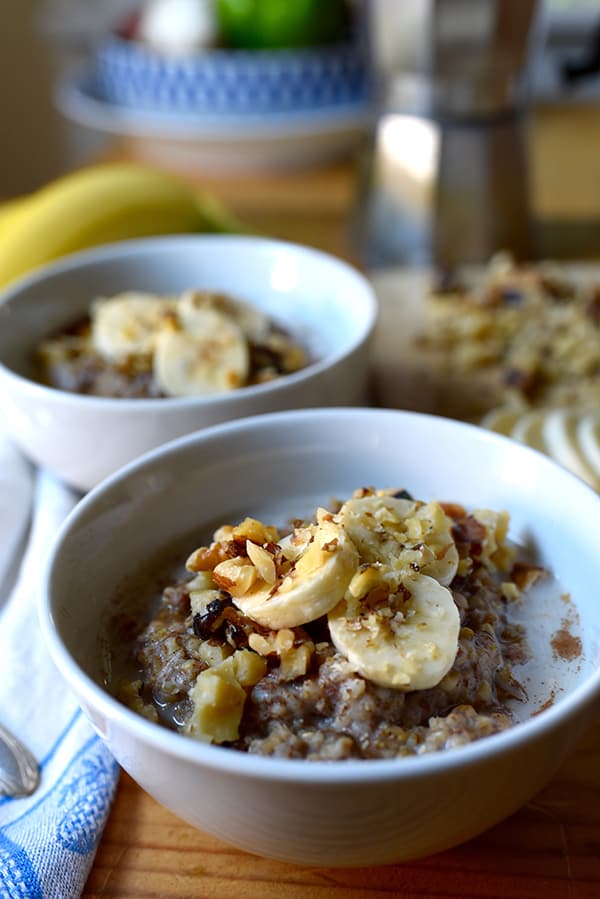 It's super simple to make: Just pour all of the ingredients into a slow cooker before you go to bed. In the morning, you'll be able to fumble your way to the kitchen with your eyes half-closed by following the scent of freshly baked banana bread.
All you need to do is spoon your serving into a bowl, top it with chopped walnuts, maple syrup, and almond milk, and your banana bread breakfast is ready to eat (or heat it up in the microwave if it's been stored in the fridge).
If you're one of those people who leap out of bed at the first twinkle of the alarm, you might consider the additional, but worthwhile, step of toasting the walnuts you'll sprinkle on your Banana Bread Oatmeal.
Simply heat a dry pan on the stove and toss in the walnuts. Gently shake the pan as they cook, until the nuts smell… well, nutty… then immediately remove them from the heat.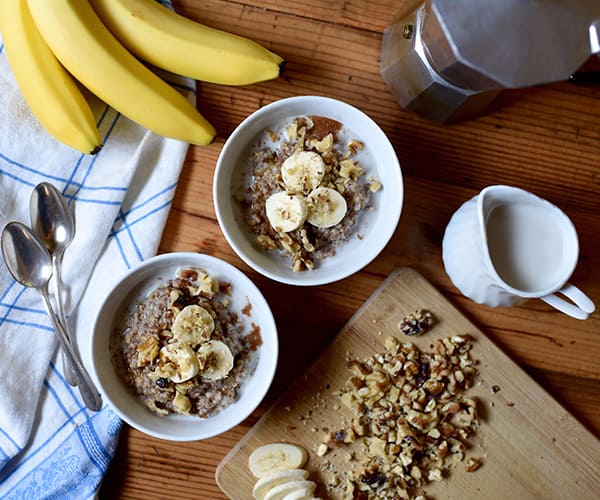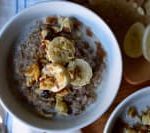 Slow Cooker Banana Bread Oatmeal
Prep Time 10 mins
Cook Time 8 hrs
Total Time 8 hrs 10 mins
Servings 6 servings, about 3/4 cup each
Calories 326 kcal
Ingredients
3 cups water
4 cups unsweetened almond milk divided use
1 cup dry steel-cut oats
3 large ripe bananas mashed
6 Tbsp. ground flaxseed
1 tsp. ground cinnamon
½ tsp. sea salt (or Himalayan salt)
½ tsp. ground nutmeg
¼ cup pure maple syrup
6 Tbsp. chopped raw walnuts
Instructions
Place water, 1 cup almond milk, oats, bananas, flaxseed, cinnamon, salt, and nutmeg in a 3-quart slow cooker; cover. Cook on low for 6 to 8 hours, or until oats are soft but chewy.

Top each serving evenly with maple syrup, walnuts, and remaining almond milk; serve immediately.
Recipe Notes
To make this recipe in an Instant Pot (programmable pressure cooker), follow these instructions:
Lightly coat inside of 6-quart Instant Pot with nonstick cooking spray.
Add 2 cups water, 1 cup almond milk oats, bananas, flaxseed, cinnamon, salt, and nutmeg.
Follow manufacturer's guidelines for locking lid and preparing to cook. Set to pressure cook on high for 10 minutes. (Cook for 12 to 13 minutes for creamy oatmeal.)
Follow manufacturer's guide for natural release, and wait until cycle is complete. Carefully unlock and remove lid, taking care that there is no remaining steam.
Evenly top each serving with remaining almond milk, maple syrup, and walnuts.
Nutrition Facts
Slow Cooker Banana Bread Oatmeal
Amount Per Serving (1 serving)
Calories 326 Calories from Fat 108
% Daily Value*
Fat 12g18%
Saturated Fat 1g6%
Sodium 316mg14%
Carbohydrates 49g16%
Fiber 8g33%
Sugar 18g20%
Protein 9g18%
* Percent Daily Values are based on a 2000 calorie diet.
Container Equivalents
1 Purple
1½ Yellow
½ Blue
½ Orange
½ tsp.
2B Mindset Plate It!
Add a protein to make a great breakfast option.
If you have questions about the portions, please click here to post a nutrition question in our forums so our experts can help. Please include a link to the recipe.
Photographs by Kirsten Morningstar
Save
Save
Save
Save
Save
Save
Save