Quinoa With Sun-Dried Tomatoes and Pesto
There's no sauce more versatile and satisfying than pesto.
You can serve it hot and poured over pasta, cold and spread on a sandwich, or tossed with quinoa and sun-dried tomatoes, like in this beautiful recipe we've whipped up for you.
Pesto and sun-dried tomatoes are meant for each other — a match made in zesty, earthy heaven!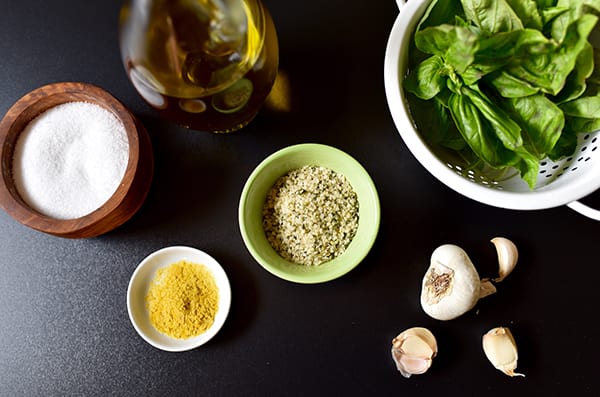 So let's talk about sun-dried tomatoes for a second. These tiny morsels of giant flavor were originally created out of utility.
Centuries ago, Italian farmers gave their harvests a longer shelf life by salting and evaporating tomatoes, allowing the community to reap their nutritional benefits year-round.
Tomatoes are known for being high in the antioxidant lycopene, which is responsible for their red hue.
Surprisingly, sun-dried tomatoes are actually higher in lycopene than their fresh counterparts, making them as healthful as they are flavorful.
But back to pesto: This recipe keeps tradition with basil, extra virgin olive oil, and garlic, but turns up the nourishment with nutritional yeast and hemp seeds instead of the customary pine nut.
Hemp seeds are packed with omega 3 fatty acids, fiber, and protein.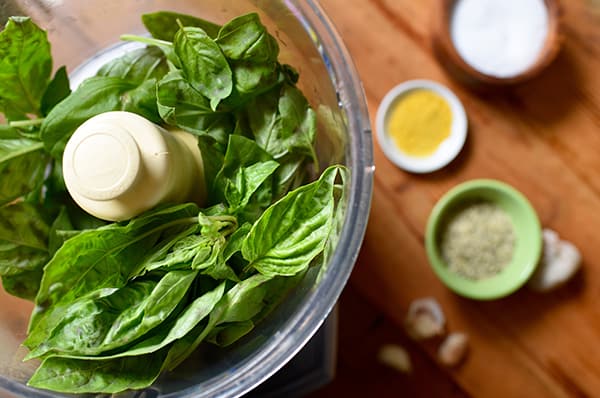 Finally, the all-powerful superfood, quinoa. Higher in protein than brown rice, and brimming with essential amino acids, quinoa is always a terrific choice. Plus, it cooks much faster than rice!
This recipe for Quinoa with Sun-Dried Tomatoes and Pesto is basically a bowl of superfood that tastes incredible. It's perfect for a potluck, or made ahead and taken to the office for lunch.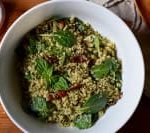 Quinoa with Sun-Dried Tomatoes and Pesto
This Quinoa with Sun-Dried Tomatoes and Pesto recipe is a bowl of superfood that tastes incredible made with hemp seeds, fresh baby spinach, and basil.
Prep Time 20 mins
Cook Time 0 mins
Total Time 50 mins
Servings 8 servings, about ¾ cup each
Calories 201 kcal
Ingredients
½ cup sun-dried tomatoes
Hot water
1 cup packed fresh basil leaves
¼ cup hemp seeds (or coarsely chopped walnuts)
2 cloves garlic, chopped
½ tsp. nutritional yeast
¼ tsp. sea salt (or Himalayan salt)
¼ tsp. ground black pepper
1 Tbsp. water
2 Tbsp. extra-virgin olive oil
4 cups cooked quinoa
2 cups fresh baby spinach
Instructions
Soak sun-dried tomatoes in water for 30 minutes. Drain well; slice thinly. Set aside.

To make pesto, place basil, hemp seeds, garlic, yeast, salt, pepper, and water in a food processor (or blender). Pulse until coarsely ground.

Slowly add oil. Blend until smooth (or until desired consistency is reached). Set aside.

Combine quinoa, sun-dried tomatoes, pesto, and spinach in a large serving bowl; toss gently to blend.
Recipe Notes
The Nutrition Facts box below provides estimated nutritional information for this recipe.
Nutrition Facts
Quinoa with Sun-Dried Tomatoes and Pesto
Amount Per Serving (0.75 cup)
Calories 201 Calories from Fat 81
% Daily Value*
Fat 9g14%
Saturated Fat 1g6%
Sodium 94mg4%
Carbohydrates 23g8%
Fiber 4g17%
Sugar 1g1%
Protein 7g14%
* Percent Daily Values are based on a 2000 calorie diet.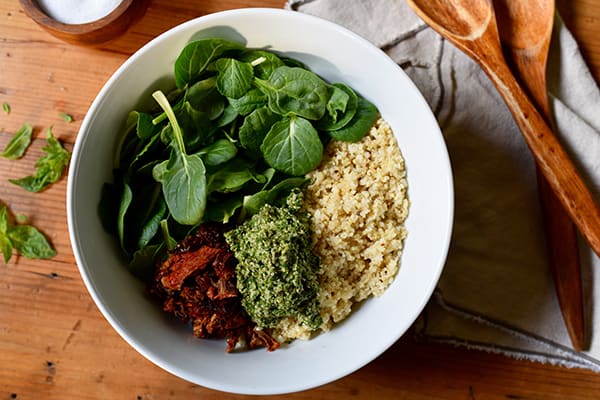 Love this recipe? You can get more delicious recipes like this, meal preps, and more with the 2B Mindset and Portion Fix nutrition programs on BODi.
Container Equivalents
½ Green
1 Yellow
½ Orange
1 tsp.
2B Mindset Plate It!
Makes a great FFC side as part of breakfast or lunch.
If you have questions about the portions, please click here to post a question in our forums so our experts can help. Please include a link to the recipe.
Photos by Kirsten Morningstar