Mexican Chicken Zucchini Boats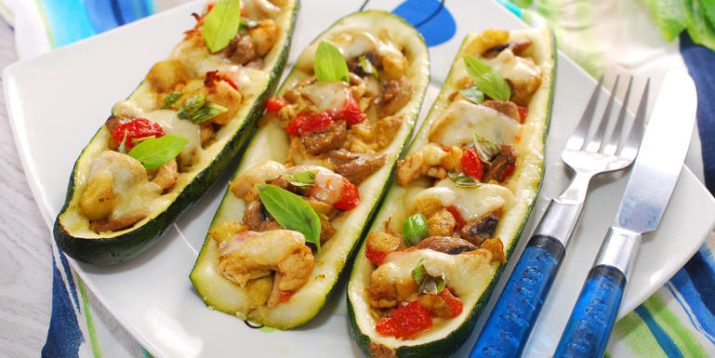 I don't always associate the word "healthy" with the kind of Mexican food that I tend to gravitate toward (chips, guacamole, and queso, anyone?). But these Mexican chicken zucchini boats are the real (healthy) deal: rich flavors, a spicy kick, and just 9 grams of fat per serving.
These boats are a healthier spin on chicken burritos, swapping in nutritious zucchini for flour tortillas.
A typical flour tortilla contains 25 grams of carbohydrates, 458 milligrams of sodium, and not much else. One zucchini, on the other hand, contains 10 grams of carbs, 26 milligrams of sodium, as well as vitamins A, C, and K, and minerals like calcium, potassium, and magnesium.
Using zucchini as the vessel is also a convenient way to watch your portions without having to think too hard: 1 boat = 1 serving.
You can cook the chicken however you choose, but for tender, succulent chicken, check out this no-fuss cooking guide for baked chicken breasts.
There's a boatload of good stuff in this dish: protein, vitamins, and minerals from the spices (cumin, paprika, and chili powder), and lycopene from tomato sauce and tomato paste.
And of course, everything just tastes better with melted cheese on top!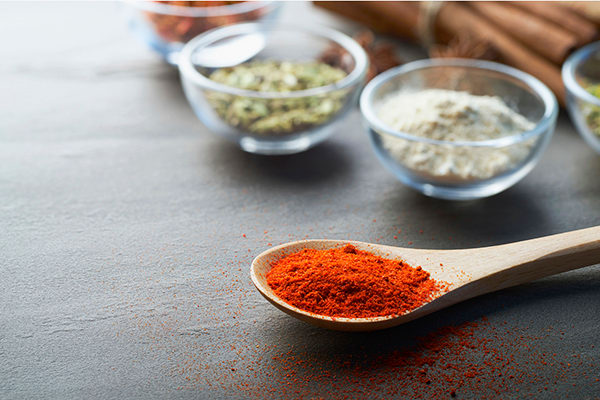 These zucchini boats are also incredibly versatile — serve them as a main course with a green salad, or cut them into smaller pieces for a unique, nutritious one-bite appetizer for your next party.
Plus, these boats can travel: Pop your leftovers in a container and you've got a fast, easy lunch to bring to work.
For more Mexican-inspired meals, try these recipes for chicken burrito bowls, breakfast scramble, and cheesy slow-cooker enchiladas.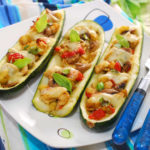 Mexican Chicken Zucchini Boats
These boats are a healthier spin on chicken burritos, swapping in nutritious zucchini for flour tortillas.
Prep Time 20 mins
Cook Time 50 mins
Total Time 1 hr 10 mins
Servings 8 servings, 1 boat each
Calories 239 kcal
Ingredients
4 large zucchini, cut in half lengthwise
4 tsp. olive oil, divided use
1 medium onion, finely chopped
2 cloves garlic, finely chopped
1 cup tomato sauce, no sugar added
2 Tbsp. tomato paste, no sugar added
1 Tbsp. ground chili powder (or 1½ tsp. chili powder and 1½ tsp. ancho chili powder)
1 tsp. ground cumin
½ tsp. ground paprika
3 cups shredded cooked chicken breast
1⅓ cups corn kernels
1 cup shredded cheddar, (or Monterey jack) cheese
2 Tbsp. finely chopped cilantro
1 medium tomato, chopped
2 green onions, thinly sliced
Instructions
Preheat oven to 400º F.

Using a spoon (or melon baller), scoop pulp out of zucchini to make boats. Place on a large baking sheet. Brush with 1 tsp. oil. Bake for 15 to 20 minutes, turning once, until tender-crisp.

While zucchini is baking, heat remaining 3 tsp. oil in medium nonstick skillet over medium-high heat.

Add onion; cook, stirring frequently, for 4 to 6 minutes, or until onion is translucent.

Add garlic; cook, stirring frequently, for 1 minute.

Add tomato sauce, tomato paste, chili powder, cumin, and paprika. Bring to a boil, stirring frequently. Reduce heat to medium-low; cook, stirring occasionally, for 10 minutes.

Add chicken and corn; cook, stirring occasionally, for 5 minutes, or until heated through. Remove from heat.

Evenly spoon chicken mixture into zucchini boats. Evenly top with cheese.

Bake for 5 to 8 minutes, or until cheese has melted.

Sprinkle evenly with cilantro, tomato, and green onions; serve immediately.
Recipe Notes
The Nutrition Facts box below provides estimated nutritional information for this recipe.
Nutrition Facts
Mexican Chicken Zucchini Boats
Amount Per Serving (1 serving)
Calories 239 Calories from Fat 81
% Daily Value*
Fat 9g14%
Saturated Fat 4g25%
Cholesterol 59mg20%
Sodium 388mg17%
Carbohydrates 16g5%
Fiber 4g17%
Sugar 7g8%
Protein 24g48%
* Percent Daily Values are based on a 2000 calorie diet.
Container Equivalents
1 Green
½ Red
½ Yellow
½ Blue
½ tsp.
2B Mindset Plate It!
Makes a great lunch.
If you have questions about the portions, please click here to post a question in our forums so our experts can help. Please include a link to the recipe you're asking about.