Baked Vanilla Oatmeal with Nutmeg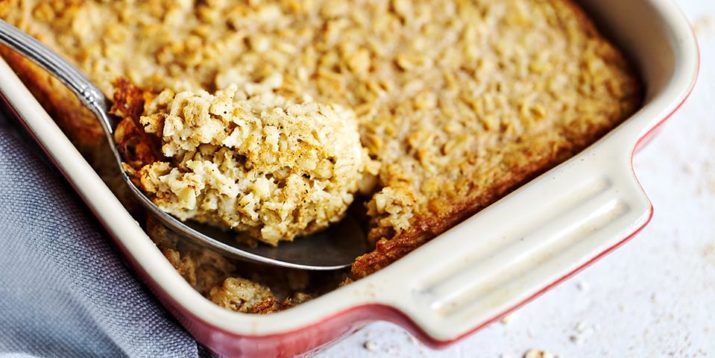 Just when you thought your morning oatmeal couldn't get any easier, this recipe comes along.
This Baked Vanilla Oatmeal with Nutmeg uses a totally hands-free approach to cooking.
Instead of stirring oats as they cook over the stove, all you'll need to do is pour it all into a baking dish and pop it into the oven.
It'll emerge perfectly cooked and ready to eat!
This version uses vanilla and nutmeg as the main flavorings in this dish. You could easily substitute the nutmeg for cinnamon, cardamom or another spice of your choice.
This baked oatmeal recipe would also take well to chopped or dried fruit, such as apples, apricots or raisins.
If you have any leftovers, they can be reheated in the oven or over the stove top.
Because the oats are already cooked, they wouldn't need much time on the stove. Simply add a bit more almond milk to loosen up the mixture, and stir until smooth.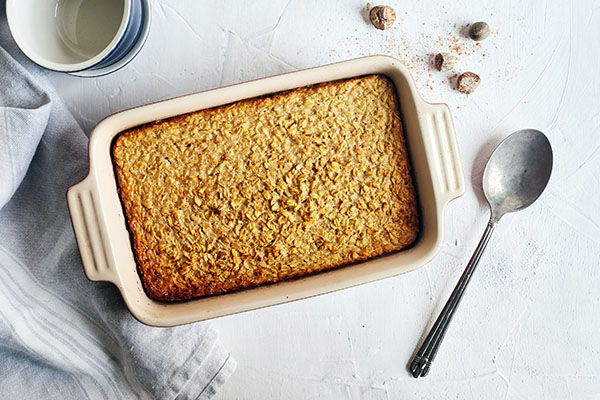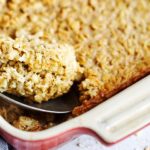 Baked Vanilla Oatmeal with Nutmeg
This easy oven Baked Oatmeal recipe features old-fashioned rolled oats, raw honey, and unsweetened applesauce for a touch of natural sweetness.
Prep Time 10 mins
Cook Time 40 mins
Total Time 50 mins
Servings 8 servings, approx. ⅔ cup each
Calories 170 kcal
Ingredients
Nonstick cooking spray
3 cups dry old-fashioned rolled oats
1½ tsp. baking powder
1 tsp. ground nutmeg
¼ tsp. sea salt (or Himalayan salt)
3 cups unsweetened almond milk
1 tsp. pure vanilla extract
2 large eggs
¼ cup unsweetened applesauce
2 Tbsp. raw honey*
Instructions
Lightly coat a 2-quart baking dish with spray. Set aside.


Combine oats, baking powder, nutmeg, and salt in a medium bowl; mix well. Set aside.


Combine almond milk, extract, eggs, applesauce, and honey in a large bowl; whisk to blend.


Add oat mixture to milk mixture; mix well.


Pour mixture into prepared baking dish.


Bake for 35 to 40 minutes, or until top has browned.

Recipe Notes
* Do not feed honey to children younger than one year.
Nutrition Facts
Baked Vanilla Oatmeal with Nutmeg
Amount Per Serving (0.66 cup)
Calories 170 Calories from Fat 36
% Daily Value*
Fat 4g6%
Saturated Fat 1g6%
Cholesterol 47mg16%
Sodium 227mg10%
Carbohydrates 27g9%
Fiber 4g17%
Sugar 5g6%
Protein 6g12%
* Percent Daily Values are based on a 2000 calorie diet.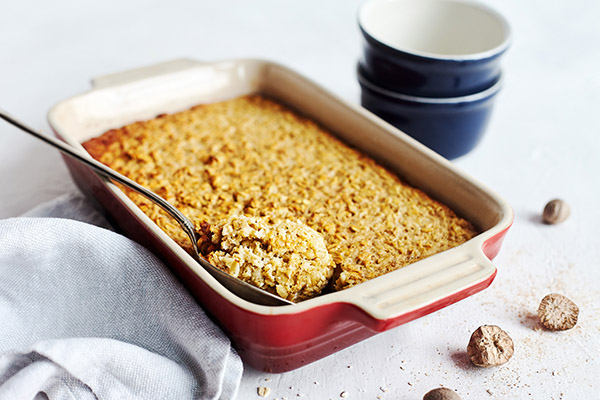 Container Equivalents
2 Yellow
If you have questions about the portions, please click here to post a question in our forums so our experts can help. Please include a link to the recipe.