Pad Thai With Spaghetti Squash
When I traveled through Southeast Asia, eating pad thai became an almost daily ritual.
Some of the best pad thai I've ever had was sold on the side of the street, out of little food carts manned by self-taught cooks.
When I cook at home, I try to weave in traditional pad thai flavors.
Take this Pad Thai with Spaghetti Squash, for example.
The flavors are similar to the traditional dish you can get at any night market or noodle stall in Thailand; there's tamarind paste, eggs, bean sprouts, peanuts, and lots of garnishes.
But here's where we get really creative — instead of noodles, this recipe calls for spaghetti squash!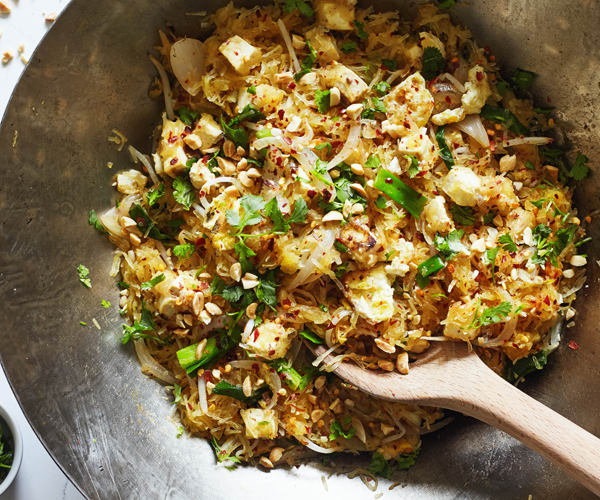 Once roasted, the insides of the spaghetti squash turn into stringy pieces that resemble noodles.
And after they're cooked into the pad thai sauce, you can barely tell the difference.
Spaghetti squash is a great alternative to rice-based noodles, and it allows you to squeeze even more veggies into your meal.
The other bonus: while rice-based noodles sometimes become "sticky" after sitting in the fridge, spaghetti squash does no such thing.
This means any extras will make a great lunch that will be even tastier the next day, after marinating in the sauce overnight.
The first step to preparing this easy pad thai recipe is to roast the squash.
After it cooks, you'll scrape out the flesh into stringy noodles and then set it aside until the end.
Next, it's time to stir fry the rest of your ingredients and prepare the sauce.
To make the cooking process as quick as possible, I recommend preparing and slicing up all your ingredients in advance.
Then it's simply a matter of adding them to the wok and quickly cooking the ingredients in stages.
The slightly longer prep time pays off; the flavor of this dish will knock your socks off!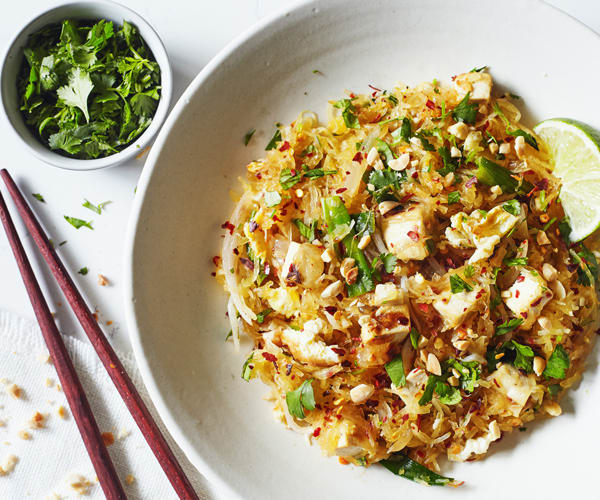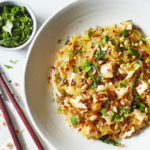 Pad Thai with Spaghetti Squash
This easy, healthy pad thai recipe swaps out noodles for spaghetti squash.
Prep Time 20 mins
Cook Time 1 hr 30 mins
Total Time 1 hr 50 mins
Servings 6 servings
Calories 231 kcal
Ingredients
1 medium spaghetti squash about 3 lbs.
2 Tbsp. tamarind paste or rice wine vinegar
2 Tbsp. fish sauce
1 tsp. raw honey
2-4 Tbsp. water
12 oz. extra-firm tofu, cut into small cubes
3 Tbsp. cornstarch
8 tsp. peanut oil, divided use
1 medium onion, thinly sliced
2 large eggs, lightly beaten
4 cloves garlic, finely chopped
3/4 cup fresh bean sprouts
4 medium green onions, cut into 1-inch pieces
2 Tbsp. chopped peanuts
Lime wedges
Cilantro sprigs
Crushed red pepper
Instructions
Place squash on a parchment-lined baking sheet. Poke squash 2 or 3 times with a fork. Bake for 60 to 80 minutes. Cool for 20 to 30 minutes. Cut squash in half lengthwise. Remove seeds. Scrape flesh into stringy noodles. Set aside.  

To make sauce, heat tamarind paste, fish sauce, honey and water in a small saucepan over medium heat. Cook, stirring constantly, for 1 to 2 minutes. Add additional water is sauce is too tart. Set aside.

Coat tofu in cornstarch in a small bowl; mix well.

Heat a large wok (or skillet) over high heat.

Add 2 tsp. oil, swirling to cover surface of pan. Add tofu; cook, stirring constantly, for 2 to 3 minutes, or until all sides of tofu are brown. Remove tofu from pan and place on a large plate. Set aside.

Add 2 tsp. oil to pan; cook, over high heat, swirling to cover surface of pan. Add onions; cook, stirring constantly, for 3 to 4 minutes, or until onion are light golden brown. Remove from pan; place on plate with tofu. Set aside.

Add 2 tsp. oil to pan; cook, over high heat, swirling to cover surface of pan. Add eggs; cook over medium heat. Do not stir. As eggs set, lift edges, letting uncooked portion flow underneath, creating a very thin omelet. When eggs are set, cut them with your spatula. Remove eggs from pan and place on plate with tofu and onions. Set aside.

Add remaining 2 tsp. oil to pan, swirling to cover surface of pan. Add garlic; cook, over medium-high heat, for 1 minute.

Add spaghetti squash, spreading squash into a single layer; cook for 30 second, stir and make another single layer. Repeat this 3 to 6 times, cooking for about 3 to 4 minutes, or until squash is warm and golden brown.

Add bean sprouts and green onions; mix well.

Add tofu mixture; cook, stirring frequently, for 1 to 2 minutes, or until well mixed and heated through.

Transfer to a large serving platter. Top with peanuts, lime wedges, cilantro, and crushed red pepper. Serve immediately.
Recipe Notes
If you can't find tamarind paste, you can substitute rice wine vinegar.
Thai fish sauce is Nam Pla, but you can use another kind if you have it.
The Nutrition Facts box below provides estimated nutritional information for this recipe.
Nutrition Facts
Pad Thai with Spaghetti Squash
Amount Per Serving (1 serving)
Calories 231 Calories from Fat 99
% Daily Value*
Fat 11g17%
Saturated Fat 2g13%
Cholesterol 62mg21%
Sodium 473mg21%
Carbohydrates 25g8%
Fiber 5g21%
Sugar 9g10%
Protein 10g20%
* Percent Daily Values are based on a 2000 calorie diet.
Container Equivalents
2 Green
½ Red
½ Yellow
1½ tsp.
2B Mindset Plate It!
Add a side salad or veggies for dinner. Add an FFC for lunch.
If you have questions about the portions in this pad thai recipe, please click here to post a question in our forums so our experts can help. Please include a link to the recipe.
Photographs by Anguel Dimov and Brianne B of Natural Girl Modern World