Spinach and Broccoli Strata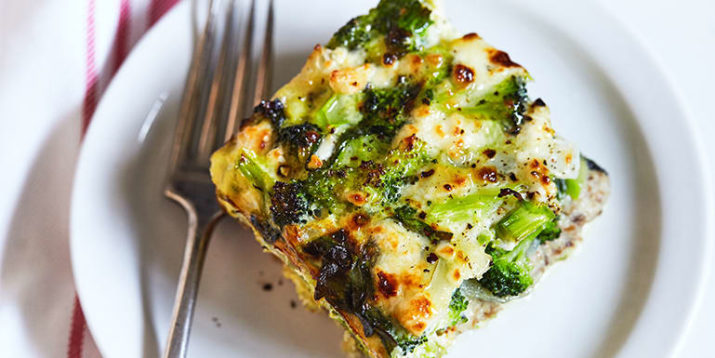 When I'm cooking brunch for a crowd, one of my favorite dishes to make is strata, a baked eggs dish that features layers of bread, eggs, and cheese. It can be baked in large batches, making the preparation and cooking process a lot easier on the day of your brunch.
Strata is quite versatile, so feel free to mix up the filling with whatever you have on hand. This Spinach and Broccoli Strata features a great balance of colors and flavors; the broccoli adds a toothsome texture and pretty pop of green, and the crumbled feta cheese adds a salty, creamy component.
Brunches at home are a great way to spend time with family and friends without the hassle of fighting weekend lineups at your nearest diner or trendy breakfast spot. When you have brunch at home, you get to make exactly what you want, and eat it exactly when you want.
I used to think making tasty brunches at home was too much trouble. But I quickly learned that once you have a handful of reliable brunch recipes in your pocket, it's actually quite hard to go back.
You can prepare this Spinach and Broccoli Strata the night before and let it rest in the fridge. Then, all you need to do in the morning is pop it in the oven to bake (this may increase the baking time).
This recipe makes a large portion (serves eight), so feel free to refrigerate any extras to enjoy the next day.
Spinach and Broccoli Strata
Prep Time 0 mins
Cook Time 0 mins
Total Time 0 mins
Ingredients
Hot water
4 cups broccoli florets
4 tsp . olive oil
1 medium onion , chopped
2 cloves garlic , finely chopped
8 large eggs , lightly beaten
2 cups reduced-fat (2%) milk
2 cups raw spinach , chopped
½ tsp . sea salt (or Himalayan salt)
½ tsp . ground black pepper
Nonstick cooking spray
8 slices low-sodium sprouted whole grain bread , cut into 1-inch cubes
¼ cup crumbled feta cheese (about 1½ oz.)
Instructions
Boil water in steamer or large saucepan over high heat. Reduce heat to medium-high. Place broccoli in steamer basket; cook for 3 to 4 minutes, or until tender-crisp and bright green. Place in ice water bath to stop cooking process. Drain and coarsely chop. Set aside.

Preheat oven to 350º F.

Heat oil in a medium nonstick skillet over medium heat.

Add onion; cook, stirring frequently, for 4 to 6 minutes, or until onion is translucent.

Add garlic; cook, stirring frequently, for 1 minute. Remove from heat. Set aside.

Combine eggs, milk, spinach, salt, pepper, broccoli, and onion mixture in a large bowl; mix well.

Place bread and cheese in 3-quart baking dish that has been lightly coated with spray.

Top with egg mixture. Press down gently so that bread absorbs egg mixture. Cover with aluminum foil.

Bake for 20 minutes. Remove foil; bake for an additional 15 to 25 minutes, or until strata has puffed up, is cooked through, and is lightly browned on top.

Tip: Strata can be covered and refrigerated overnight before baking. (This may increase baking time.) This works well if you are serving it for brunch.
Nutritional Information (per serving):
Calories: 233
Total Fat: 10 g
Saturated Fat: 3 g
Cholesterol: 195 mg
Sodium: 301 mg
Carbohydrates: 22 g
Fiber: 3 g
Sugars: 4 g
Protein: 14 g
(Not familiar with Portion Fix? Find out how Portion Fix can make losing weight simple.)
P90X/P90X2 Portions
1 Protein
½ Carb/Grain
1 Vegetable
P90X3 Portions
1½ Carb
1 Protein
1 Fat
Body Beast Portions
1 Starch
1½ Vegetable
1½ Protein
1 Fat
Portion Fix Containers
1 Green
1 Yellow
½ Red
½ Blue
1 tsp.
2B Mindset Plate It!
Add a side salad or veggies for lunch. Add a protein for breakfast.
If you have questions about the portions, please click here to post a nutrition question in our forums so our experts can help. Please include a link to the recipe.
Photographs by Anguel Dimov and Brianne B of Natural Girl Modern World
Save
Save