Mediterranean-Style Tuna Salad Sandwich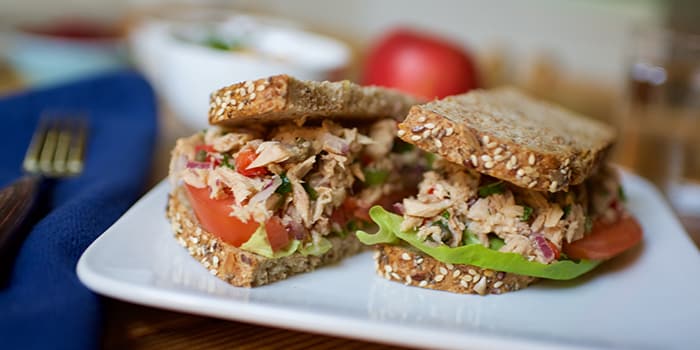 This Mediterranean-style Tuna Salad Sandwich recipe is a healthy, versatile, high-protein meal.
Instead of mayonnaise, we dressed it with lemon juice and extra-virgin olive oil and added colorful veggies for extra crunch and nutrition.
Make multiple servings of the tuna mixture in this recipe and use in sandwiches, salads, and even tossed with cooked whole-grain pasta.
You can also make a sandwich using lettuce leaves instead of bread.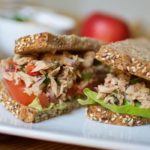 Tuna Salad Sandwich
This healthier take on Tuna Salad can be enjoyed with whole-grain bread or lettuce leaves.
Prep Time 15 mins
Cook Time 0 mins
Total Time 15 mins
Servings 1 serving
Calories 437 kcal
Ingredients
1 (3½ -oz.) can solid white tuna, packed in water, drained
1 Tbsp. fresh lemon juice
2 tsp. extra-virgin olive oil
1/4 medium red onion, finely chopped
1/4 medium celery stalk, finely chopped
1 Tbsp. finely chopped red bell pepper
1 Tbsp. chopped fresh parsley
1 tsp. capers
ground black pepper, to taste; optional
2 slices high-fiber whole grain bread
2 slices medium tomato
1 lettuce leaf
Instructions
Combine tuna, lemon juice, oil, onion, celery, bell pepper, parsley, capers, and pepper (if desired) in a small bowl; mix well.

Top one slice of bread with tuna mixture; top with tomato, lettuce, and finish with second slice of bread.
Recipe Notes
Nutritional Information per serving without bread:
Calories: 217
Total Fat: 12 g
Saturated Fat: 2 g
Cholesterol: 36 mg
Sodium: 414 mg
Carbohydrates: 6 g
Fiber: 1 g
Sugar: 3 g
Protein: 21 g
Nutrition Facts
Tuna Salad Sandwich
Amount Per Serving (1 serving)
Calories 437 Calories from Fat 144
% Daily Value*
Fat 16g25%
Saturated Fat 2g13%
Cholesterol 36mg12%
Sodium 774mg34%
Carbohydrates 46g15%
Fiber 7g29%
Sugar 9g10%
Protein 29g58%
* Percent Daily Values are based on a 2000 calorie diet.
Container Equivalents
1 Green
2 Yellow
1 Red
2 tsp.
2B Mindset Plate It!
Serve open-faced with one slice of bread along with some veggies for a great lunch option.
Portions Per Serving Without Bread:
Container Equivalents
1 Green
1 Red
2 tsp.
If you have questions about the portions, please click here to post a question in our forums so our experts can help. Please include a link to the recipe.
Photos by Kirsten Morningstar