Brunch is hands down one of my favorite meals. There's nothing like a lazy, late breakfast with friends or family to start your weekend morning off right.
But after learning how easy it was to make a vegetarian eggs Benedict at home, I was sold: From now on, I prefer to take my unhurried brunches at home. Pajama party, anyone?
Eggs Benedict is a staple on breakfast and brunch menus. The classic Benedict made with ham or Canadian bacon, and smothered with buttery hollandaise sauce is only the beginning. From there, you can get as creative as you'd like! I prefer mine with veggies.
This vegetarian eggs Benedict with sautéed asparagus and mushrooms and a much healthier version of hollandaise sauce is a delicious way to get your brunch on.
If asparagus and mushrooms aren't your cup of tea, modify the toppings to your heart's content. Additional ingredient options and their Container Equivalents are included below.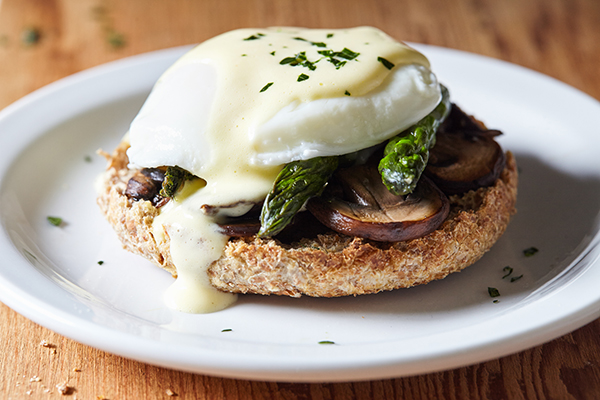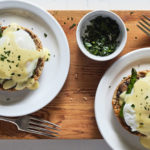 Vegetarian Eggs Benedict
This vegetarian eggs Benedict with asparagus, mushrooms, and healthier version of Hollandaise sauce is a delicious way to brunch.
Prep Time 15 mins
Cook Time 27 mins
Total Time 42 mins
Servings 2 servings, 2 halves each
Calories 425 kcal
Ingredients
1 tsp. olive oil
4 oz. sliced mushrooms
4 oz. asparagus tips (1-inch pieces; about 1 cup)
2 cups water
2 tsp. fresh lemon juice (or white vinegar)
4 large eggs
2 whole-grain English muffins, split, toasted
¼ cup Healthy Hollandaise Sauce
1 tsp. finely chopped parsley (for garnish; optional)
Instructions
Heat oil in large nonstick skillet over medium-high heat.

Add mushrooms; cook, stirring frequently, for 5 to 6 minutes or until mushrooms release liquid.

Add asparagus; cook, stirring frequently, for 4 to 5 minutes, or until tender-crisp. Remove from heat. Set aside.

Place water in medium saucepan and bring to a boil over medium-high heat. Add lemon juice; reduce heat to maintain a gentle boil.

Break two eggs into a small bowl. Hold bowl close to the water's surface and slip the eggs, one by one, into the water. Cook until whites are completely set and yolks begin to thicken, about 5 minutes. Gently lift eggs out of water; keep warm. Repeat, cooking two eggs at a time.

Place English muffins on a serving plate. Evenly top each muffin half with mushroom mixture, an egg, and Hollandaise Sauce. Garnish with parsley if desired; serve immediately.
Nutrition Facts
Vegetarian Eggs Benedict
Amount Per Serving (1 serving)
Calories 425 Calories from Fat 180
% Daily Value*
Fat 20g31%
Saturated Fat 7g44%
Cholesterol 447mg149%
Sodium 454mg20%
Carbohydrates 36g12%
Fiber 8g33%
Sugar 4g4%
Protein 26g52%
* Percent Daily Values are based on a 2000 calorie diet.
Vegetarian Eggs Benedict Recipe Variations (for two servings):
Avocado – Add ¼ avocado. Add ½ blue container equivalent for each serving
Roasted red bell pepper – Substitute ½ cup roasted red bell pepper for mushrooms or asparagus
Spinach – Substitute 3 cups raw spinach for mushrooms or asparagus
Tomato – Substitute 6 slices of tomato for mushrooms or asparagus
Portobello mushroom – Substitute 2 grilled portobello mushrooms for the English muffin. Add ½ green container equivalent and eliminate 1 yellow per serving
Container Equivalents
1 Green
1 Red
2 Yellow
1 Orange
2B Mindset Plate It!
A great breakfast option. Add veggies or a side salad for lunch.
If you have questions about the portions, please click here to post a nutrition question in our forums so our experts can help. Please include a link to the recipe.
Photographs by Anguel Dimov and Brianne B of Natural Girl Modern World
Save
Save