Carrot and Squash Noodles With Shrimp and Tomatoes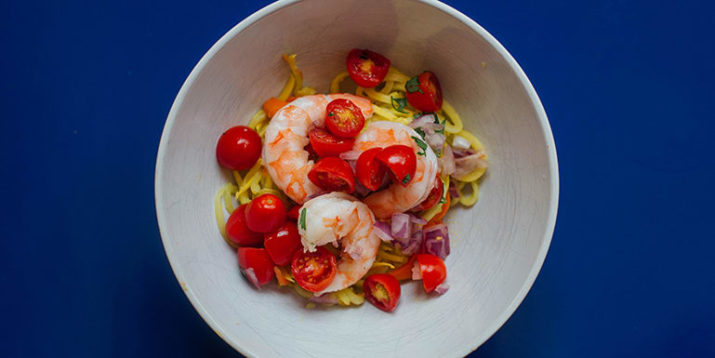 There's nothing I love more than a plate of warm, tomato-saucy pasta. What I don't love is the heavy I-just-ate-a-carb-bomb feeling I get afterward.
The solution? Carrot and squash noodles with shrimp and tomatoes.
This recipe hits all the marks for a satisfying "pasta" dish: It's full of vegetable goodness like summer squash and carrots, mixed with shrimp and the fresh, bright flavors of tomatoes, red onion, lime, and cilantro. (Is your mouth watering yet?)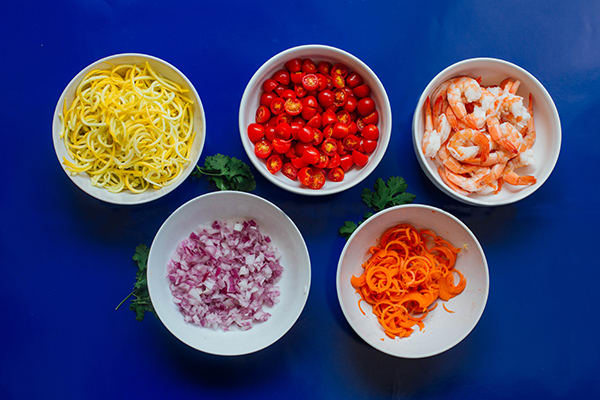 The best part? No more feeling like you just ate a gut bomb. It's light and refreshing, but filling at the same time. One serving has 23 grams of protein, 11 grams of carbs, and 3 grams of fiber.
To make vegetable noodles out of the carrots and squash for this recipe, you'll need a vegetable peeler. But if you're feeling fancy and want to save some time, you can use a spiralizer instead.
This handy, inexpensive kitchen tool will magically turn any vegetable into faux-pasta noodles.
I'm a fan of very al dente pasta, so veggie noodles are a great way to duplicate the same firm mouthfeel of regular pasta. You can experiment with cooking times to get them to just the right texture.
This also a flexible recipe — if you're not a fan of squash, you can sub in raw beets or zucchini. Don't like seafood? You can try swapping in chicken or any other preferred protein source.
It's super simple and fast: You'll spend the most time (15 minutes or so) chopping and spiralizing. Cook time: 6 minutes or less. It's the perfect meal for a hot night or when you don't want to deal with a bunch of different pots and pans. Get chopping!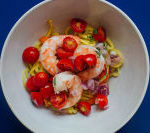 Carrot and Squash Noodles With Shrimp and Tomatoes
Prep Time 15 mins
Cook Time 6 mins
Total Time 21 mins
Servings 4 servings, about 1 cup each
Calories 213 kcal
Ingredients
12 oz. cooked shrimp
2 medium tomatoes, chopped
½ medium red onion, chopped
¼ cup finely chopped fresh cilantro
¼ cup fresh lime juice
2 Tbsp. + 2 tsp. olive oil, divided use
¾ tsp. sea salt (or Himalayan salt), divided use
¼ tsp. ground black pepper
2 medium summer squash (or raw beets)
2 medium carrots
Instructions
Combine shrimp, tomatoes, onion, cilantro, lime juice, 2 Tbsp. oil, ¼ tsp. salt, and pepper in a medium bowl; mix well. Refrigerate, covered, for 20 minutes.

To make summer squash noodles, cut each squash into thin lengthwise strips using a vegetable peeler. Turn squash slightly after cutting each strip to work evenly around the outside, stopping when you hit the seeds at the core. Discard cores. Cut slices lengthwise into strips resembling spaghetti. Set aside.

Cut carrots the same as squash. Set aside.

Heat remaining 2 tsp. oil in medium skillet over medium heat.

Add squash, carrot, and remaining ½ tsp. salt (if desired); cook, stirring frequently, for 3 to 5 minutes, or until vegetables are cooked to desired doneness. Remove from heat.

Evenly divide carrot noodles between four serving plates. Top evenly with shrimp mixture. Serve immediately.
Recipe Notes
The Nutrition Facts box below provides estimated nutritional information for this recipe.
Nutrition Facts
Carrot and Squash Noodles With Shrimp and Tomatoes
Amount Per Serving (1 serving)
Calories 213 Calories from Fat 90
% Daily Value*
Fat 10g15%
Saturated Fat 1g6%
Cholesterol 161mg54%
Sodium 549mg24%
Carbohydrates 11g4%
Fiber 3g13%
Sugar 6g7%
Protein 23g46%
* Percent Daily Values are based on a 2000 calorie diet.
P90X/P90X2 Portions
½ Fat
1 Protein
1 Vegetable
P90X3 Portions
1 Carb
1 Protein
1½ Fat
Body Beast Portions
2 Protein
3 Vegetables
1½ Fat
Container Equivalents
1 Green
½ Red
2 tsp.
If you have questions about the portions, please click here to post a nutrition question in our forums so our experts can help. Please include a link to the recipe.
Photos by Amanda Meixner and Dani Paris