Barbecue Spaghetti Squash Sliders
Spaghetti squash is an amazingly versatile vegetable: It can stand in for pasta and even take the place shredded pork in this slider recipe!
Spaghetti squash absorbs the flavors you add to it, so mimicking succulent barbecue pork meat starts with adding your favorite smoky barbecue sauce and spices like cumin and paprika (try a dash of cayenne pepper for extra kick).
The combination of flavors and textures creates a convincing, plant-based version of pulled pork.
Pile your saucy "pulled squash" on whole-grain dinner rolls and top them with a tangy, fresh cabbage slaw and sliced pickles for sliders that vegetarians and meat-eaters alike will love.
For other other barbecue-inspired recipes that taste great any time of year, try these Barbecue Chicken Baked Sweet Potatoes and Barbecued Cauliflower Salad.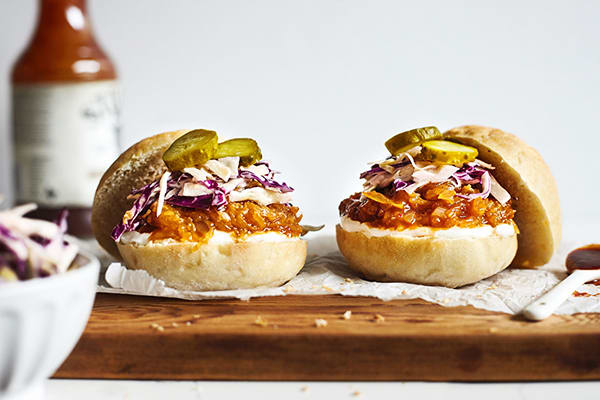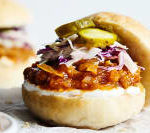 Roasted Spaghetti Squash Sliders
These barbecue spaghetti squash sliders taste like pulled pork, but they're all vegan!
Prep Time 20 mins
Cook Time 1 hr
Total Time 1 hr 20 mins
Servings 6 servings, 2 sliders each
Calories 314 kcal
Ingredients
Parchment paper
1 medium spaghetti squash about 3 lbs.
2 Tbsp olive oil divided use
¼ tsp. sea salt or Himalayan salt
¼ tsp. ground black pepper
2 cups shredded green cabbage
1 cup shredded red cabbage
¼ cup vegan mayonnaise or all-natural mayonnaise
1 tsp. Dijon mustard
1 dash ground celery seed optional
1 dash ground white pepper or ground black pepper
1 medium onion finely chopped
1 tsp. garlic powder
½ tsp. ground cumin
½ tsp. ground paprika
¼ tsp. crushed red pepper flakes optional
2 Tbsp. low-sodium organic vegetable broth
¼ cup all-natural smoked barbecue sauce no sugar added
12 small whole-grain dinner rolls cut in half lengthwise, toasted (if desired)
24 thinly-sliced pickles low-sodium if possible
Instructions
Preheat oven to 375º F.

Line large baking sheet with parchment paper. Set aside.

Cut spaghetti squash in half lengthwise. Remove seeds and membrane.

Place spaghetti squash, cut side up, on baking sheet. Evenly drizzle with 1 Tbsp. oil. Season with salt and pepper. Place cut side down.

Bake for 40 to 45 minutes, or until tender.

While spaghetti squash is baking, make coleslaw by combining green and red cabbage, mayonnaise, mustard, celery seed (if desired), and white pepper in a medium bowl; mix well. Refrigerate, covered, until ready to use.

Heat remaining 1 Tbsp. oil in large nonstick skillet over medium-high heat.

Add onion; cook, stirring frequently, for 4 to 5 minutes, or until onion is translucent.

Add garlic powder, cumin, paprika, and red pepper flakes (if desired); cook, stirring constantly, for 2 minutes.

Add broth; cook, stirring frequently, for 1 minute. Remove from heat. Set aside.

Scrape spaghetti squash flesh into stringy noodles. Add to skillet; cook, over medium-high heat, stirring frequently, for 1 to 2 minutes, or until broth is absorbed.

Add barbecue sauce; cook, stirring constantly, for 3 to 4 minutes, or until well coated and heated through.

Evenly top each bottom roll with spaghetti squash mixture, coleslaw, 2 pickles, and top roll; serve immediately.
Nutrition Facts
Roasted Spaghetti Squash Sliders
Amount Per Serving (2 sliders)
Calories 314 Calories from Fat 90
% Daily Value*
Fat 10g15%
Saturated Fat 2g13%
Sodium 560mg24%
Carbohydrates 52g17%
Fiber 8g33%
Sugar 13g14%
Protein 8g16%
* Percent Daily Values are based on a 2000 calorie diet.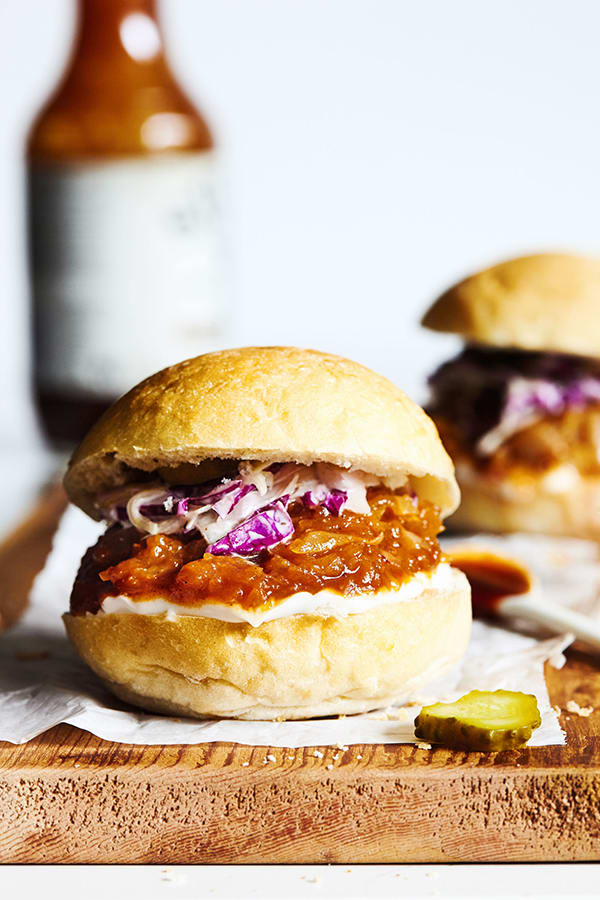 Container Equivalents
2 Green
2 Yellow
2 tsp.
2B Mindset Plate It!
A veggie and FFC as part of lunch.
If you have questions about the portions, please click here to post a nutrition question in our forums so our experts can help. Please include a link to the recipe.
Photographs by Anguel Dimov and Brianne B of Natural Girl Modern World