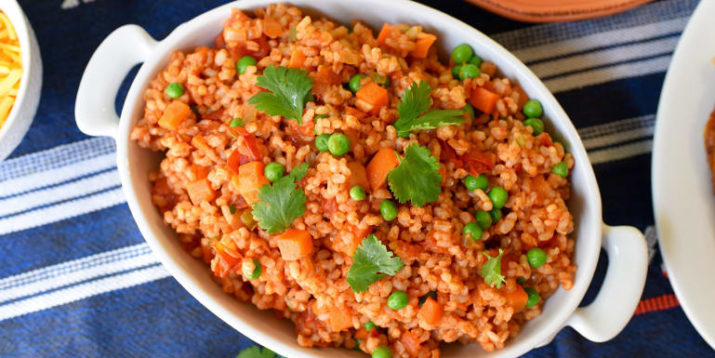 Spanish rice (or Mexican rice) can be an afterthought at many Tex-Mex and Mexican restaurants, slapped onto plates of cheese-smothered enchiladas alongside a brown mush of refried beans.
Don't get me wrong, if I'm indulging in a cheat meal, I'll eat every morsel of it (with the help of a hefty spoonful of salsa), but I always wish it was made with a little more love.
This Spanish brown rice recipe brings the love — with bold flavors and a lot more nutrition.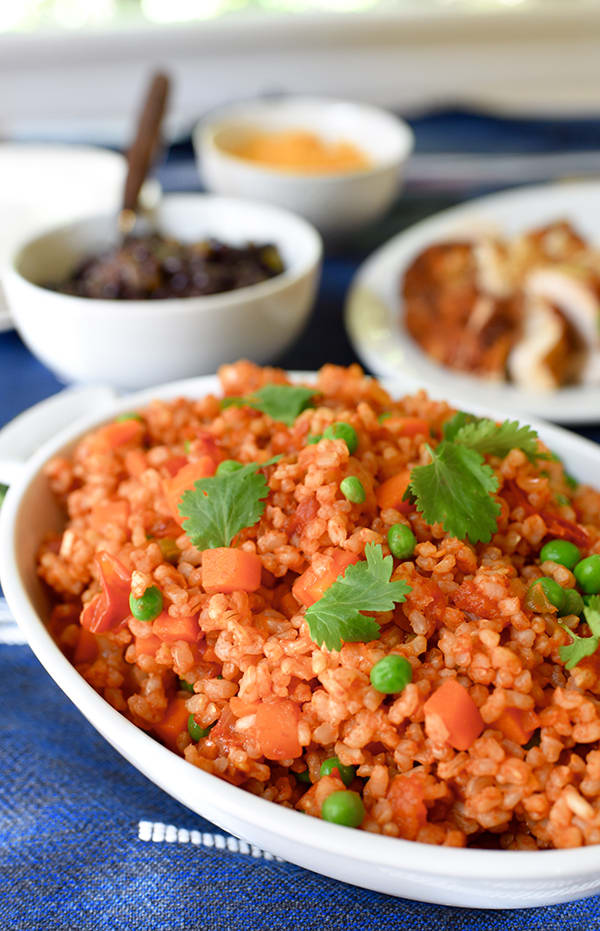 We replaced the usual suspect, white rice, with its whole-grain cousin, brown rice, and amped up the flavor with sautéed onion, garlic, and jalapeño.
Tomato paste gives it that signature orange color and a hint of richness.
Most Spanish rice recipes would stop right there, but this one takes the seasoning to another level with just the right amount of cumin and smoked paprika (regular paprika is fine, but smoked paprika has a distinctive flavor that deserves a place of honor in your spice rack).
We finished the dish with two cups of peas and carrots to add a healthy serving of vegetables to your meal.
Using a frozen blend of veggies saves time; just be sure to look for the kind without any added salt or butter.
Sprinkle some freshly chopped cilantro on top, and you're ready to eat. Serve with Mexican Chicken Zucchini Boats or Slow Cooker Refried Beans and Zesty Chicken.
This recipe uses pre-cooked brown rice. While you can buy rice that is ready to eat in the refrigerator section of most supermarkets, we like to make a big batch of whole grains at the beginning of the week.
This is a versatile side dish that costs pennies per serving, and makes weeknight dinners a breeze.
Make it with the push of a button in a rice cooker, or try this method that gives even better results.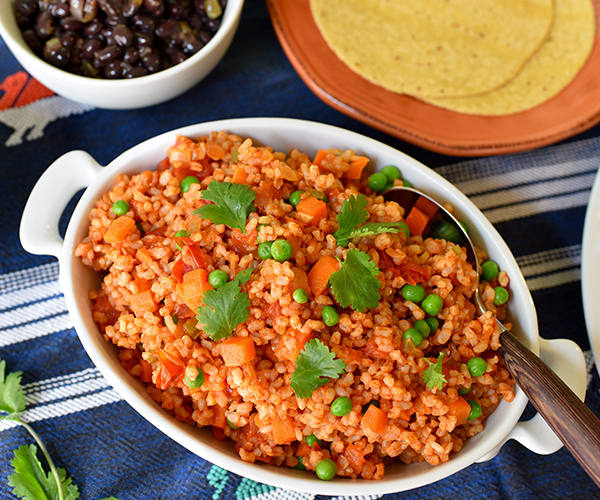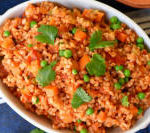 Spanish Brown Rice
In this Spanish Rice recipe, we replaced white rice with brown rice and amp up the flavor with sautéed onion, garlic, and jalapeño.
Prep Time 15 mins
Cook Time 15 mins
Total Time 30 mins
Servings 8 servings, about ⅔ cup each
Calories 134 kcal
Ingredients
1 Tbsp. + 1 tsp. olive oil
½ medium onion, chopped
2 medium tomatoes, chopped
2 cloves garlic, finely chopped
1 medium jalapeno, seeds and veins removed, finely chopped (optional)
2 Tbsp. tomato paste, no added sugar
1 tsp. sea salt (or Himalayan salt)
½ tsp. ground cumin
¼ tsp. ground smoked paprika
1 dash ground black pepper
3 cups cooked brown rice
2 cups frozen peas and carrots
2 Tbsp, fresh cilantro, finely chopped
Instructions
Heat oil in medium saucepan medium-high heat.

Add onion and cook, stirring frequently, for 4 to 5 minutes, or until onion is translucent.

Add tomatoes, garlic, and jalapeno (if desired); cook, stirring frequently, for 1 minute.

Add tomato paste, salt, cumin, paprika, and pepper; cook, stirring frequently, for 1 to 2 minutes, or until vegetables are coated.

Add rice and peas and carrots; cook, stirring frequently, for 5 to 6 minutes, or until heated through.

Garnish with cilantro if desired.
Nutrition Facts
Spanish Brown Rice
Amount Per Serving
Calories 134 Calories from Fat 27
% Daily Value*
Fat 3g5%
Sodium 344mg15%
Carbohydrates 24g8%
Fiber 3g13%
Sugar 3g3%
Protein 4g8%
* Percent Daily Values are based on a 2000 calorie diet.
Love this recipe? You can get more delicious recipes like this, meal preps, and more with the 2B Mindset and Portion Fix nutrition programs on BODi.
Container Equivalents
½ Green
1 Yellow
½ tsp.
2B Mindset Plate It!
A great FFC as part of lunch.
If you have questions about the portions, please click here to post a question in our forums so our experts can help. Please include a link to the recipe you're asking about.
Photos by Kirsten Morningstar