Southwestern Rice and Bean Salad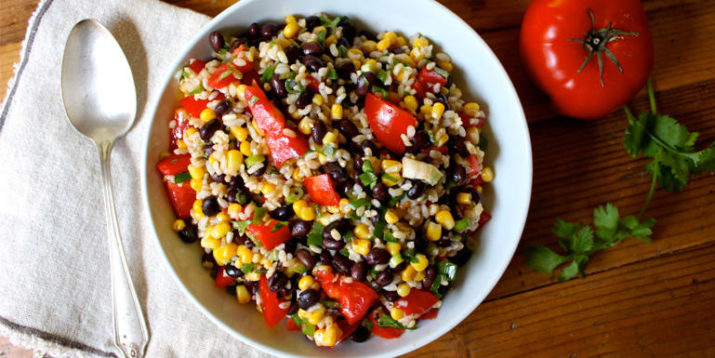 Tex-Mex food is a culinary mash-up of the fiery, comforting flavors of Mexican cuisine and the smoky, meat-centric dishes commonly associated with Texas.
There's addictive comfort found in the charred, rich cuts of meat; piquant, tangy salsas; and the creamy, salty ooze of cheese.
Fantastic for the taste buds, but not always so great for the waistline.
This Southwestern Rice Salad with Black Beans is a trimmed-down, fiber-filled version of a Tex-Mex rice bowl.
We skipped the guac, sour cream, and shredded cheddar to bring the dish under 200 calories, but if you have calories to spare, add ¼ avocado on top.
Instead of using salt and fat to flavor, we went with the verdant, fresh flavors of green onion and cilantro, added a medium-spicy kick from fresh jalapenos and chili powder, and acidic brightness from white wine vinegar.
The result is a whole-grain salad that packs perfectly for a work lunch.
Use leftovers to make black bean veggie burgers following this recipe for Italian Bean Burgers.
Or swap out the Italian flavorings (tomato paste, herbs and Parmesan cheese) for Mexican ones like cumin, ground coriander, and even hot sauce.
If you need to cut down on prep time, look for pre-cooked frozen brown rice (just make sure the ingredients list is clean); this should cut your kitchen time down to about 15 minutes.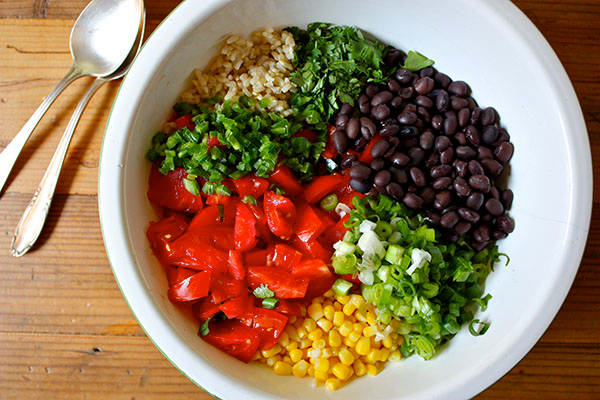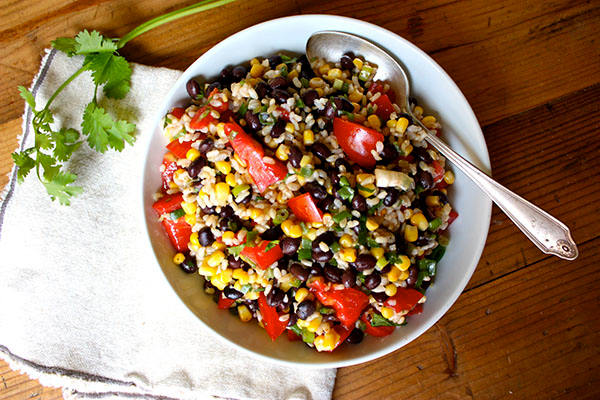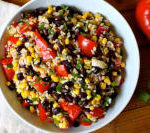 Southwestern Rice and Bean Salad
This Southwestern Rice Salad with Black Beans is a trimmed-down, fiber-filled version of a Tex-Mex rice bowl.
Prep Time 10 mins
Cook Time 0 mins
Total Time 10 mins
Servings 8 servings, about 1 cup each
Calories 157 kcal
Ingredients
2 cups cooked brown rice (or other cooked whole grain)
1 (15-oz.) can black beans, drained, rinsed
2 cups frozen whole-kernel corn, thawed
1 medium tomato, finely chopped
3 green onions, finely chopped
2 Tbsp. extra-virgin olive oil
¼ cup white wine vinegar
¼ cup fresh cilantro, chopped
1 medium jalapeño, finely chopped (or cayenne pepper to taste)
1 tsp. mild chili powder
Instructions
Combine rice, beans, corn, tomato, green onions, oil, vinegar, cilantro, jalapeño, and chili powder in a large serving bowl; mix well.

For best flavor, cover and refrigerate for at least an hour before serving.
Nutrition Facts
Southwestern Rice and Bean Salad
Amount Per Serving (1 serving)
Calories 157 Calories from Fat 36
% Daily Value*
Fat 4g6%
Saturated Fat 1g6%
Sodium 159mg7%
Carbohydrates 26g9%
Fiber 5g21%
Sugar 2g2%
Protein 5g10%
* Percent Daily Values are based on a 2000 calorie diet.
Portion Fix Containers
1½ Yellow
½ tsp.
2B Mindset Plate It!
A great FFC as part of lunch. For the vegan plan add veggies or a salad to make a great lunch.
If you have questions about the portions, please click here to post a question in our forums so our experts can help. Please include a link to the recipe you're asking about.
Photos by Kirsten Morningstar