Calling All Parents: 42 Kid-Friendly Recipes!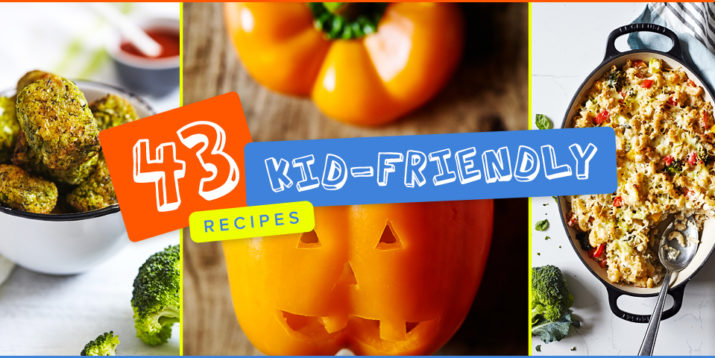 Parents know the truth: Trying to find easy kid-friendly recipes can sometimes feel like searching for a rainbow-colored unicorn.
And that's under the best of circumstances.
But trying to find a healthy, family-friendly recipe after doing everything that needs to get done during your day? Almost impossible.
Search no more, parents: We pulled together an array of recipes that cover the childhood favorites — chicken fingers, hamburgers, pizza, pasta, fajitas, and many more.
Bookmark these, print them out, Pin them — with these kid-friendly staples in your arsenal, you'll never have to search for that rainbow-colored unicorn again!
Burgers and Fajitas | Mac-and-Cheese and Sandwiches | Pasta and Pizza | Chili and Soups | "Fun Food" | Sides and Snacks
The Best Kid-Friendly Recipes
Winner, Winner Chicken (& Turkey) Dinners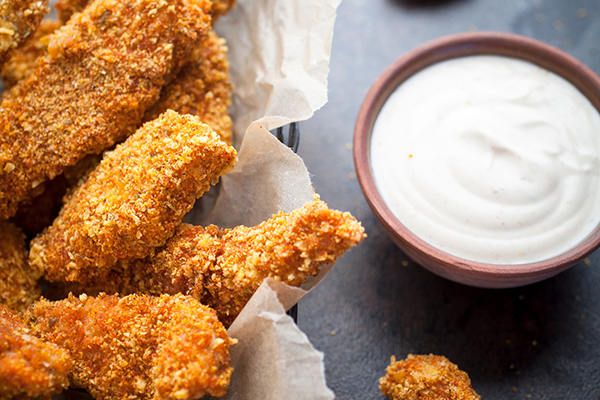 Nothing says "kid-friendly" like chicken fingers. Instead of traditional deep-fried versions, try this baked chicken fingers recipe.
An almond-and-panko crust bakes to a crisp, golden exterior, and the honey mustard sauce has the perfect blend of sweet and tangy. Get the recipe.
(Not a fan of honey mustard? Try this healthier ranch dressing recipe.)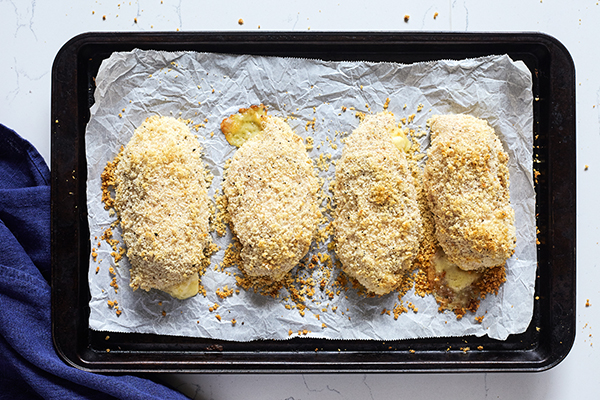 It may sound fancy, but this kid-friendly dinner recipe is basically a chicken breast stuffed with ham and cheese. (#YUM).
If your kiddos are handy in the kitchen, you can get them to help you assemble the chicken breasts before popping them in the oven.
In 30 minutes, your chicken will emerge golden brown, and when you slice into it, you'll see a beautiful ring of ham and melted cheese.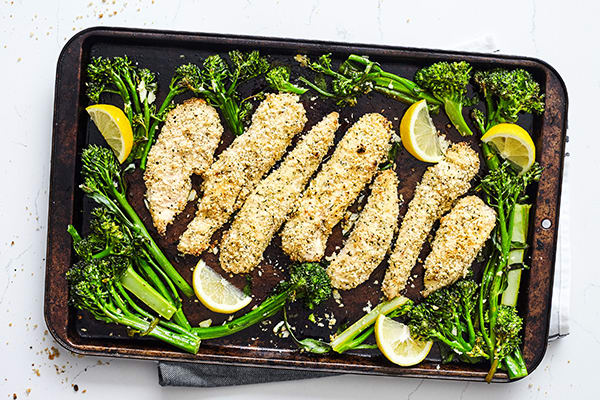 If your little ones can't get enough of finger-shaped food, then bake up a pan of these breaded chicken tenders.
The crunchy crust gets extra flavor from Parmesan cheese, lemon juice, and spices you probably already have in your pantry. Dinner = done.
Ordering in Chinese food is a fun treat, but restaurant food isn't always the healthiest. The solution: Re-create your favorite dishes at home with this family-friendly recipe.
This Healthier General Tso's Chicken looks and tastes just like the real thing, but with much less fat and sugar than the original recipe.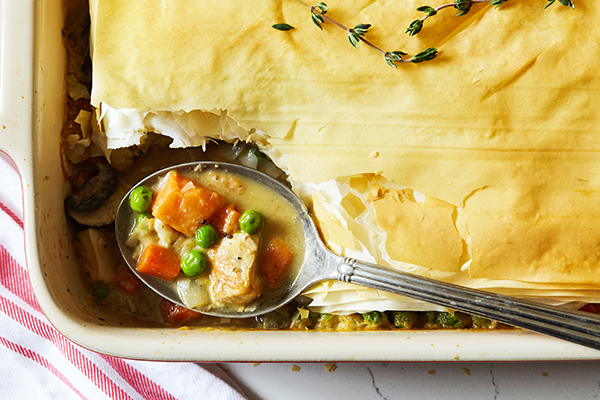 Pie for dinner? Heck, yeah! This savory, comforting dish is one that kids of all ages will love.
But instead of a butter-loaded pastry crust, this lighter Chicken Pot Pie recipe uses crisp, flaky phyllo dough as the topper.
This pie is also a great way to get more vegetables into your kids — it's loaded with mushroom, carrots, onion, peas, and sweet potatoes all mixed together in a flavorful filling.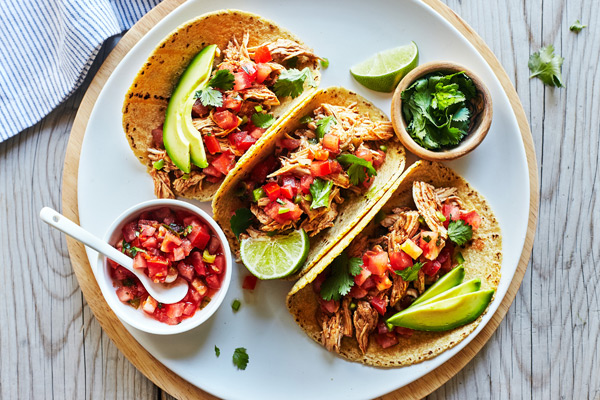 This recipe for succulent, tasty chicken tacos is a triple threat: it practically cooks itself, you can eat it however you like (tacos! burritos! tostadas! on rice! by itself!), and you can make a big batch to make meal prep a breeze.
Enough said — get the recipe.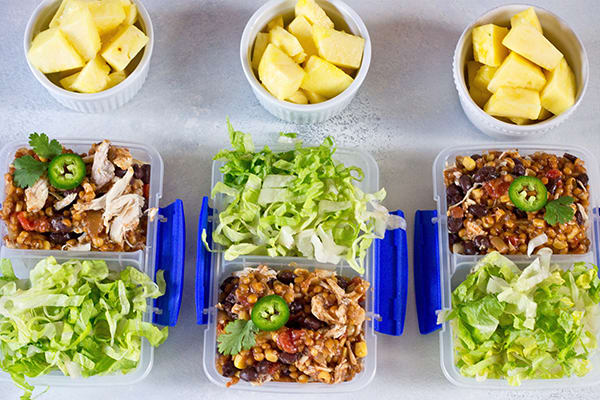 Like the recipe for Slow Cooker Chicken Tacos, this recipe helps you live your best life: All it takes is 15 minutes of prep before you toss everything into a slow cooker and walk away.
In the meantime, you can focus on everything/anything else besides cooking, like spending time with your family, going for a walk, crushing a workout — the world is your oyster!
This recipe makes 10 servings, so there are plenty of leftovers for a couple of lunches or dinners, too.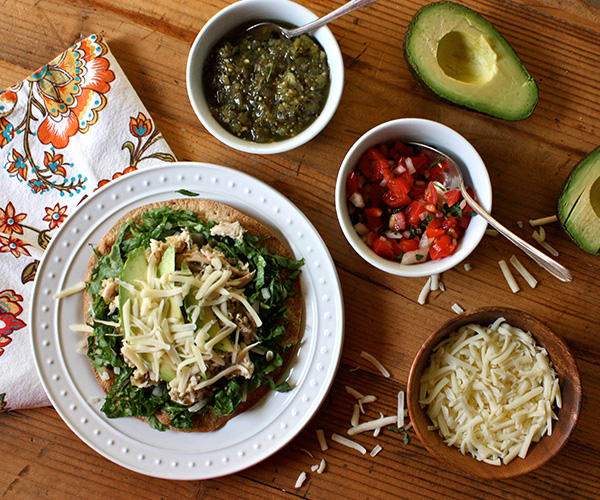 Turn Taco Tuesday into Tostada Tuesday with this quick kid-friendly dinner recipe for turkey tostadas.
It's a great recipe to get the whole family involved — everyone gets to build their own tostada from scratch.
Or turn this recipe into Nacho Night: Just slice the tortillas into wedges before baking. Top crisped "chips" with turkey mixture, onions, and cheese and then bake until cheese melts. Top with lettuce and serve.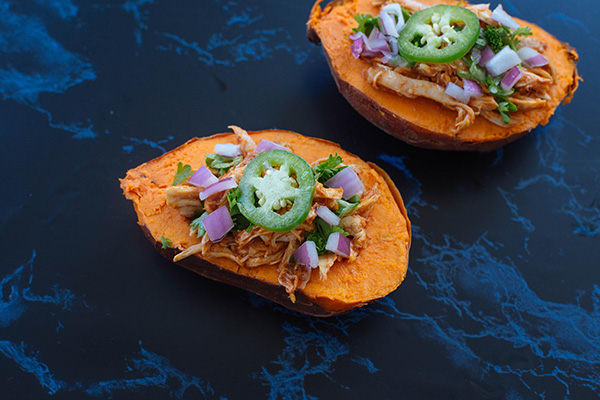 Nothing is easier — or more kid-friendly — than a stuffed baked potato.
Take your stuffed baked potato skills to a new, healthier level with this recipe for Barbecue Chicken Baked Sweet Potatoes.
Baked sweet potatoes are stuffed with shredded chicken drenched in smoky barbecue sauce then topped with pickled onions (or chopped red onions).
And if you already have baked sweet potatoes and leftover chicken ready, you can put this dinner together in less than 10 minutes!
For a complete meal, serve each baked sweet potato with a green salad or vegetables like broccoli, asparagus or Brussels sprouts that can be roasted on the same baking sheet as the potatoes.
Kid-Friendly Burger and Fajita Recipes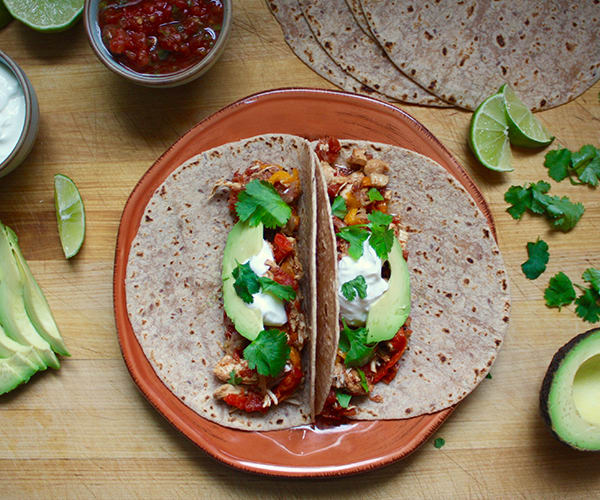 Turn your kitchen into a fajita fiesta with maximum flavor and minimal effort.
This chicken fajitas recipe uses a slow cooker to infuse the tender chicken with the flavors of every ingredient, so each bite is bursting with bold taste.
It's so easy to make — just pop all the ingredients into your slow cooker in the morning and when you get home from work, you'll have a delicious, healthy dinner on the table in minutes.
Pro tip: Can't wait all day for this deliciousness? You can also make this in an Instant Pot — click through to the recipe for full instructions.
There's something about that sizzling platter of fajitas that always makes everyone's mouth water when it goes by the table at your favorite Mexican spot.
You can re-create that same restaurant experience at home with this steak fajitas recipe from Autumn Calabrese's FIXATE cookbook.
This is another recipe that's perfect for getting the kids involved — pile all the fixings in the middle of the table and let them build their own festive fajita.

What happens when you combine the flavors of a juicy bacon cheeseburger with classic meatloaf?
Bacon cheeseburger meatloaf!
We packed all of the flavors of a great American burger into this family-friendly recipe that only takes 15 minutes to prep before you pop it in the oven.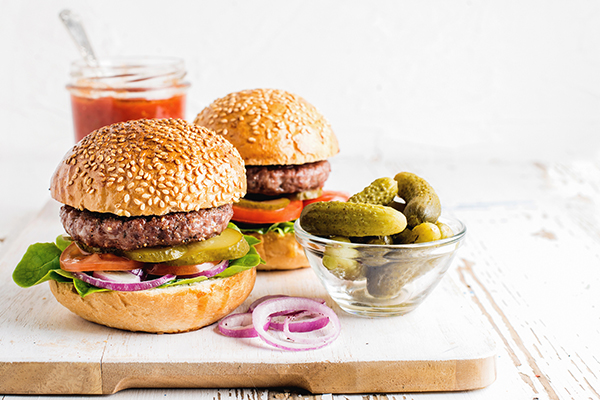 Ditch the plain ground beef burgers and up your meat game.
Roasted garlic and fresh rosemary make these burgers extra flavorful. Adding grated zucchini to the lean ground beef helps keep the burgers moist and it's an inexpensive way to add bulk.
It's almost undetectable, so it's also a clever way to sneak extra veggies into everyone's diet!
Kid-Friendly Mac-and-Cheese and Sandwich Recipes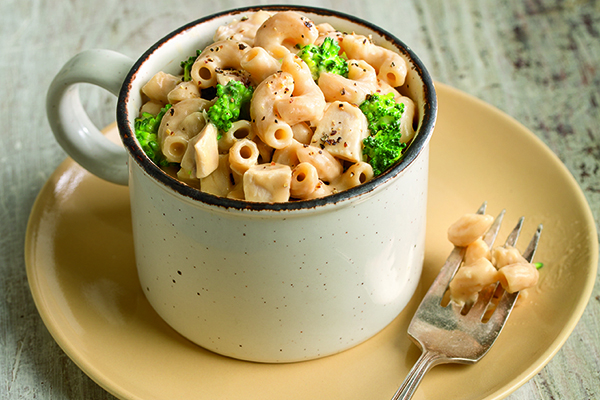 Mac-and-cheese is the ultimate kid-friendly recipe. It's also a perfect vehicle to sneak/introduce more vegetables into your kids' bellies.
This mac-and-cheese recipe includes broccoli, but you can sub in any other veggies, like green beans, Brussels sprouts, or asparagus.
Sharp cheddar cheese and almond milk make a creamy cheese sauce with just the right amount of gooey goodness.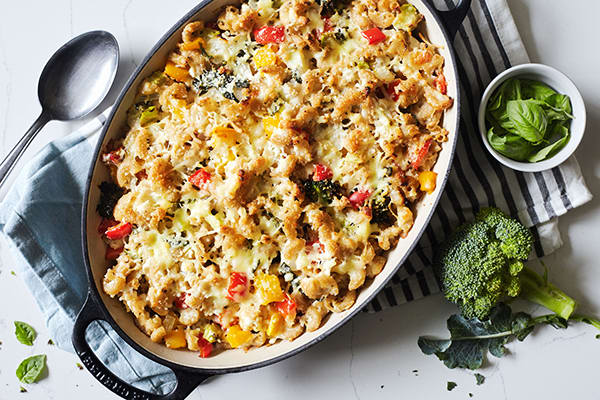 Pop quiz: What's better than macaroni and cheese?
Answer: Macaroni with THREE cheeses, of course.
Ricotta cheese adds creaminess, while mozzarella creates those long strands of melty cheese that stretch as you lift each bite to your mouth. Parmesan cheese gives it depth of flavor.
Bonus: There's a hefty serving of vegetables nestled in all that melted cheese — red and yellow peppers and broccoli.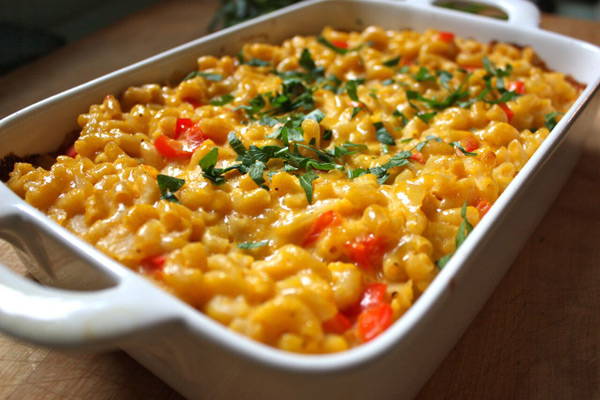 This variation of mac-and-cheese includes two types of extra flavorful cheeses and brightly colored vegetables.
Sharp cheddar cheese and Gruyere blend with a silky butternut squash puree to create an intensely flavorful sauce.
We added peppers, onions, and a sprinkling of parsley to make the dish even more tasty and nutritious!
This mac-and-cheese recipe makes 10 servings, so it can feed a hungry family or make several servings for healthy meal prep.
If you prefer to go freestyle or you're just looking to upgrade your own favorite recipe, there are easy ways to make your own healthy mac-and-cheese recipe.
The key is not to completely re-do the beauty that is mac-and-cheese. Instead, swap out some of the cheese, milk, and butter for clever substitutions and additions.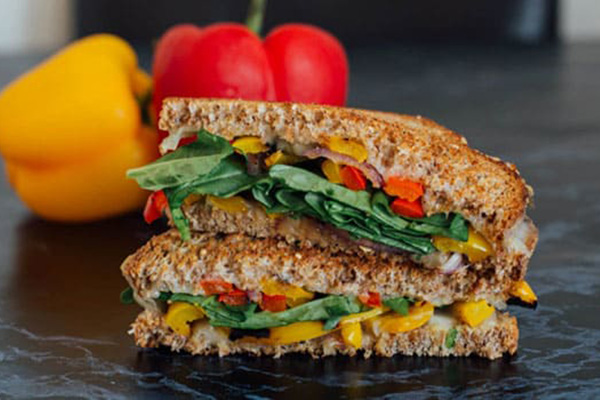 Grilled cheese? Yes, please!
Everyone can enjoy this melted cheese sammie while sticking to healthy nutrition goals. This crunchy, cheesy grilled cheese sandwich is packed with colorful sautéed veggies and Provolone cheese.
A touch of Dijon mustard is the special ingredient that really pumps up the flavor.
With this sandwich, Thanksgiving doesn't just have to happen once a year. In just a few minutes, you can enjoy a taste of those Thanksgiving flavors whether it's November or July.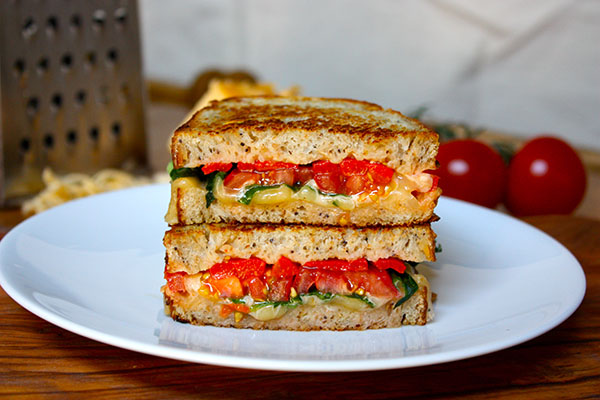 Think you can't enjoy grilled cheese and eat healthy? Think again.
The secret, besides making sure it's not overloaded with cheese, is using flavorful ingredients that offer the most bang for calories.
Our yummy grilled cheese recipe features smoked gouda, a bold cheese, so you can use less and still enjoy the cheesy goodness.
A light spreading of Dijon mustard, roasted red peppers, and peppery arugula make this a grilled cheese sandwich everyone in your family will love.
The art of sandwich making requires more than just throwing meat and lettuce between two slices of bread.
Sandwiches are all about building flavors and textures, and while there are endless ways to do it wrong (too much meat, too little cheese, soggy bread, not enough spread), there's no single way to do it right, either.
We consulted a couple of sandwich experts to see how to build a healthy and flavorful satisfying sammie from the bread up.
Kid-Friendly Pasta and Pizza Recipes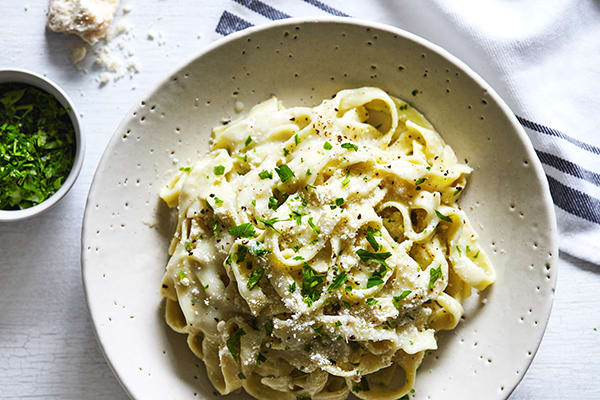 Every kids' menu features some variation of noodles with a cream sauce. And with good reason: Sometimes, there's nothing more comforting or delicious than a plate of creamy noodles.
But traditional fettuccine Alfredo recipes call for butter, cheese, cream, and more butter. Needless to say, it's not exactly the healthiest pasta recipe.
The good news is that we figured out a way to get all the flavor without all the cream and butter with a secret (healthy!) ingredient.
Get the recipe and find out what it is!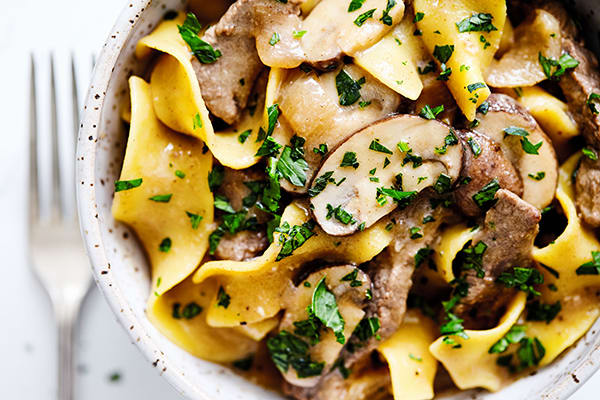 This beef Stroganoff recipe has the same savory flavor of the original but with significantly less fat and calories, thanks to simple swaps.
Extra-lean sirloin beef and whole-wheat egg noodles form the base of this satisfying dish, with a creamy sauce made from beef stock and reduced-fat Greek yogurt.
A sprinkling of fresh parsley adds a pop of color, fresh fragrance, and elevates the dish.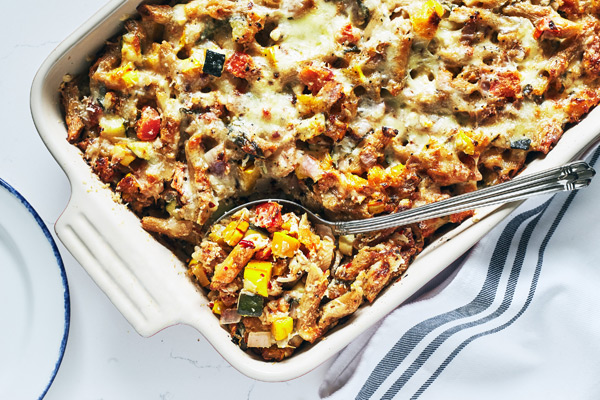 Pasta casseroles are one of the best go-to dishes for easy weeknight meals.
We used tomatoes, summer squash, and zucchini in this hearty baked ziti casserole, but feel free to get creative and swap in your family's favorite vegetables.
This will, of course, adjust the nutritional content a little bit, but if you want to add more (or different) veggies, we won't say no!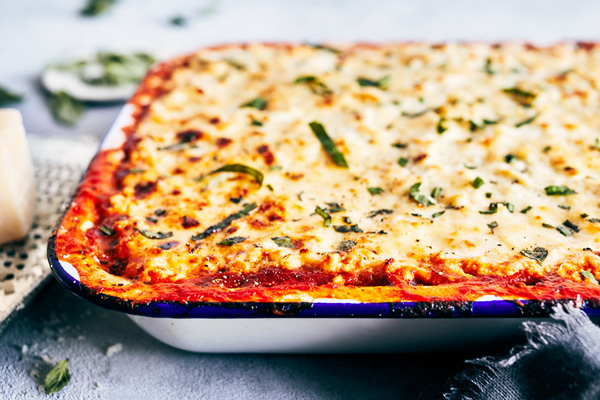 When you think of lasagna, what's the first thing that comes to mind? We'd bet it has something to do with cheese, more cheese, and savory tomato sauce.
With this lasagna recipe, we've focused on the good stuff, which means you'll still get plenty of sauce and cheese.
But instead of pasta noodles, you'll load up on spaghetti squash instead. Spaghetti squash is a fiber-rich, lower-carb alternative to pasta.
Ditching the noodles saves on calories and makes room for plenty of cheese. In the oven, the spaghetti squash noodles absorb the tomato and cheesy goodness for a  kid-approved, lip-smacking dish!
There's nothing better than coming home to a delicious dinner that's been slowly cooking all day.
Just throw all the ingredients into a slow cooker in the morning, set the timer, and you'll have a warm, hearty meal ready when you come home.
These slow cooker turkey meatballs are incredibly versatile — spoon them onto zucchini noodles or whole-grain spaghetti, or tuck a couple into a pita pocket with a slice of mozzarella cheese.
Pro tip: In a rush? You can make this recipe in an Instant Pot — check out the instructions in the Recipe Notes!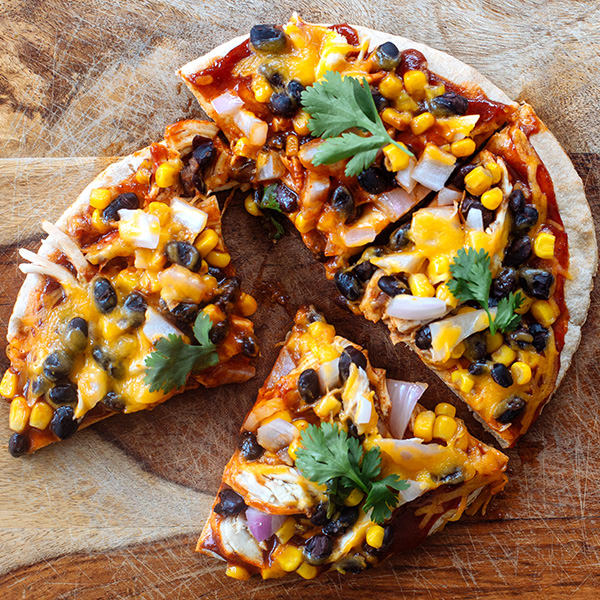 Pizza for dinner is a sure-fire winner 100-percent of the time. And 50-percent of that winning is getting to make your own at home.
Get your little Top Chefs to help you out by giving them topping duty. It's a fun way to spend time together — and keeps those little hands busy!
This simple pizza recipe relies on quality ingredients to highlight the flavors.
We stick to the classic ingredients of tomato, mozzarella, and basil, but we replace the white flour dough in favor of whole-wheat pizza dough.
If you want to take your pizza to the next level, make your own whole-wheat dough — find out how.
Every parent knows that when little tummies are a'rumblin, you don't have much time before it all ends in tears.
The solution: Pita pizzas that are ready in less than 20 minutes.
These cute pita pizzas feature mozzarella cheese, crunchy bell peppers, and onion, but you can sub in different vegetables like artichoke hearts, broccoli, or cauliflower for a quick, healthy meal.
Kid-Friendly Chili and Soup Recipes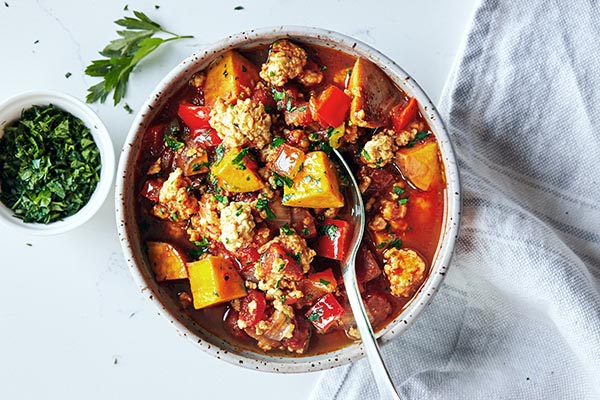 This turkey Chili recipe is a "stick-to-your-ribs" kind of meal.
Extra-lean ground turkey packs in the protein and bite-sized chunks of sweet potatoes are a delicious, fiber-filled alternative to beans.
For an added bit of fun at the dinner table, prepare extra toppings for your family to add on top of their individual bowls.
This beef chili recipe is everything a busy family can hope for: Some chopping and sautéing, and then pop everything into a slow cooker.
In a slow cooker, the meat becomes fall-apart tender and develops a deep and satisfying flavor. To save even more time, you can double the recipe and freeze the rest for a future weeknight win.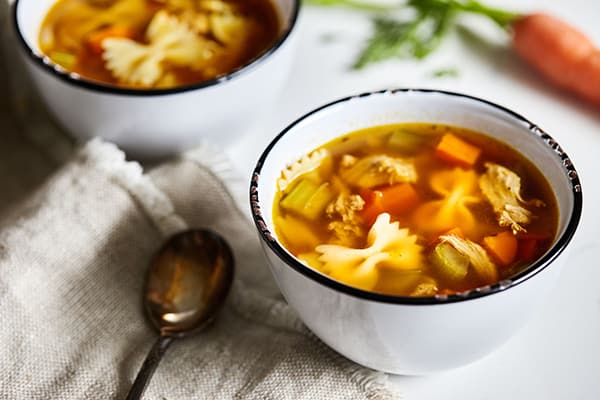 This easy chicken noodle soup recipe takes less than 15 minutes to prep and is ready in under an hour. To make your life even easier, use rotisserie chicken or leftover chicken breast.
Pro tip: If you aren't going to serve all of the soup immediately, store the soup and pasta separately or the pasta will swell and absorb the liquid from the soup.
"Fun Food"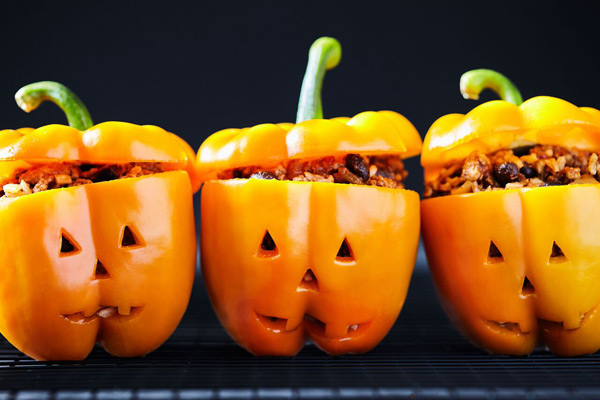 For kids, it's all about presentation: You can get even the pickiest eaters to chow down if you make something that's delicious and fun to look at.
These cute little jack-o'-lanterns are filled with a fiesta-inspired mix of spices, ground turkey, and black beans.
Once your filling is prepared, simply stuff it inside your carved peppers and pop them in the oven. A sprinkling of cheese brings this dish together.
Pro tip: You can make these stuffed peppers vegan by swapping the filling with this Quinoa Stuffing.
These fun "boats" are a healthier spin on chicken burritos, swapping in nutritious zucchini for flour tortillas.
You can cook the chicken however you choose, but for tender, succulent chicken, check out this no-fuss cooking guide for baked chicken breasts.
There's a boatload of good stuff in this dish: protein, vitamins, and minerals from the spices (cumin, paprika, and chili powder), and lycopene from tomato sauce and tomato paste.
And of course, everything just tastes better with melted cheese on top.
Plus, these boats can actually travel: Pop leftovers in a container and you've got a fast, easy lunch to bring to work.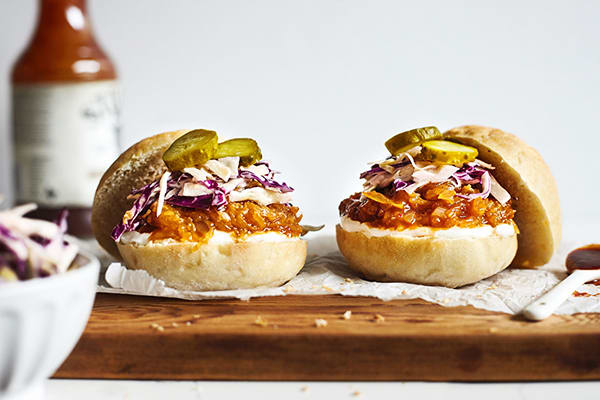 Sliders are the perfect food for little hands. This recipe for barbecue spaghetti squash sliders is fun for kids to eat and a useful tool for parents trying to get their kids to eat more vegetables.
Spaghetti squash soaks up the flavors of barbecue sauce and spices like cumin and paprika. The combination of flavors and textures creates a convincing, plant-based version of pulled pork.
Pile your saucy squash on whole-grain dinner rolls and top them with a tangy, fresh cabbage slaw and sliced pickles.
If your kids aren't quite ready for squash sliders, try these Philly Cheese Steak sliders instead.
We upgraded the traditional Philly cheesesteak sandwich with fresh veggies, lean sirloin steak, and whole-wheat rolls for authentic flavor without all the fat and calories.
Kid-Friendly Sides and Snacks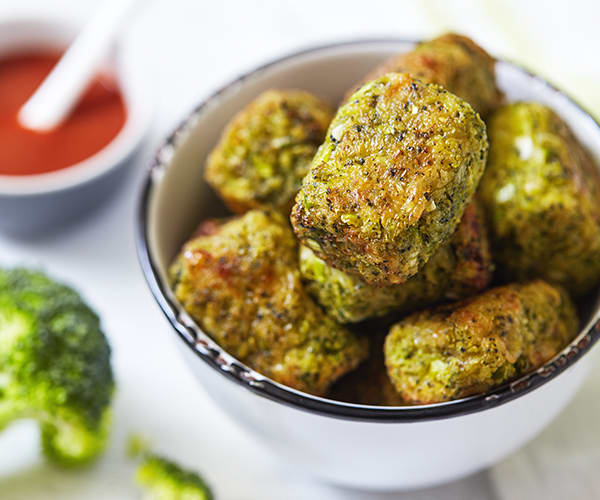 These fun broccoli tots make a great bite-sized snack or side dish for kids and adults.
Instead of deep-frying, these tots get their crispy-crunchy golden-brown crust in the oven. They're chock-full of broccoli, green onion, and cheddar cheese — getting your greens in never tasted so yummy.
Pro tip: Refrigerate the mixture briefly (15–30 minutes) to help it firm up and make the shaping process easier.
Latkes are delicious, but most recipes call for lots of oil and sour cream. We used sweet potatoes to create a healthier version of a traditional favorite.
(Love cauliflower? Try these Baked Cauliflower Latkes.)
Serve these as a healthy side dish with chicken or fish, or top them with a spoonful of plain Greek yogurt and unsweetened applesauce as a snack.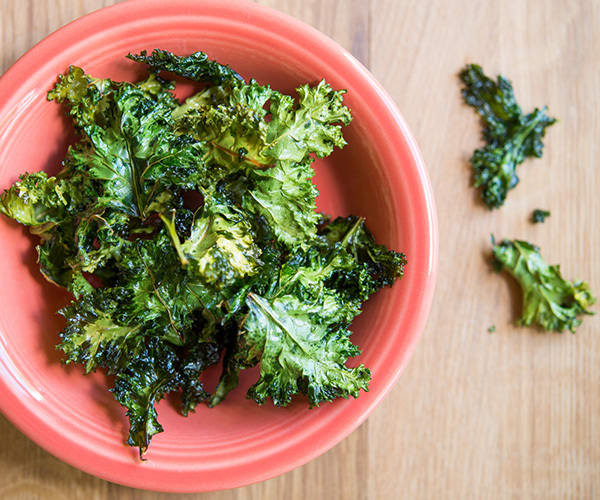 The next time your kids are clamoring for something crunchy, instead of store-bought chips, try these kale chips instead.
OK, OK, so it will probably take few tries to convince them that these are better than regular potato chips, but this recipe will help your case.
The secret to getting crispy chips is to make sure the kale is as dry as possible after washing; too much moisture means you'll end up with steamed "chips."
This recipe calls for no-salt seasoning, but you can get creative with your toppings — a sprinkle of nutritional yeast adds cheese-like flavor and spices like garlic powder, cumin, and chili powder provide a little kick.
You can't go wrong with glazed vegetables. It's a surprisingly simple way to start with plain vegetables and transform them into something magical.
The vegetables stay crisp, yet tender; and the just-sweet glaze makes you want to take another bite (and another, and another).
The pure maple syrup adds natural sweetness, and rich balsamic vinegar adds the perfect amount of zing.
These zucchini fries are a clever way to wean your kids off of greasy, fried French fries.
Cornmeal creates a deliciously crunchy coating for these healthy baked veggie fries. It's the perfect snack or side for roasted garlic and rosemary burgers.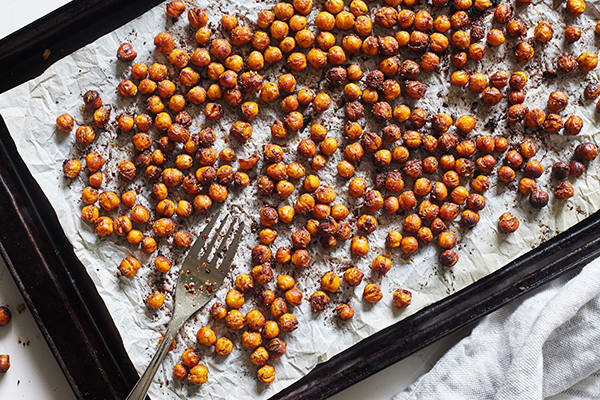 This is a snack recipe that you need in your life, immediately. They're so easy to make and incredibly flavorful.
Once your kids get a load of these gorgeous, crunchy little orbs of yum, they'll never ask for processed store-bought treats ever again. (Or you know, not as often.)
These roasted chickpeas feature a unique combination of sweet and savory flavors — cinnamon, ginger, cardamom, and cloves.
A spoonful of maple syrup adds a touch of sweetness that complements the savory elements of olive oil, salt, and pepper.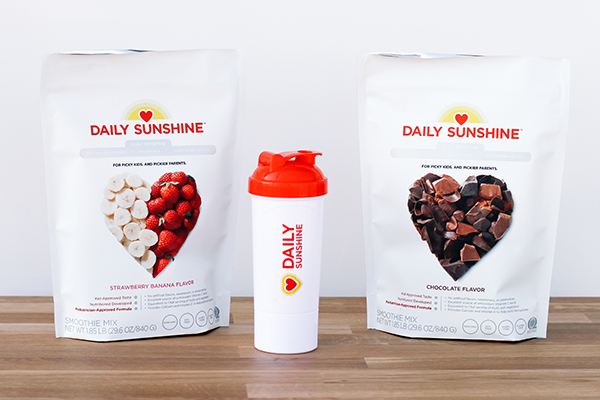 If you're short on time, on the go, or your kids just need a quick snack to tide them over, Daily Sunshine can be a life-saver.
It comes in kid-friendly Chocolate and Strawberry Banana flavors, so even the pickiest palate will be satisfied.
For snack emergencies, just add water, shake, and drink.
For when you have a wee bit more time, we created 7 Daily Sunshine recipes that cover all the snack bases, like Nutty Butter Chocolate Balls, a Peanut Butter and Strawberry Jelly Smoothie, and Nutty Chocolate Coconut Squares.