Jack-o'-Lantern Stuffed Peppers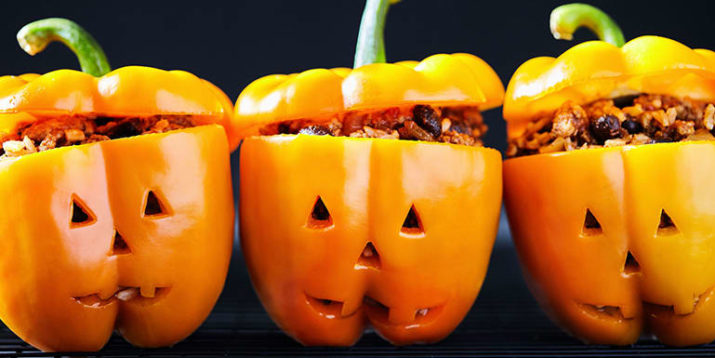 Halloween (or formerly Hallows' Eve) represented a time when the ghosts of the dead would come back to earth.
People feared that if you left your house, you might come across one of these ghosts; so to avoid being recognized, people would wear masks to blend in with the disembodied spirits.
These days, Halloween is a much more family-friendly event, filled with creative and playful costumes, pumpkins on doorsteps, haunted houses, and plenty of festive treats.
And I don't know about you, but I usually associate this holiday with heaps of sugar!
Chocolate bars, toffees, candies, you name it.
It's enough sugar to make my teeth hurt just thinking about it — and to get the kids really bouncing off the walls!
What I love about this jack-o'-lantern stuffed peppers recipe is that it's a festive twist on a savory dish that lets my family enjoy the holiday with a little less sugar.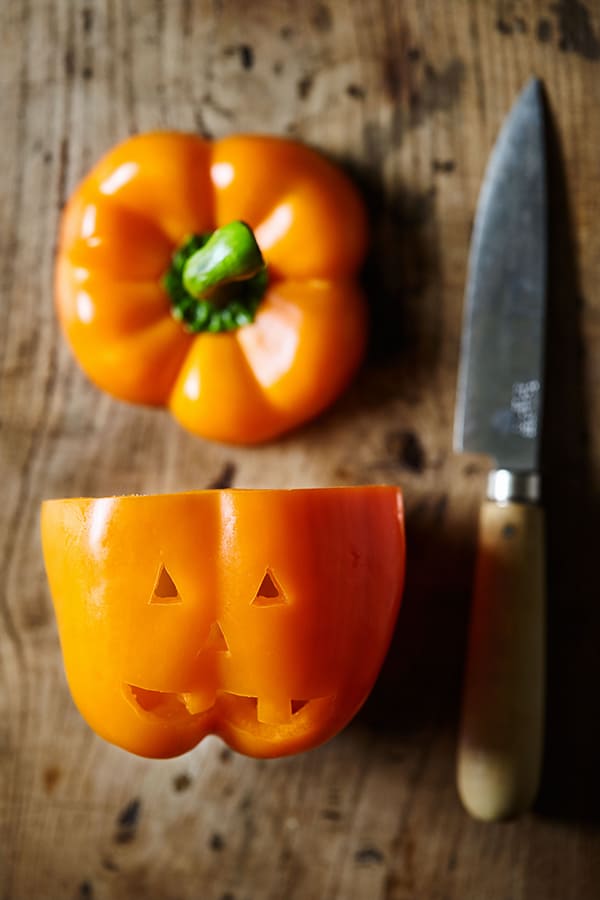 They're a fun Halloween treat to prepare for your kids and something you can feel great about them digging into!
The fun part is in carving the bell peppers, which act as edible jack-o'-lanterns. You'll want a sharp knife for this, and ideally one that's small enough to make tiny cuts (a paring knife works well).
Then you'll simply carve out little eyes, a nose, and a smile. And ta-da, the hard part is over!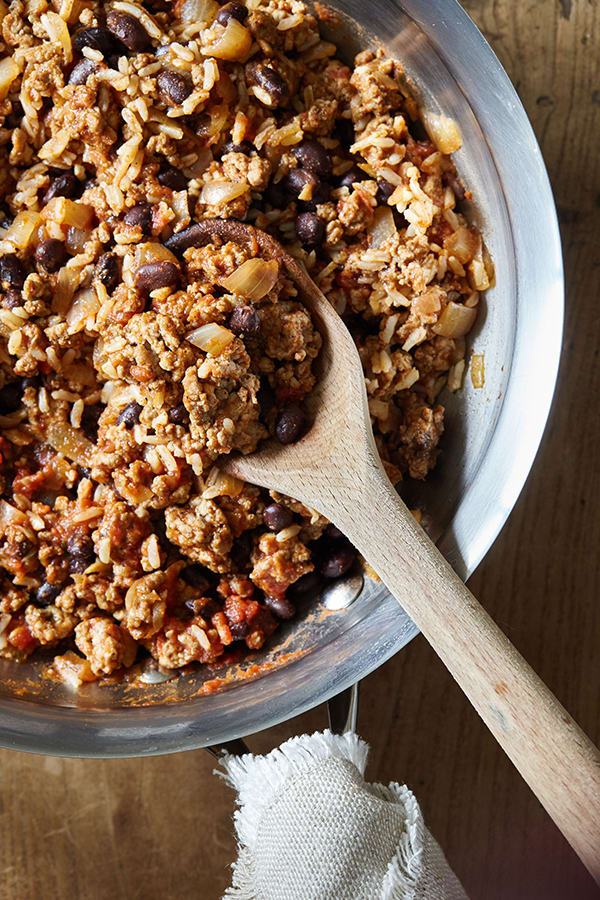 These cute little jack-o'-lantern "pumpkins" are filled with a fiesta-inspired mix of spices, ground turkey, and black beans. The filling comes together in a pinch, and the flavors are reminiscent of a much more wholesome taco filling.
You can make these vegan by swapping the filling with this Quinoa Stuffing recipe.
Once your filling is prepared, simply stuff it inside your carved peppers and pop them in the oven. A sprinkling of cheese brings this dish together. Serve warm and dig in.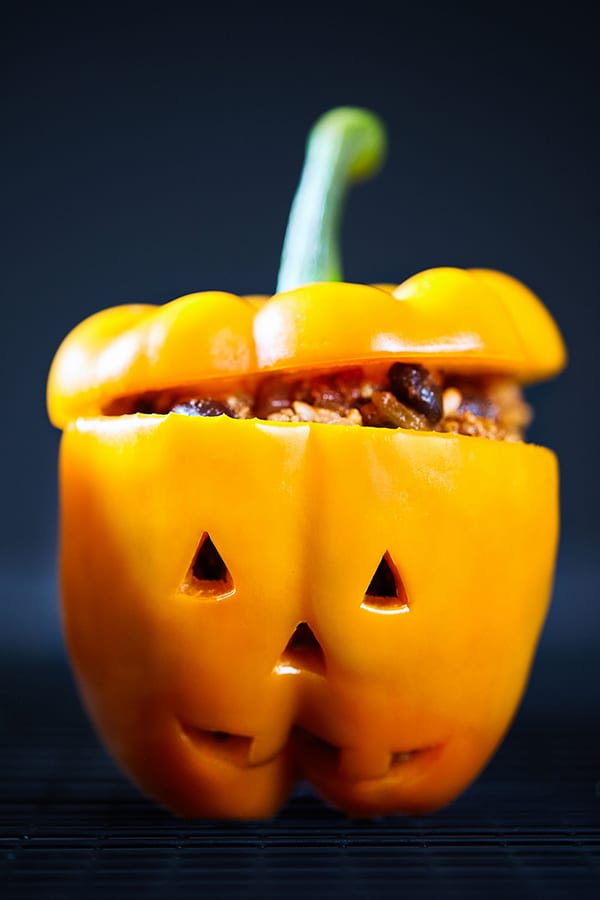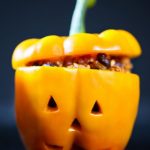 Jack-o'-Lantern Stuffed Peppers
These cute little Jack-O'-Lantern Stuffed Peppers are filled with a fiesta-inspired mix of spices, ground turkey, and black beans.
Prep Time 25 mins
Cook Time 35 mins
Total Time 1 hr
Servings 4 servings, 1 bell pepper each
Calories 426 kcal
Ingredients
4 medium orange bell peppers
2 tsp. olive oil
1 lb. raw 93% lean ground turkey
½ medium onion chopped
1 clove garlic finely chopped
1 Tbsp. chili powder
½ tsp. ground cumin
Ground black pepper to taste; optional
1 (8-oz.) can tomato sauce, no sugar added
1 cup black beans drained, rinsed
1 cup cooked brown rice
¼ cup water
½ cup shredded sharp cheddar cheese
Instructions
Slice stem end off peppers. (Reserve for later use.) Remove seeds and veins from peppers. Cut a jack-o-lantern face out of one side of each pepper. Stand peppers upright in baking dish. Set aside.

Preheat oven to 400º F.

Heat oil in large nonstick skillet over medium-high heat.

Add turkey; cook, stirring frequently, for 4 to 5 minutes, or until almost browned.

Add onion; cook, stirring frequently, for 4 to 5 minutes, or until onion is translucent.

Add garlic; cook, stirring frequently, for 1 minute.

Add chili powder, cumin, pepper (if desired), tomato sauce, and beans; cook, stirring occasionally, for 4 to 5 minutes. Remove from heat.

Add rice; mix well.

Fill peppers with turkey mixture. Top with reserved stem end of peppers Add water to the baking dish. Cover with foil.

Bake peppers for 12 to 15 minutes, or until tender-crisp.

Remove stem top of peppers, sprinkle evenly with cheese. Bake for 2 to 3 minutes, or until cheese is melted.

Replace tops and serve.
Recipe Notes
The Nutrition Facts box below provides estimated nutritional information for this recipe.
Nutrition Facts
Jack-o'-Lantern Stuffed Peppers
Amount Per Serving (1 serving)
Calories 426 Calories from Fat 162
% Daily Value*
Fat 18g28%
Saturated Fat 6g38%
Cholesterol 99mg33%
Sodium 622mg27%
Carbohydrates 35g12%
Fiber 7g29%
Sugar 8g9%
Protein 31g62%
* Percent Daily Values are based on a 2000 calorie diet.
Container Equivalents
2 Green
1 Red
1 Yellow
½ Blue
½ tsp.
2B Mindset Plate It!
A great lunch option.
If you have questions about the portions, please click here to post a question in our forums so our experts can help. Please include a link to the recipe.
Photographs by Anguel Dimov