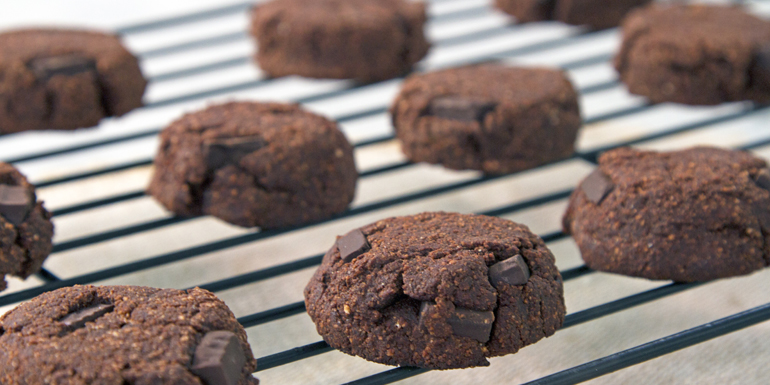 If we must eat double chocolate chip cookies – let's admit it, on occasion we must – then why not eat cookies that are "much better for you and more nutritious than some of those store-bought cookies." That's a direct quote from 21 Day Fix creator and fellow chocolate lover Autumn Calabrese. She and her brother, Chef Bobby Calabrese, have created a recipe for Double Chocolate Cookies that will satisfy your sweet tooth without throwing off your healthy eating plan.
There are probably 1000 ways to make a cookie healthier, but will that healthy cookie make you weak in the knees? Probably not. To make the most decadent double chocolate chip cookies, Autumn and Bobby begin with the good stuff, pure unadulterated, unsweetened cocoa powder. Then, to keep these cookies moist and naturally sweet they add a bit of apple sauce and some maple syrup. The real trick is to pick the most delicious, healthy chocolate you can get your hands on. You might ask, "What is healthy chocolate?" As Bobby notes in this must-watch episode of FIXATE, "darker [chocolate] is better for you!" That means no milk chocolate – since this recipe uses lite coconut milk – you'll want a chocolate that lists the percent cacao right on the label. These days you can find this kind of chocolate in most grocery stores, so it shouldn't be hard to get your hands on a bar. This recipe uses 70% cacao chocolate chunks, but if you wanted to go all the way to 85% cacao you absolutely could, just know that that as you approach the 100% mark your chocolate get less sweet and more bitter.
Autumn and Bobby have really pulled out all the stops with this recipe. These decadent cookies are in fact healthier than your average cookie. They are gooey and moist thanks to the apple sauce. They don't contain any refined sugar – moms rejoice. Plus, the sheer volume of chocolate in these cookies is enough to make a chocolatier swoon.
To get the recipe and find out the Portion Fix Containers and nutritional information, FIXATE episode on Beachbody On Demand!