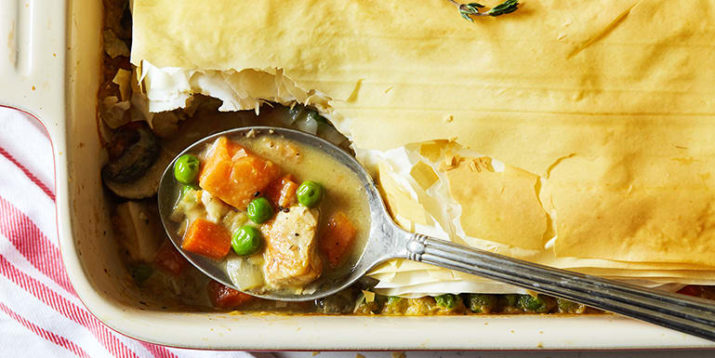 Nothing reminds me of grandma's house more than a piping hot chicken pot pie, fresh from the oven.
Grandma's chicken pot pies always had a golden brown layer of the most perfect flaky pastry. It was so much fun to break into the crust with a fork (or a spoon), to reveal tender bites of chicken, perfectly cooked veggies, and a sauce so good I could drink it with a straw.
I still crave the comfort of a chicken pot pie — especially as the weather gets colder. Digging into this dish is like a warm hug on a cool evening.
Bonus: If you've got Thanksgiving turkey leftovers, you can sub in turkey for chicken!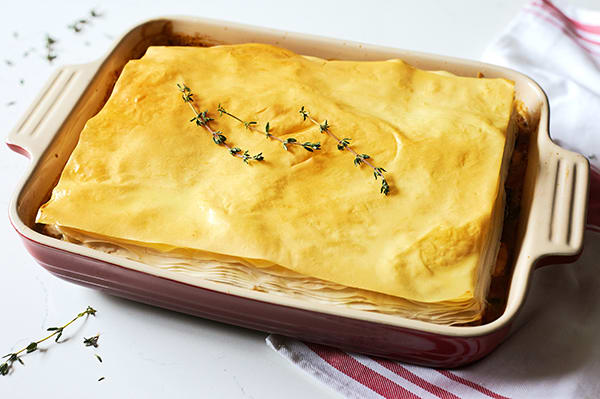 Grandma used to spend hours building the most tender pastry crusts. She'd do them in large batches — making plenty of freezer-ready savory-and-sweet pies for the month.
But I take a clever shortcut (sorry grandma!). The end result is just as delicious but takes a fraction of the time. Which means healthy, home-cooked dinners on a weeknight. (And did I mention this shortcut also significantly cuts down on the fat?!)
Phyllo dough is the perfect weeknight trick to getting a tender, flaky crust for your chicken pot pie with minimal effort. Phyllo dough (also look for spelled "filo" dough) is typically sold frozen.
All you need to do is let it defrost in the fridge overnight, or if you forget, leave it out on the counter to thaw for an hour or two before making dinner. Unlike puff pastry or traditional pie crusts, phyllo has a lot less fat in the dough.
To build up layers, you'll brush the paper-thin sheets with a small amount of olive oil to help them stick together as they bake.
As an added bonus, you'll have plenty of phyllo sheets leftover from this recipe, which you can save for another chicken pot pie (or two) in the future.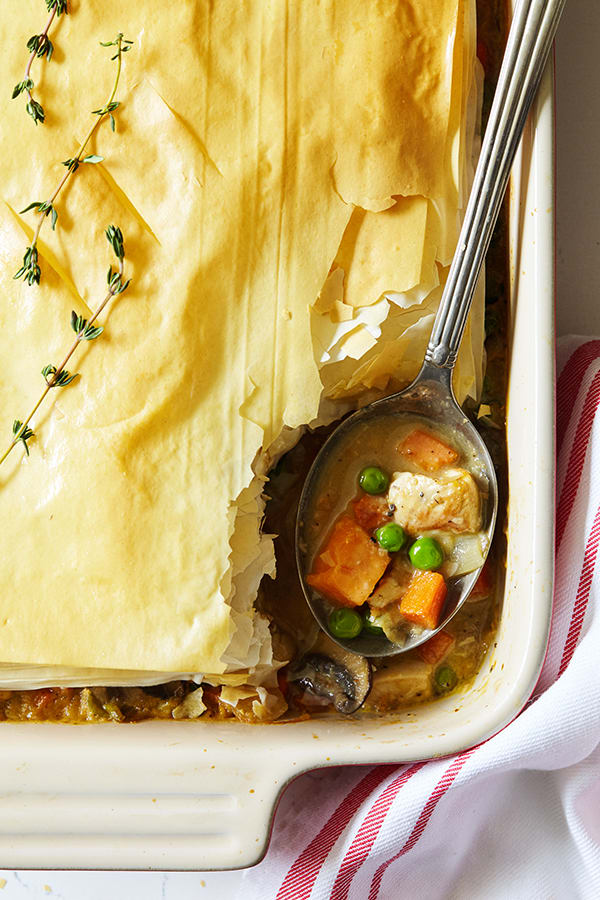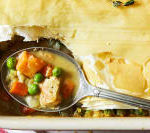 Chicken Pot Pie
You'll want to dig into this hearty Chicken Pot Pie in the winter months! (And if you've got turkey leftovers, you can swap them in instead of chicken!
Prep Time 20 mins
Cook Time 57 mins
Total Time 1 hr 17 mins
Servings 6 servings, about 1 cup each
Calories 284 kcal
Ingredients
6 tsp. olive oil, divided use
1 medium onion, chopped
2 medium carrots, chopped
2 cups sliced mushrooms (approx. 4 oz.)
2 Tbsp. whole-wheat flour
1½ cups reduced fat (2%) milk
1 cup low-sodium organic chicken broth
½ tsp. sea salt or Himalayan salt
½ tsp. ground black pepper
1 tsp. fresh thyme, finely chopped
¾ cup frozen green peas
¾ cup cubed cooked sweet potatoes
2¼ cups cubed cooked chicken breast (or light/dark turkey meat, no skin), approx. 12 oz.
6 sheets phyllo dough (each approx. 12 x 17-inches), thawed, covered in a slightly damp towel
Instructions
Preheat oven to 375° F.

Heat 2 tsp. oil in large nonstick skillet over medium heat.

Add onion and carrots; cook, stirring frequently, for 4 to 5 minutes, or until onion is translucent.

Add mushrooms; cook, stirring frequently, for 4 to 6 minutes, or until mushrooms are soft and most of the liquid has evaporated.

Add 1 tsp. oil; cook, stirring frequently, for 1 minute.

Add flour; cook, stirring frequently, for 1 to 2 minutes, or until flour and oil form a paste.

Slowly add milk, broth, salt, pepper, and thyme. Bring to a boil, stirring frequently. Reduce heat to medium-low.

Add peas, sweet potatoes, and chicken (or turkey); cook, stirring frequently, for 2 minutes.

Place chicken mixture in a 2½-quart baking dish. Set aside.

Place phyllo on work surface. Keeping the original stack covered, remove one sheet at a time and quickly brush with remaining 3 tsp. oil. Cut oiled stack of phyllo into quarters. Place phyllo loosely on top of chicken mixture; covering evenly.

Bake for 30 to 35 minutes, or until chicken (or turkey) mixture is bubbling and phyllo dough is golden brown.
Recipe Notes
Tip: You can use light and/or dark turkey meat in this recipe. Just make sure you don't use any skin. The nutrition information will change slightly; see below.
Nutrition Facts
Chicken Pot Pie
Amount Per Serving (1 serving)
Calories 284 Calories from Fat 72
% Daily Value*
Fat 8g12%
Saturated Fat 2g13%
Cholesterol 49mg16%
Sodium 432mg19%
Carbohydrates 27g9%
Fiber 3g13%
Sugar 6g7%
Protein 24g48%
* Percent Daily Values are based on a 2000 calorie diet.
Container Equivalents
½ Green
½ Red
1½ Yellow
1 tsp.
2B Mindset Plate It!
Add a side salad or more veggies for a great lunch option.
NOTE: Below are the nutrition facts for this recipe if you use turkey meat instead of chicken.
Nutrition Facts: (light and/or dark turkey meat, no skin)
Calories: 282
Total Fat: 9 g
Saturated Fat: 2 g
Cholesterol: 58 mg
Sodium: 446 mg
Carbohydrates: 27 g
Fiber: 3 g
Sugars: 6 g
Protein: 22 g
If you have questions about the portions, please click here to post a question in our forums so our experts can help. Please include a link to the recipe.
Photographs by Anguel Dimov