Healthier Chicken Cordon Bleu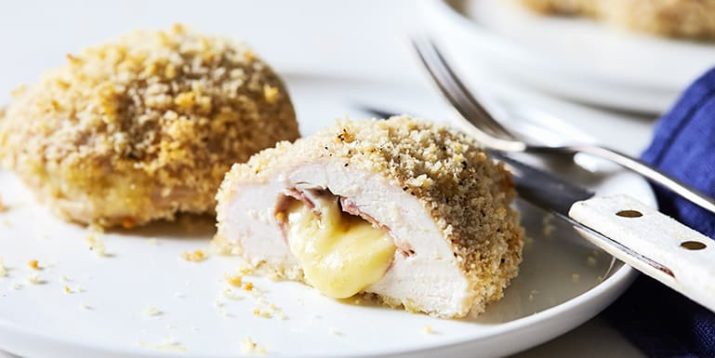 The French term cordon bleu translates to "blue ribbon" in English. According to lore, members of the highest order of knighthood wore blue ribbons — and in that vein, the term cordon bleu became associated with the highest quality foods prepared by the most skilled chefs.
Nowadays, chicken cordon bleu typically refers to chicken wrapped around ham and cheese.
The chicken has a crispy breadcrumb coating and is served hot when the cheese is warm and gooey inside. It looks impressive, but you don't have to be a master chef to make it.
This simplified version of chicken cordon bleu is easy to make and proves that it's possible to make a healthier version of a classically rich recipe without compromising on taste.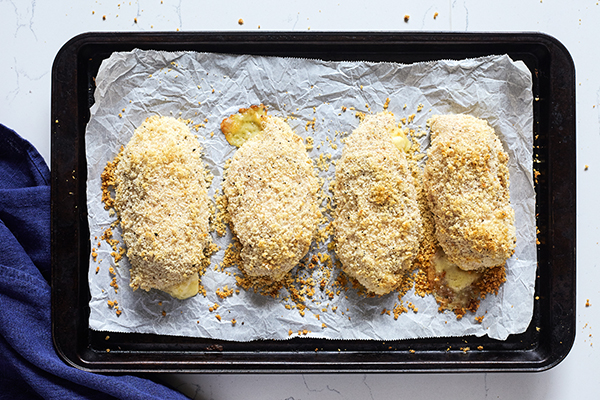 Unlike traditional chicken cordon bleu recipes, this one doesn't rely on excessive amounts of oil and the hassle of deep-frying to give the breading a satisfying crunch.
Instead, this healthier chicken cordon bleu is coated in whole-grain panko breadcrumbs and baked until crispy.
This recipe's method for assembling the chicken breast is pretty straightforward: Start by rolling up the cheese inside slices of ham.
Keeping these rolls in the freezer helps them keep their shape while you prepare the chicken.
Some recipes call for pounding out the chicken into a flattened shape, but this version takes an easier route. Instead, you'll simply slice the breast so that it opens like a book.
Then, put one ham and cheese roll into each breast and secure with toothpicks. An egg wash prepares the chicken for the crunchy panko coating. And just like that, you're done!
The chicken will emerge from the oven golden brown, and when you slice into it, you'll see a beautiful ring of ham and melted cheese.
This is one stunning dish that makes an impressive at-home meal!
Healthier Chicken Cordon Bleu
This simplified Chicken Cordon Bleu recipe is easy to make, and proves that it's possible to make a healthier version of a classically rich recipe without compromising on taste.
Prep Time 29 mins
Cook Time 30 mins
Total Time 59 mins
Servings 4 servings
Calories 371 kcal
Ingredients
Nonstick cooking spray
½ cup Neufchatel cheese
1¼ tsp. garlic powder, divided use
4 thin slices low-sodium, nitrite-free, extra-lean ham (about 2 oz.)
4 thin slices Swiss cheese (about 2 oz.)
1 cup whole-grain Panko bread crumbs
¼ tsp. sea salt (or Himalayan salt)
¼ tsp. ground black pepper
¼ tsp. onion powder
4 (4-oz.) each raw chicken breasts, boneless, skinless
Toothpicks
2 large eggs, lightly beaten
Instructions
Preheat oven to 375° F.

Lightly coat 9 x 9-inch baking pan (or casserole dish) with spray. Set aside.

Combine Neufchatel cheese and 1 tsp. garlic powder in a small bowl; mix well.

Place slices of ham individually on your work surface. Top each with a slice of Swiss cheese. Spread Neufchatel cheese mixture evenly on each slice of Swiss cheese. Roll lengthwise. Place in freezer until ready to use.

Combine bread crumbs, salt, remaining ¼ tsp. garlic powder, pepper, and onion powder in a small bowl; mix well. Transfer to a plate. Set aside.

To stuff chicken, slice chicken breasts along the long side, about ¾ way through; do not cut all the way through. Chicken will open like a book. Place one ham roll inside each chicken breast. Secure with a toothpick. Repeat with remaining chicken breasts. Set aside.

Place eggs in a shallow dish. Dip each chicken breast in eggs, completely coating, then bread crumbs; coating each evenly on all sides. Place chicken in prepared pan. Remove toothpicks.

Bake for 25 to 30 minutes, or until chicken is no longer pink in the middle and juices run clear.
Nutrition Facts
Healthier Chicken Cordon Bleu
Amount Per Serving (1 serving)
Calories 371 Calories from Fat 144
% Daily Value*
Fat 16g25%
Saturated Fat 8g50%
Cholesterol 205mg68%
Sodium 623mg27%
Carbohydrates 18g6%
Fiber 2g8%
Sugar 3g3%
Protein 38g76%
* Percent Daily Values are based on a 2000 calorie diet.
Container Equivalents
1 Red
1 Yellow
1 Blue
2B Mindset Plate It!
Add some veggies or a side salad for a great lunch option.
If you have questions about the portions, please click here to post a nutrition question in our forums so our experts can help. Please include a link to the recipe.
Photographs by Anguel Dimov