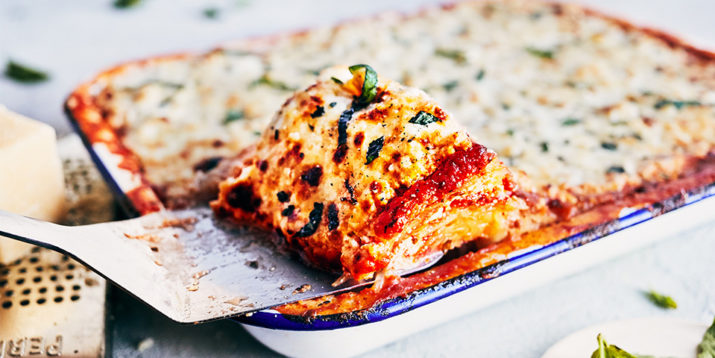 Although few people consider lasagna to be healthy, it's still surprising to discover exactly how many calories are lurking in that tiny slice.
That's why we're here to share a way that you can enjoy lasagna, without tossing a healthy diet completely out the window.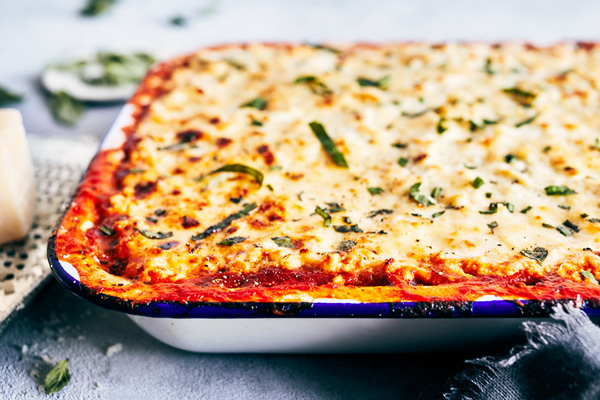 When you think of lasagna, what's the first thing that comes to mind? We'd bet it has something to do with bubbling hot tomato sauce and cheese.
With this recipe, we've focused on the good stuff, which means you'll still get plenty of sauce and cheese.
But instead of pasta noodles, you'll load up on spaghetti squash instead. Spaghetti squash is a fiber-rich, lower-carb alternative to pasta.
Ditching the noodles saves on calories and makes room for plenty of cheese.
After a trip to the oven, the spaghetti squash noodles will have absorbed some of the tomato and cheesy goodness.
A sprinkle of basil makes the flavors really pop, but the dish still tastes delicious without it.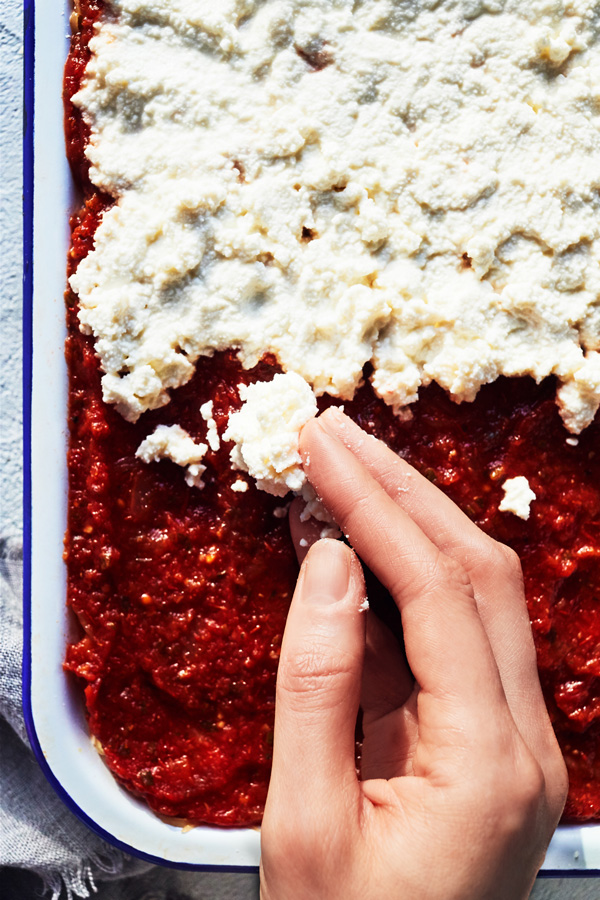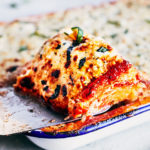 Spaghetti Squash Lasagna
This sinfully delicious Spaghetti Squash Lasagna is made with all-natural marinara, part-skim ricotta cheese, grated Parmesan cheese, and healthy spaghetti squash.
Prep Time 15 mins
Cook Time 1 hr 17 mins
Total Time 1 hr 32 mins
Servings 4 servings
Calories 474 kcal
Ingredients
Parchment paper
1 small spaghetti squash, (approx. 3½ to 4 lbs.)
Nonstick cooking spray
4 cups all-natural marinara sauce
3 cups part-skim ricotta cheese
1 cup grated Parmesan cheese
¼ cup finely chopped fresh basil (optional)
Instructions
Line large baking sheet with parchment paper. Set aside.

Cut spaghetti squash in half lengthwise. Remove seeds and membrane.


Place spaghetti squash, cut side down, on baking sheet. Bake for 40 to 45 minutes, or until tender.

Reduce oven temperature to 350º F.


Scrape spaghetti squash flesh into stringy noodles.

Lightly coat 4-quart baking dish with spray.


Evenly layer half spaghetti squash, half marinara sauce, and half ricotta cheese in baking dish. Repeat with second layer.

Evenly top with Parmesan cheese.

Bake for 30 to 32 minutes, or until golden brown and bubbly.

Garnish with basil (if desired).

Recipe Notes
Store leftover lasagna in an airtight container, refrigerated, for up to 5 days, or in the freezer for up to 3 monts.
Gluten-Free, High in Protein, Ovo-Lacto Vegetarian
The Nutrition Facts box below provides estimated nutritional information for this recipe.
Nutrition Facts
Spaghetti Squash Lasagna
Amount Per Serving (1 serving)
Calories 474 Calories from Fat 207
% Daily Value*
Fat 23g35%
Saturated Fat 13g81%
Cholesterol 75mg25%
Sodium 1228mg53%
Carbohydrates 35g12%
Fiber 4g17%
Sugar 16g18%
Protein 34g68%
* Percent Daily Values are based on a 2000 calorie diet.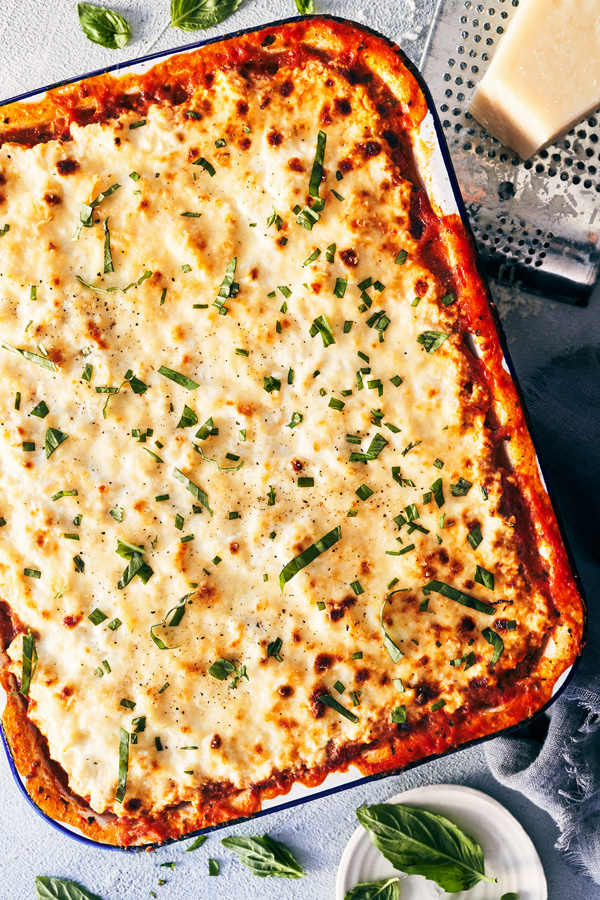 Container Equivalents
1 Green
2 Purple
1 Red
1 Blue
2B Mindset Plate It!
A great dinner option. Add an FFC for lunch.
If you have questions about the portions, please click here to post a question in our forums so our experts can help. Please include a link to the recipe.