Healthier Fettuccine Alfredo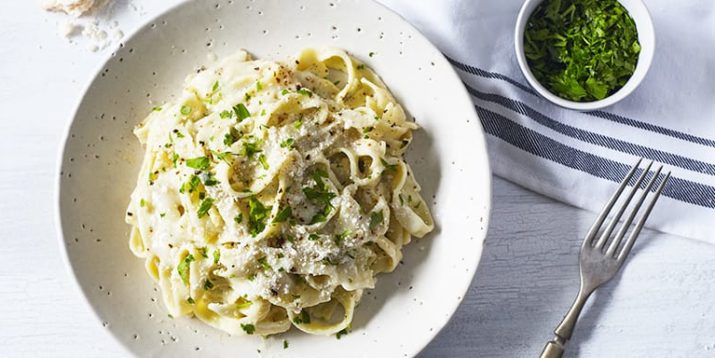 Pasta is a dish that tugs at your heartstrings. One of my favorite pasta dishes is fettuccine Alfredo.
According to lore, this dish was created in Italy by Alfredo Di Lelio in 1914 as an attempt to please his pregnant wife. When Di Lelio and his family moved to New York, he opened a restaurant, bringing this dish to the States.
The original version was made with butter and Parmesan cheese, not cream, and this tradition continues outside of the U.S.
But whether the sauce is made with butter and cheese or butter, cheese and cream, it's not exactly the healthiest pasta recipe.
We figured out a way to get all the flavor without all the cream and butter.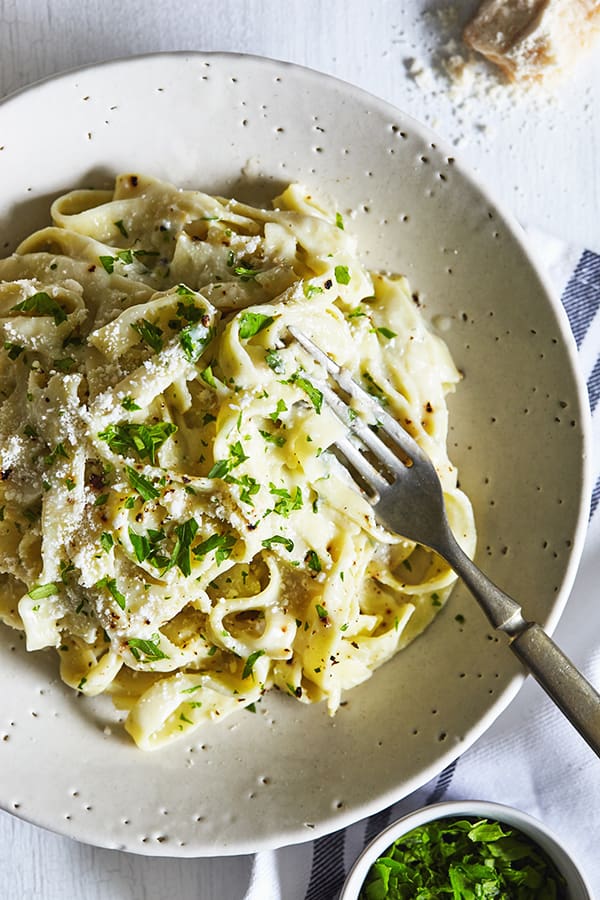 The secret to healthier fettuccine Alfredo? Cauliflower.
Make sure to reserve some of the pasta water for the sauce. As the noodles cook, they release starch into the water. By using pasta water for the sauce, you can thicken it without the need for added oil or flour.
For an even more flavorful fettuccine sauce, you'll cook the cauliflower in vegetable broth.
Once the cauliflower is cooked, blend with garlic, nutmeg, and reserved cooking water to create a silky white sauce. Stir in some unsweetened almond milk, and just like that, you have a healthier fettuccine Alfredo sauce.
You'd never guess there's cauliflower inside, but it always feels good sneaking in extra vegetables. Garnish with Parmesan cheese and chopped parsley, if desired.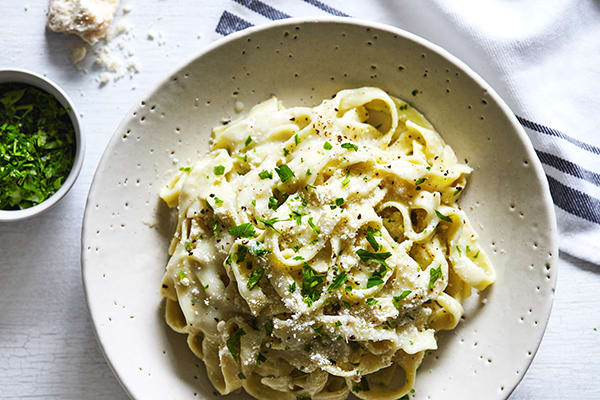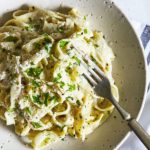 Healthier Fettuccine Alfredo
This recipe features a healthier version of fettuccine Alfredo. No cream, no butter, but all the flavor.
Prep Time 15 mins
Cook Time 25 mins
Total Time 40 mins
Servings 4 servings
Calories 315 kcal
Ingredients
8 oz. dry whole-grain fettuccine
3 cups low-sodium organic vegetable broth
1 medium cauliflower, chopped (about 1½ pounds)
2 tsp. olive oil
2 cloves garlic, finely chopped
1 pinch ground nutmeg
Sea salt (or Himalayan salt) and ground black pepper (to taste; optional)
½ cup unsweetened almond milk
½ cup shredded Parmesan cheese
2 Tbsp. chopped flat-leaf parsley (for garnish; optional)
Instructions
Cook fettuccine according to directions on package. Before draining, reserve 2 cups of cooking water; set aside.

Bring broth to a boil in medium saucepan over medium-high heat. Add cauliflower. Reduce heat; cook, covered, for 12 to 15 minutes, or until soft.

While cauliflower cooks, heat oil in medium nonstick skillet over medium heat.

Add garlic; cook, stirring frequently, for 1 minute, or until garlic is soft. Remove from heat and strain.

Place cauliflower in blender (or food processor) with 2 cups of reserved cooking water, garlic, and nutmeg. Season with salt and pepper if desired. Blend in two or more batches if necessary; cover with lid and kitchen towel. Blend until very smooth. Add additional cooking water if needed.

Heat cauliflower mixture in same medium saucepan over medium-low heat.

Add almond milk; cook, stirring frequently, 5 to 7 minutes. Consistency should be that of a thick soup.

Add fettuccine; mix well.

Divide fettuccine evenly between four bowls. Top evenly with cheese and parsley (if desired); serve immediately.
Nutrition Facts
Healthier Fettuccine Alfredo
Amount Per Serving (1 serving)
Calories 315 Calories from Fat 72
% Daily Value*
Fat 8g12%
Saturated Fat 2g13%
Cholesterol 7mg2%
Sodium 405mg18%
Carbohydrates 50g17%
Fiber 10g42%
Sugar 5g6%
Protein 16g32%
* Percent Daily Values are based on a 2000 calorie diet.
Container Equivalents
1½ Green
2 Yellow
½ Blue
½ tsp.
2B Mindset Plate It!
An FFC and accessory as part of lunch.
If you have questions about the portions, please click here to post a question in our forums so our experts can help. Please include a link to the recipe.
Photographs by Anguel Dimov and Brianne B of Natural Girl Modern World