Slow Cooker Chicken Fajitas
Have a fajita fiesta with maximum flavor and minimal effort with these Slow Cooker Chicken Fajitas.
This chicken fajitas recipe uses a slow cooker to infuse tender chicken with the flavors of every ingredient, so each bite is bursting with bold taste.
It's so easy to make, just place all of the ingredients in a slow cooker, and press a button! Hours later, you'll have a delicious dish that is healthy and packed with an impressive 31 grams of protein per serving.
These slow cooker chicken fajitas are great for a simple meal prep that cooks itself while you prepare the rest of your meals for the week.
The recipe makes four servings, but can easily be doubled to make a larger, time-saving batch.
When it's finished cooking, let the chicken mixture cool for one hour, then store in the fridge until completely cool. Spoon individual portions into containers or plastic bags for freezing.
Pro tip: In a rush? Make this recipe in an Instant Pot — check out the instructions in the Recipe Notes! (The nutritional information differs slightly from the slow cooker version.)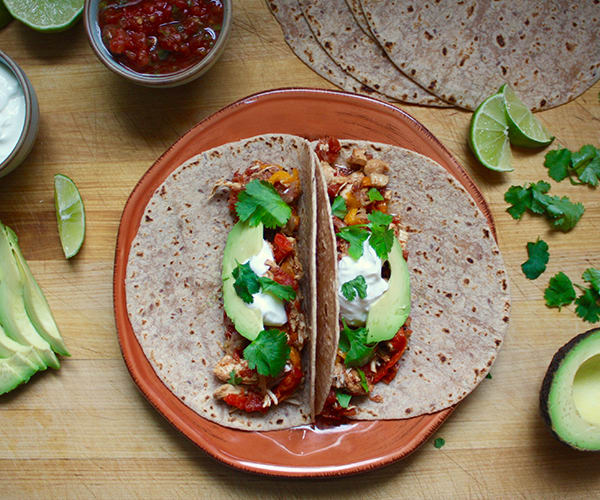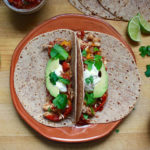 Slow Cooker Chicken Fajitas
Have a fajita fiesta with maximum flavor and minimal effort with these Slow Cooker Chicken Fajitas.
Prep Time 20 mins
Cook Time 6 hrs 2 mins
Total Time 6 hrs 22 mins
Servings 4 Servings
Calories 404 kcal
Ingredients
1 (14.5 oz.) can diced tomatoes (or diced tomatoes with green chiles), no salt
1 medium onion, cut into quarters, sliced
1 medium red bell pepper, cut into strips
1 medium orange bell pepper, cut into strips
2 tsp. ground chili powder
1 tsp. ground cumin
½ tsp. ground black pepper
2 Tbsp. fresh lime juice
1 lb. raw chicken breast, boneless, skinless, and sliced
8 6-inch whole-wheat flour tortillas, warm
½ cup fresh tomato salsa
8 tsp. low-fat (2%) plain Greek yogurt
1/2 medium avocado, sliced
cilantro, finely chopped
Instructions
Place tomatoes, onion, bell peppers, chile powder, cumin, pepper, and lime juice in a 3-quart slow cooker; mix well.

Add chicken; cook, covered, on low temperature for 4 to 5 hours (or on high or 2 to 3 hours), stirring once or twice, until chicken is cooked through and vegetables are tender.

Evenly divide mixture between tortillas. Top evenly with salsa, yogurt, avocado, and cilantro.
Recipe Notes
To make this recipe in an Instant Pot (programmable pressure cooker), follow these instructions:
Turn 6-quart Instant Pot to high sauté setting.
Heat 1½ tsp. olive oil to hot.
Add onion and bell peppers; cook, stirring frequently, for 4 to 5 minutes, or until onion is translucent.
Add 1 cup water, tomatoes, chili powder, cumin, pepper, lime juice, and chicken. Follow manufacturer's guidelines for locking lid and preparing to cook. Set to pressure cook on high for 10 minutes.
Follow manufacturer's guide for quick release, and wait until cycle is complete. Carefully unlock and remove lid, taking care that there is no remaining steam.
Serve as listed above.
Nutritional Information (per serving) Instant Pot Variation:
Calories: 426
Total Fat: 13 g
Saturated Fat: 3 g
Cholesterol: 83 mg
Sodium: 590 mg
Carbohydrates: 42 g
Fiber: 6 g
Sugars: 8 g
Protein: 32 g
Nutrition Facts
Slow Cooker Chicken Fajitas
Amount Per Serving (2 fajitas)
Calories 404 Calories from Fat 108
% Daily Value*
Fat 12g18%
Saturated Fat 2g13%
Cholesterol 73mg24%
Sodium 671mg29%
Carbohydrates 42g14%
Fiber 6g25%
Sugar 8g9%
Protein 31g62%
* Percent Daily Values are based on a 2000 calorie diet.
Container Equivalents
1 Green
2 Yellow
1 Red
1 tsp.
2B Mindset Plate It!
Add a side salad or veggies to make a great lunch.
If you have questions about the portions, please click here to post a question in our forums so our experts can help. Please include a link to the recipe you're asking about.
Slow Cooker Chicken Fajitas photos by Kirsten Morningstar