30 Healthy Chicken Breast Recipes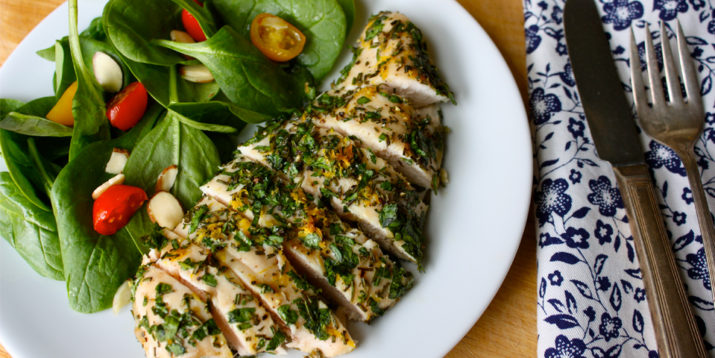 I have a confession to make. It used to be that hearing the words, "tastes like chicken," would have me running in the other direction.
For most of my life, I avoided eating chicken breast (I know, I sound like a weirdo).
I'm not a picky eater by any means, but there was something about white meat that was just…bland.
But my tune has changed, and these chicken breast recipes, created by our BODi culinary wizards, are why.
I have personally cooked nearly all of them and every single recipe tasted delicious, especially the curried chicken with couscous and the lemon chicken soup.
When you cook with chicken, keep in mind that chicken breasts have been getting bigger. Individual boneless, skinless breasts used to weigh five or six ounces, but can now be a hefty eight ounces or more.
That extra meat comes with an additional 60 calories and five grams of fat. That's not necessarily a lot, and it's good lean protein, but it can add up fast.
I like to separate the tenders from the breast meat and save them for another meal. If the portion is still too big, I save the extra cooked meat for a salad the next day.
Here are 30 tasty and healthy chicken breast recipes that will win you over, too!
30 Healthy Chicken Breast Recipes
Chicken Salad Recipes
Grilled Chicken Caesar Salad
Have your croutons and eat them, too, with this lighter version of a Caesar salad that's high in protein but low in calories. Get the recipe.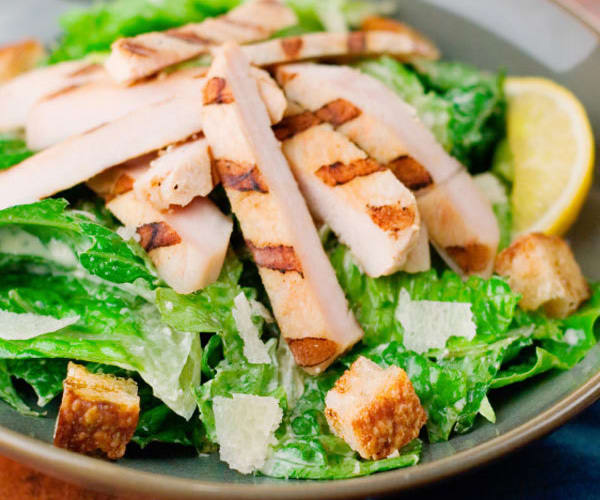 Chicken, Apple, and Sweet Potato Salad
With its crunchy pecans, baked apples, and sweet potato, this protein-rich salad features many of our favorite flavors. It's a hearty salad that really satisfies. Get the recipe.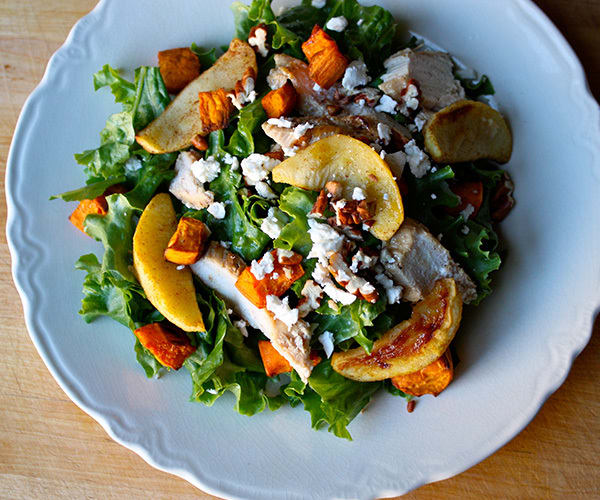 Chicken and Pear Salad
Spinach, honey, and pears make this dish sweet, savory, and delicious.
The skin of a pear contains about four times as many phytonutrients as the flesh, and about half of the fruit's total fiber, so if you prefer to, you can leave the skin on. Get the recipe.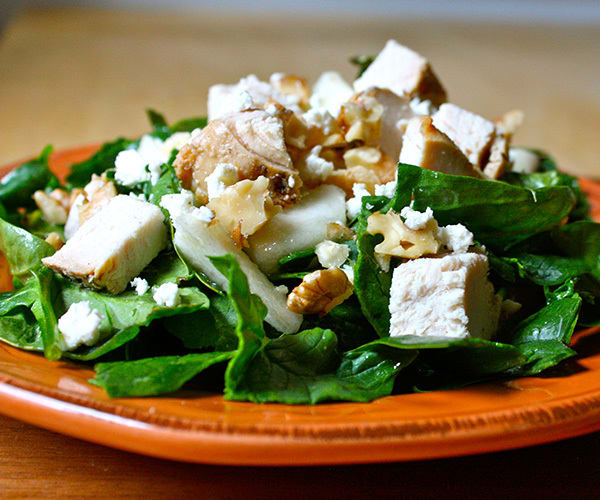 Chicken With Quinoa, Oranges, and Walnuts
This chicken and quinoa dish is packed with protein and healthy fats. Walnuts give it crunch, and oranges and herbs give it lots of fresh flavor. Get the recipe.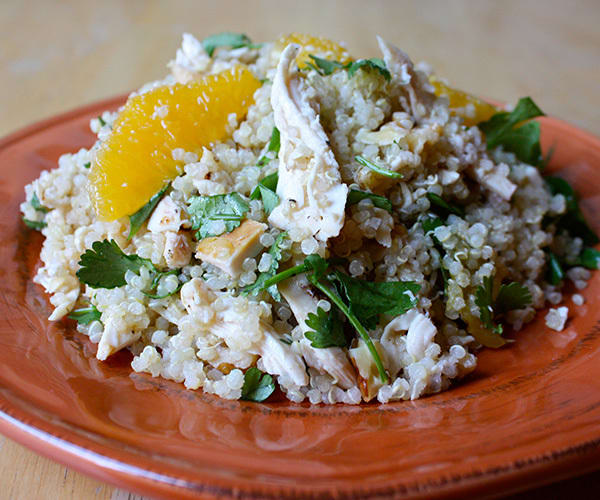 Chicken Soup Recipes
Chicken and White Bean Soup
Rotisserie-cooked chicken means this hearty homemade soup is ready in minutes! Get the recipe.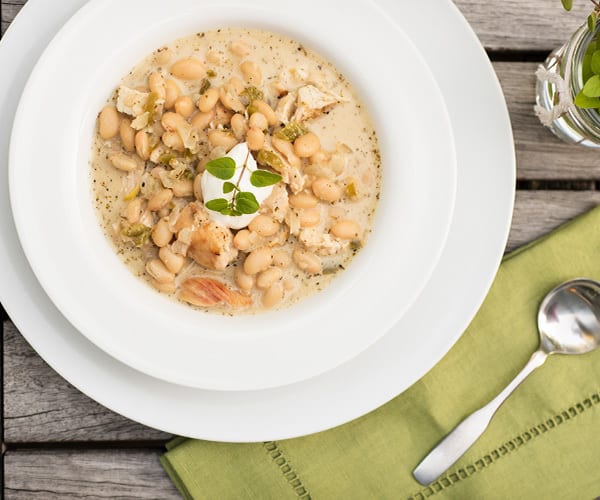 Butternut Squash Soup With Roasted Chicken
Butternut squash and corn give a naturally sweet flavor to this savory soup. Using rotisserie chicken makes it an easy meal to prepare on a busy weeknight. Get the recipe.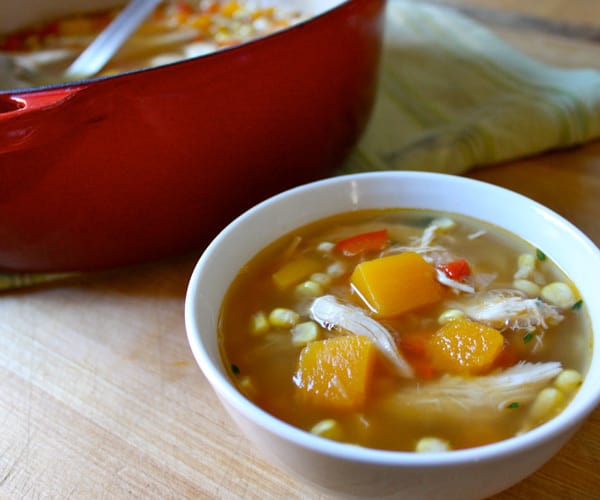 Greek Lemon Chicken Soup
For a new twist on an old standby, try this quick chicken soup inspired by the classic Greek soup Avgolemono (meaning "egg-lemon").
We love the simple, creamy soup base made by whisking eggs, lemon, and broth together. Our healthy version has 231 calories and 32 grams of protein per serving. Get the recipe.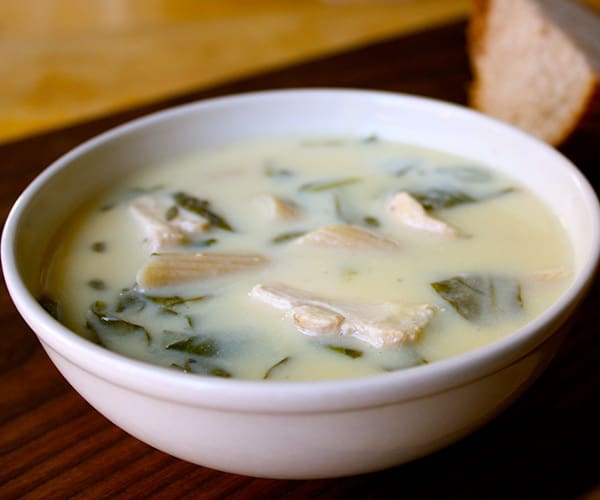 Chicken Sandwich Recipes
Chicken Ciabatta Sandwiches With Homemade Chicken Patties
Make your own delicious chicken patties seasoned with garlic and spices and build them into a memorable sandwich with Swiss cheese and whole grain ciabatta rolls.
You'll want to make extra patties to freeze for future easy meals. Get the recipe.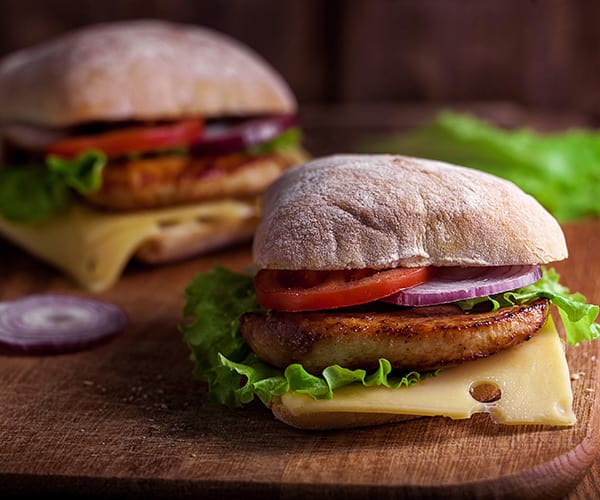 Greek Chicken Pita
We've put all of the flavors of a classic Greek salad into a delicious and satisfying pita sandwich you'll make again and again. Get the recipe.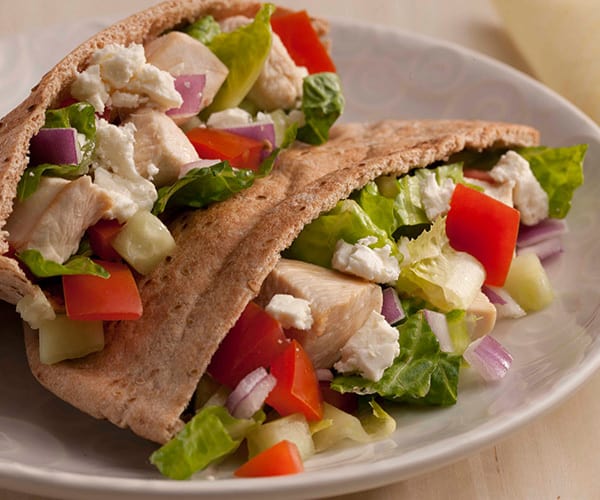 Chicken and Spinach Wrap
Lunch just got a little better. We created a delicious chicken salad with spiced yogurt instead of mayonnaise and wrapped it in a hearty wheat tortilla stuffed with spinach. Get the recipe.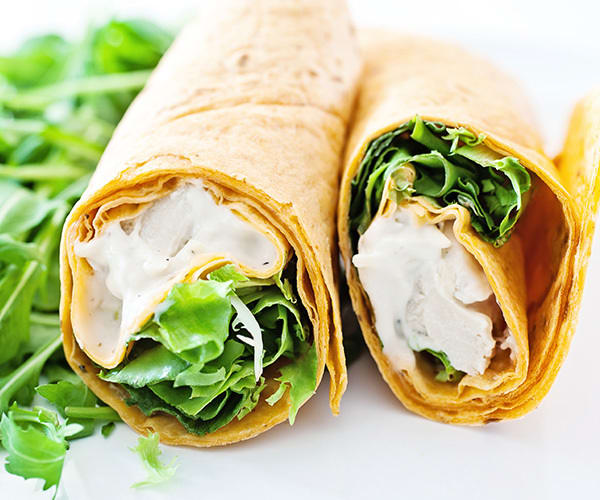 Chicken Snacks
Buffalo Chicken Tenders With Blue Cheese Dip
These tangy, spicy chicken tenders dipped in creamy blue cheese sauce are delicious enough to make you forget they're only 158 calories per serving. Get the recipe.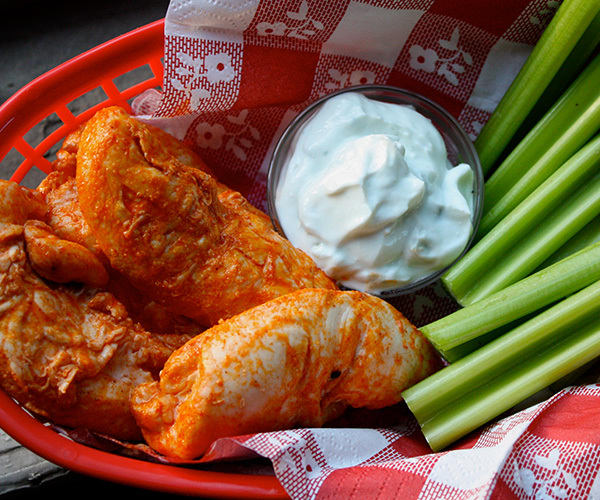 Chicken Satay With Peanut Dipping Sauce
Coconut milk, honey, and a touch of spice make this Thai appetizer a delicious snack or light lunch. Get the recipe.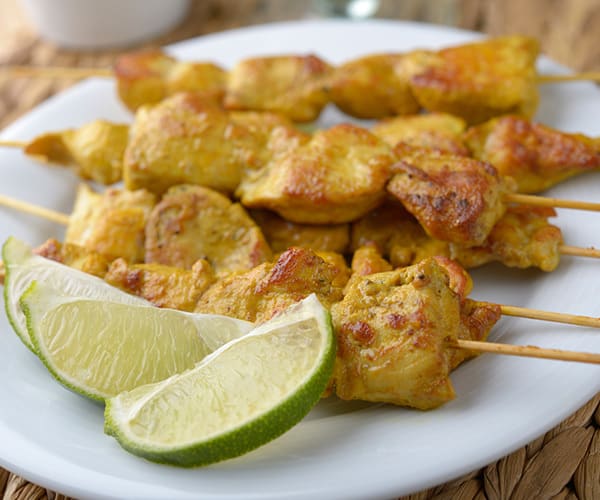 Almond-Crusted Chicken Fingers With Honey Mustard Dipping Sauce
Everyone loves these crispy chicken fingers, and the sweet and tangy dipping sauce. They're a crowd-pleaser and a kid pleaser. You're going to want to make extra! Get the recipe.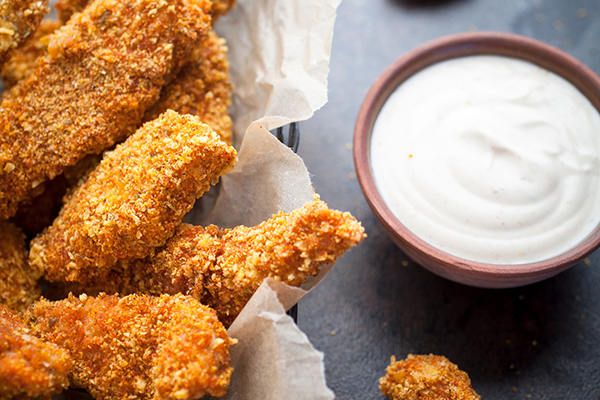 Sweet Potato Skins With Chicken and Spinach
We took what's usually a greasy bar snack and turned it into a delicious appetizer that is healthy enough to eat for a meal!
These baked sweet potato skins are topped with spinach, spiced chicken, and cilantro, with a dollop of Greek yogurt. Get the recipe.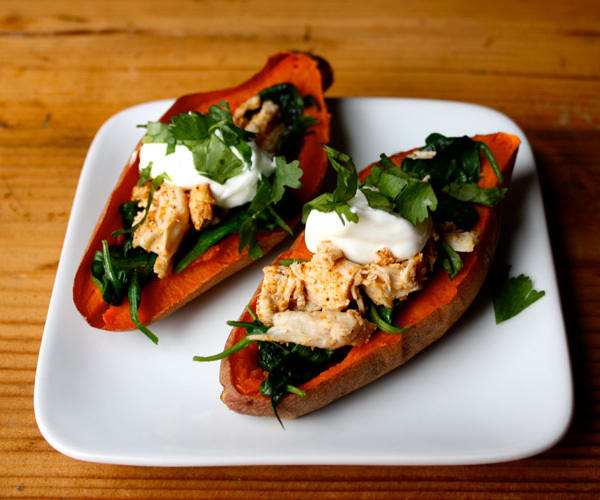 Chicken Pizza and Pasta Recipes
Chicken Pizza
This healthy homemade pizza is topped with lean chicken, fresh ingredients, and a touch of Parmesan cheese.
Peppery arugula is the finishing touch that will make you want to make this pizza every day. Get the recipe.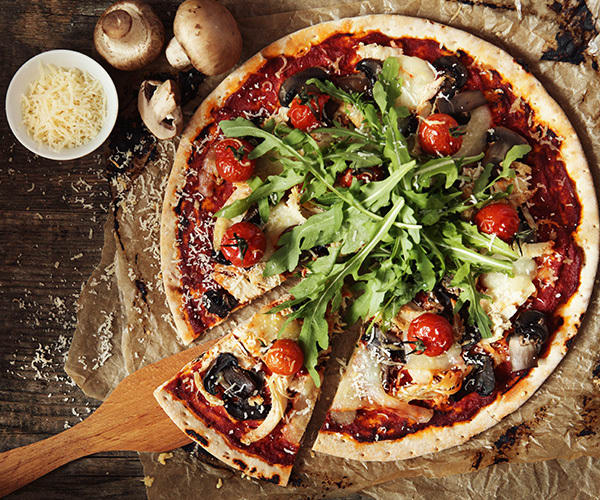 Chicken and Mushrooms Over Pasta
Update basic chicken pasta with garlic, flavorful sautéed mushrooms, white wine, and fresh parsley.
Common button mushrooms are great in this recipe, but if you want to amp up the flavor or impress someone special, choose porcini, morel, oyster or other wild mushrooms. Get the recipe.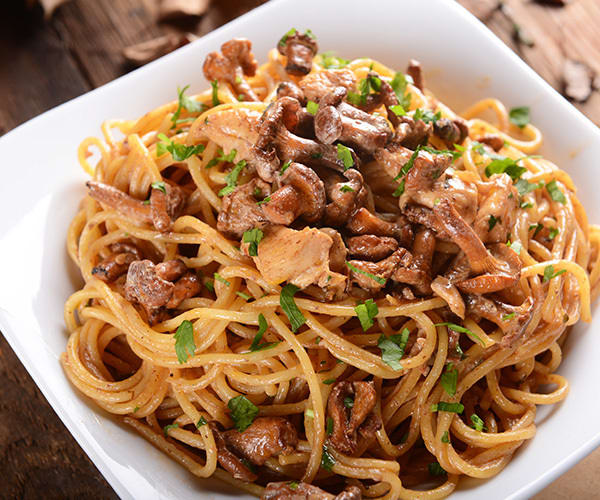 Peanut Chicken With Soba Noodles
We used buckwheat soba noodles instead of pasta in this Asian-inspired chicken dish. It's loaded with leafy greens, fresh edamame, and crunchy peanuts. Enjoy hot or cold! Get the recipe.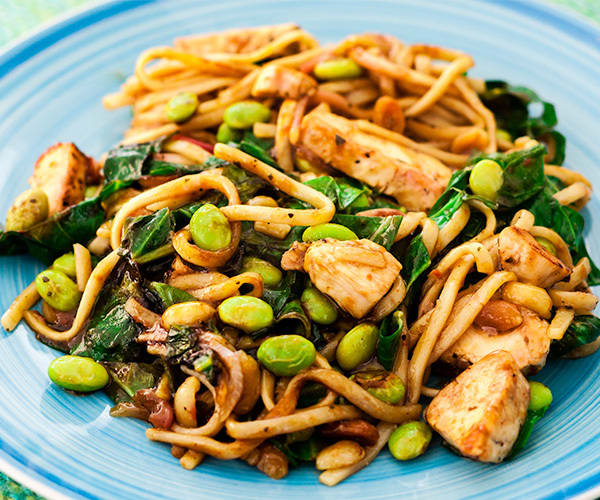 Chicken Main Dish Recipes
Grilled Chicken Dijon
Grill it or broil it, this lean chicken dijon recipe is a fantastic, healthy dinner you can make in 15 minutes or less. Get the recipe.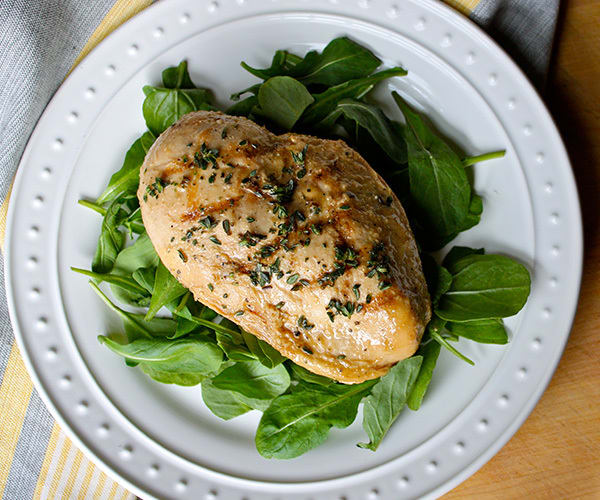 Curried Chicken With Couscous
With a creamy, curry base made from light coconut milk, this entree tastes much more decadent than it is.
If you've ever been intimidated by making a curry dish, this recipe is a great place to start. It's extremely simple, and the results are absolutely delicious.
This is a great recipe to make and freeze in individual portions. Get the recipe.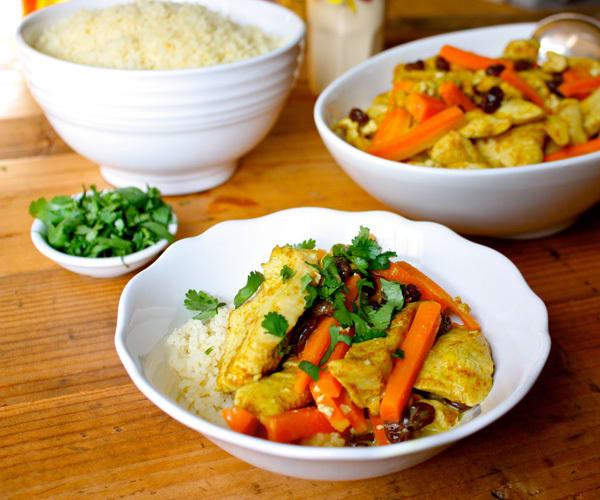 Herb Chicken
Chicken breast doesn't have to be boring. This version made with parsley, rosemary, and lemon zest has tons of fresh flavor.
Any fresh herbs can be used in this recipe. Try substituting the rosemary with basil, tarragon, or oregano. Leftover portions taste excellent on top of a salad. Get the recipe.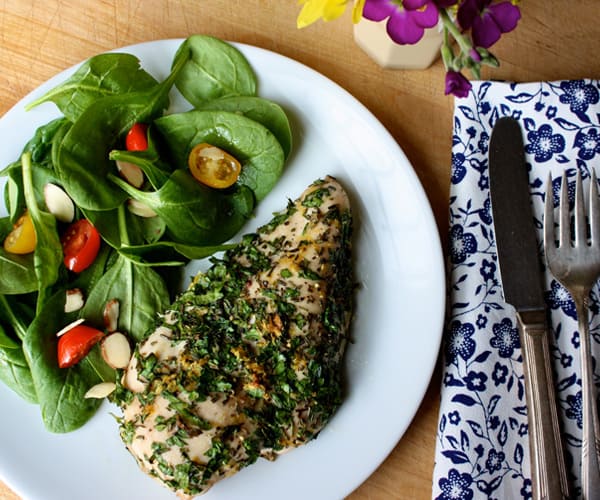 Chicken Piccata
This lightly breaded chicken piccata recipe is topped with mushrooms, artichokes, and capers. It has 27 grams of protein per serving and only 240 calories. Get the recipe.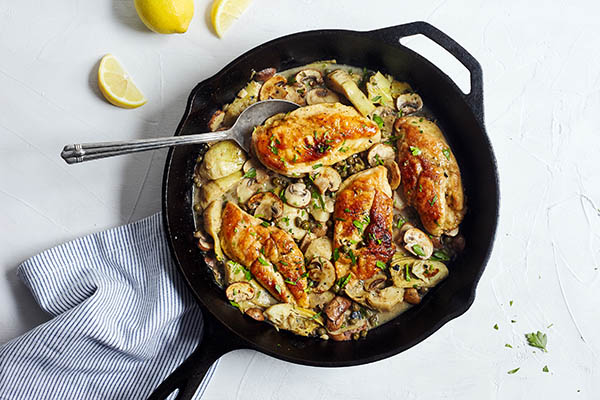 Crispy Oven-Baked Chicken
Forget greasy fried chicken. This oven-baked chicken recipe has all of the juiciness and crunch you'd expect from fried chicken, without the added fat and calories. Get the recipe.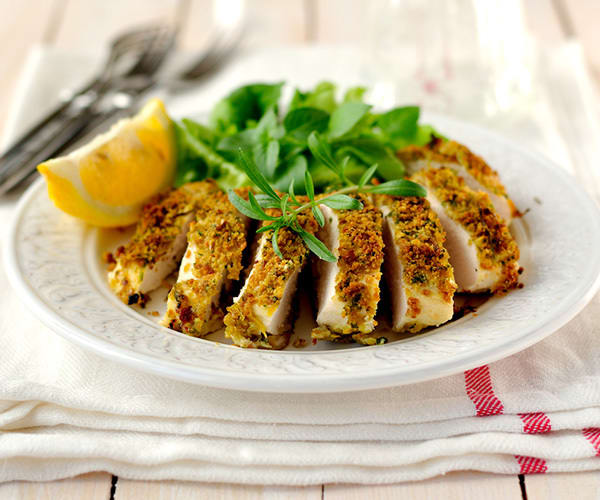 Hearty Chicken, Sweet Potato, and Apples
This is a great recipe to use leftover chicken and baked sweet potatoes. Don't have leftovers? We'll let you in on a little secret: We made ours with a chicken breast from the deli section of the supermarket and a bag of frozen cubed sweet potatoes. Get the recipe.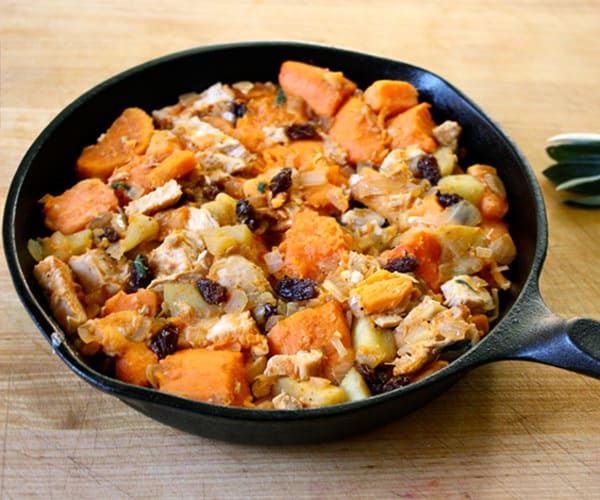 Chickpea Curry With Chicken
This protein-rich chicken curry with chickpeas dish is richly spiced. For a milder (or hotter) version, adjust the amount of chili powder to your taste. Get the recipe.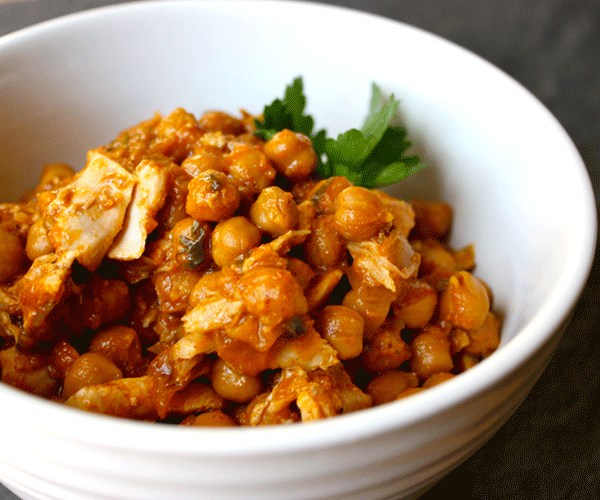 Tuscan Chicken With Olives and Capers
The bold flavor combination of capers, tomatoes, and olives will make you feel like you're on a Mediterranean holiday. Get the recipe.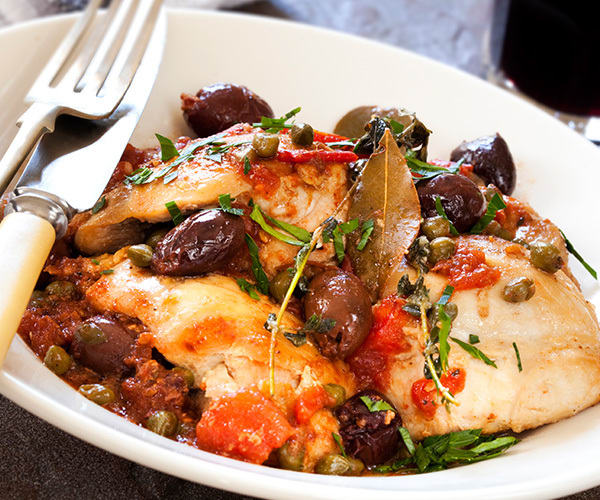 Healthier General Tso's Chicken
Order General Tso's as takeout and get ready for a hefty helping of saturated fat and calories. Try this healthier version instead and enjoy the taste and just 183 calories per serving. Get the recipe.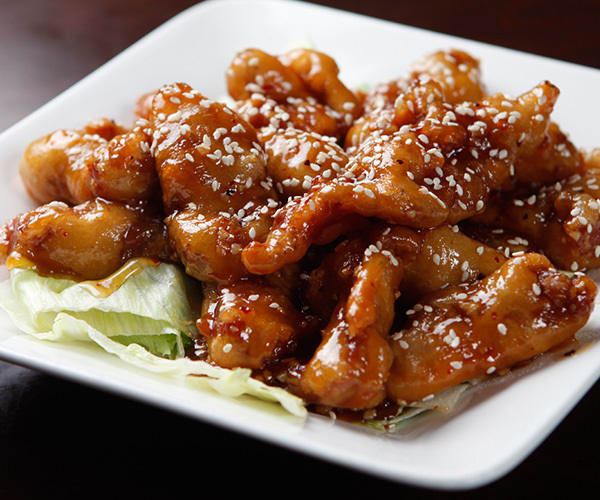 Jerk Chicken
Our recipe for Jamaican jerk chicken uses a spicy marinade. Don't let the long list of ingredients scare you off, chances are you already have most of what you'll need.
Marinated chicken can be baked for a quick weeknight meal, or move it to the grill for a great summer barbecue. Get the recipe.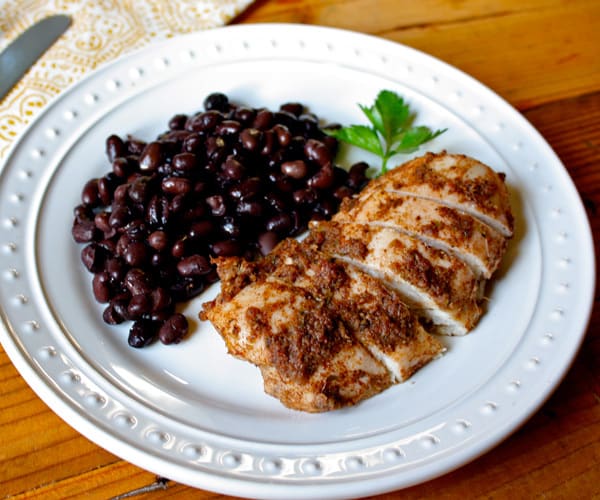 Zesty Chicken With Brown Rice
When we say zesty here, we mean spicy! This recipe cooked with fresh veggies, tomatoes, and chili sauce really wakes up the average chicken dinner. Get the recipe.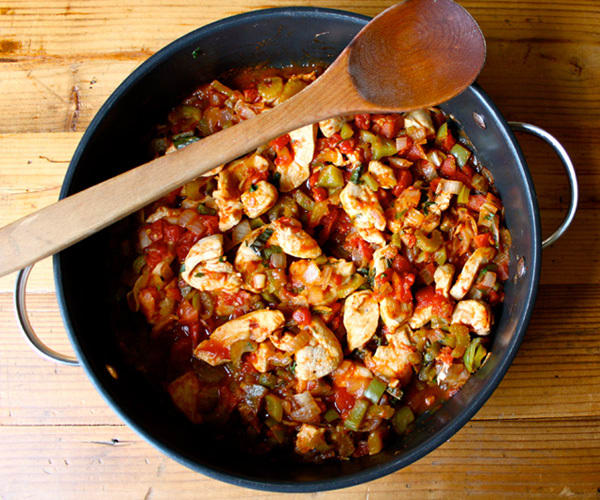 Chicken and Veggie Fajitas
This delicious restaurant favorite is easy to make at home! Our version is healthy and packed with a rainbow of vegetables. Get the recipe.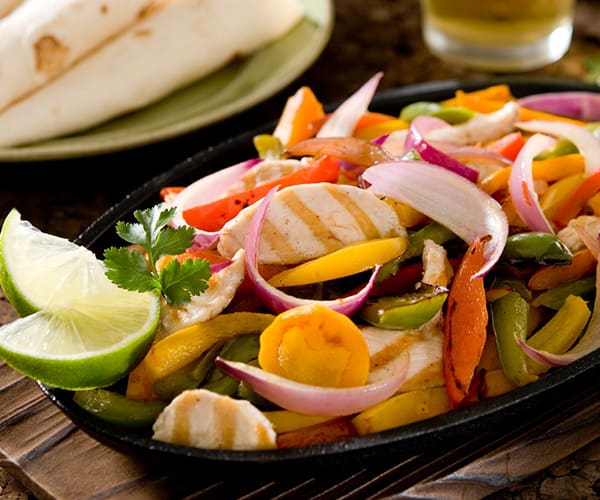 Chicken Tacos
Even though these simple chicken tacos taste like delicious comfort food, they have only 248 calories and 6 grams of fat per serving. Top with shredded cabbage or radishes for extra crunch. Get the recipe.