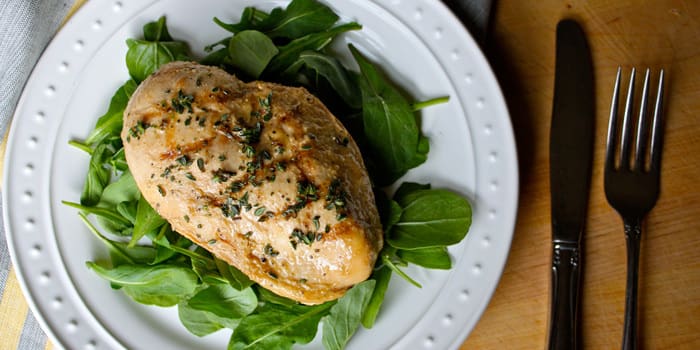 Grilling in the quintessential summertime activity. The scent of mesquite fills the air and a assortment of freshly grilled items are passed are tables family style. our Chicken Dijon is incredibly quick to prepare at just 15 minutes total. So weather you choose to grill it or broil it, this lean recipe is a fantastic, healthy dinner you can make anytime, because everybody has 15 minutes to spare.
Grilled Chicken Dijon
This recipe is great grilled our broiled. Our Grilled Chicken Dijon is a recipe you'll want to keep in your back pocket.
Prep Time 5 minutes
Cook Time 10 minutes
Total Time 15 minutes
Ingredients
2 (4-oz.) raw chicken breasts boneless, skinless
1 clove garlic crushed
2 tsp Dijon mustard
6 fresh parsley sprigs (or thyme, marjoram, or rosemary) finely chopped
1 dash sea salt (or Himalayan salt)
½ tsp ground black pepper
1 Tbsp olive oil
Instructions
Preheat grill or broiler.

Combine garlic, mustard, parsley, salt, pepper, and oil in a small bowl; mix well.


Brush chicken breasts evenly with garlic mixture.


Grill (or broil) chicken for 5 minutes on each side or until chicken is no longer pink in the middle.

Nutritional Information (per serving):
Calories: 199
Total Fat: 10 g
Saturated Fat: 2 g
Cholesterol: 73mg
Sodium: 397mg
Carbohydrates: 2 g
Fiber: 0 g
Sugars: 0 g
Protein: 24 g
P90X3 Portions
2 Protein
½ Fat
Body Beast Portions
4 Protein
½ Fat
Portion Fix Containers
1 Red
1 ½ tsp
Not familiar with Portion Fix? Find out how Portion Fix can make losing weight simple.
If you have questions about the portions, please click here to post a question in our forums so our experts can help. Please include a link to the recipe.