Chicken Satay With Peanut Dipping Sauce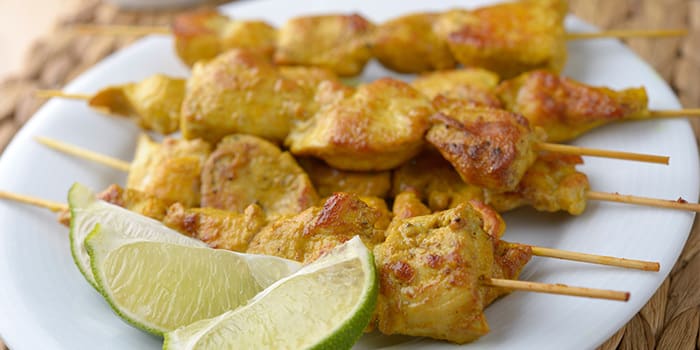 Chicken satay is a quintessential Thai favorite that wouldn't be complete without sweet peanut dipping sauce.
It's hard to ignore the fact that your average chicken satay is prepared using a whole lot of vegetable oil; don't even get us started on how much sugar is in the peanut sauce.
This recipe for Chicken Satay with peanut dipping sauce has been modified to include a host of wholesome ingredients and an authentic spice blend so you can enjoy this healthy dish as an appetizer or have it for lunch anytime, without throwing off your healthy eating plan.
Watch Ultimate Portion Fix creator Autumn Calabrese, and her brother, chef Bobby Calabrese make a similar version of this recipe for Chicken Satay with Peanut Dipping Sauce on their healthy cooking show, FIXATE.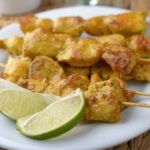 Chicken Satay with Peanut Dipping Sauce
Coconut milk, honey, and a touch of spice make these Thai chicken satay skewers delicious.
Prep Time 15 mins
Cook Time 6 mins
Total Time 2 hrs 21 mins
Servings 8 servings, 2 skewers and 2 Tbsp. dipping sauce
Calories 257 kcal
Ingredients
INGREDIENTS FOR CHICKEN SATAY
3 shallots, finely chopped
6 cloves garlic, finely chopped
½ cup canned lite coconut milk
2 Tbsp. fresh lime juice
1 Tbsp. raw honey
3 fresh cilantro sprigs, chopped
¼ tsp. ground cumin
¼ tsp. ground turmeric
2 lbs. raw chicken breast, boneless, skinless, cut into 2-inch chunks
INGREDIENTS FOR PEANUT DIPPING SAUCE
2 to 3 Tbsp. hot water
½ cup chunky peanut butter
3 Tbsp. fresh lime juice
1 Tbsp. raw honey
2 Tbsp. reduced-sodium soy sauce
½ tsp. chili sauce
Instructions
For Chicken Satay:
Soak 16 wooden skewers in water.

Place shallots, garlic, coconut milk, lime juice, honey, cilantro, cumin, and turmeric in blender; cover. Blend until smooth.


Place chicken in a glass dish. Top with marinade; mix well to blend. Marinate, covered, in refrigerator for 2 hours.


Preheat grill (or broiler) on high.


Place 2 to 3 pieces of chicken on each skewer.


Grill (or broil) skewers for 5 to 6 minutes, turning every 2 minutes, or until chicken is no longer pink in the middle, and juices run clear.

For Peanut Dipping Sauce:
Place water, peanut butter, lime juice, honey, soy sauce, and chili sauce in a small bowl; whisk to blend.

Serve 2 skewers with 2 Tbsp. dipping sauce.
Recipe Notes
The Nutrition Facts box below provides estimated nutritional information for this recipe.
Nutrition Facts
Chicken Satay with Peanut Dipping Sauce
Amount Per Serving (2 skewers and 2 Tbsp. dipping sauce)
Calories 257 Calories from Fat 108
% Daily Value*
Fat 12g18%
Saturated Fat 3g19%
Cholesterol 73mg24%
Sodium 411mg18%
Carbohydrates 11g4%
Fiber 2g8%
Sugar 6g7%
Protein 28g56%
* Percent Daily Values are based on a 2000 calorie diet.
Container Equivalents
1 Red
½ Blue
1 tsp.
2B Mindset Plate It!
A protein and accessory as part of lunch or dinner.
If you have questions about the portions, please click here to post a question in our forums so our experts can help. Please include a link to the recipe.