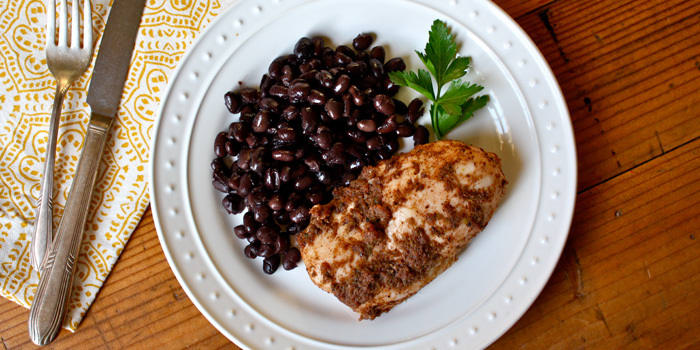 Our recipe for Jamaican jerk chicken features a spicy, flavorful marinade. Don't let the long list of ingredients scare you off — chances are you already have most of what you'll need.
You can bake marinated chicken for a quick weeknight meal, or move it to the grill for a great summer barbecue.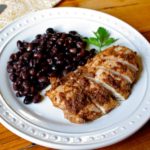 Jerk Chicken
Heat up your taste buds with this spicy recipe!
Prep Time 15 mins
Cook Time 30 mins
Total Time 45 mins
Servings 4 servings
Calories 191 kcal
Ingredients
1/4 cup white vinegar
1 Tbsp. dark rum optional
1 medium jalapeño seeds and veins removed, chopped
1/2 medium red onion chopped
2 green onions chopped
1 Tbsp. fresh thyme chopped
1 Tbsp. olive oil chopped
1/4 tsp. sea salt or Himalayan salt
1 tsp. ground black pepper
2 tsp. ground allspice
2 tsp. ground cinnamon
2 tsp. ground nutmeg
1 thin slice fresh ginger peeled, chopped
1 tsp. raw honey
4 (4-oz.) raw chicken breasts boneless, skinless
1/4 cup fresh lime juice
Nonstick cooking spray
Instructions
Place vinegar, rum (if desired), jalapeño, and onions in blender; cover. Blend until slightly chunky.


Add thyme, oil, salt, pepper, allspice, cinnamon, nutmeg, ginger, and honey; cover. Blend until almost smooth.

Pierce chicken all over with a small knife.

Place chicken in resealable plastic bag. Add lime juice; mix until well coated

Add spice mixture; mix until well coated. Marinate, in the refrigerator, for 4 hours or overnight.

Remove chicken from marinade; discard used marinade.

Place chicken on baking sheet lightly coated with spray. Bake for 20 to 30 minutes, or until chicken is no longer pink in the middle and juices run clear.

Serve chicken with black beans if desired.
Nutrition Facts
Jerk Chicken
Amount Per Serving (1 serving)
Calories 191 Calories from Fat 63
% Daily Value*
Fat 7g11%
Saturated Fat 2g13%
Cholesterol 67mg22%
Sodium 512mg22%
Carbohydrates 8g3%
Fiber 2g8%
Sugar 3g3%
Protein 23g46%
* Percent Daily Values are based on a 2000 calorie diet.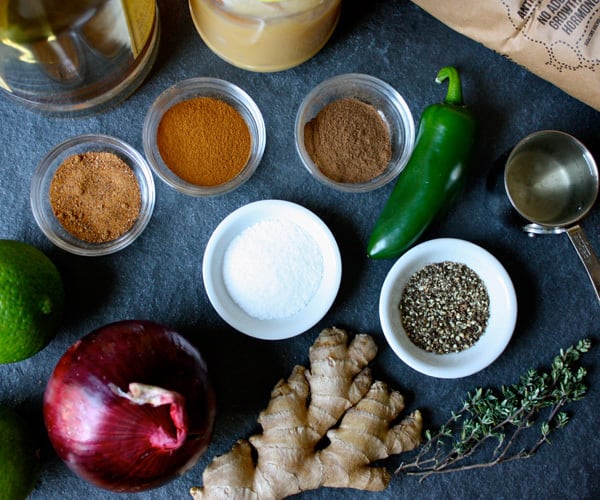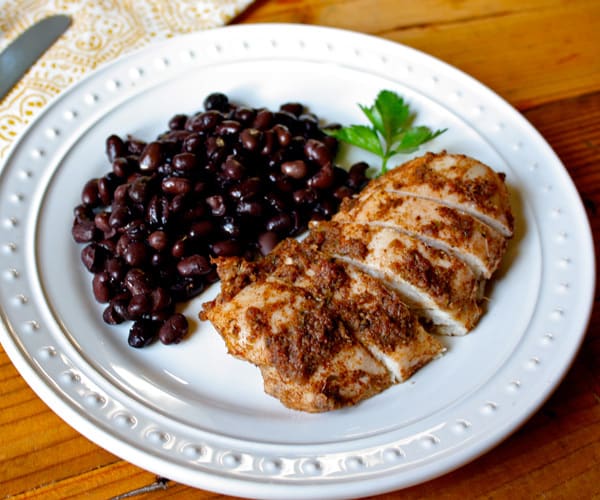 Container Equivalents
1 Red
1 tsp.
2B Mindset Plate It!
Serve with veggies and an FFC at lunch or veggies for dinner.
If you have questions about the portions, please click here to post a nutrition question in our forums so our experts can help. Please include a link to the recipe.