26 Easy, Healthy Snacks for Kids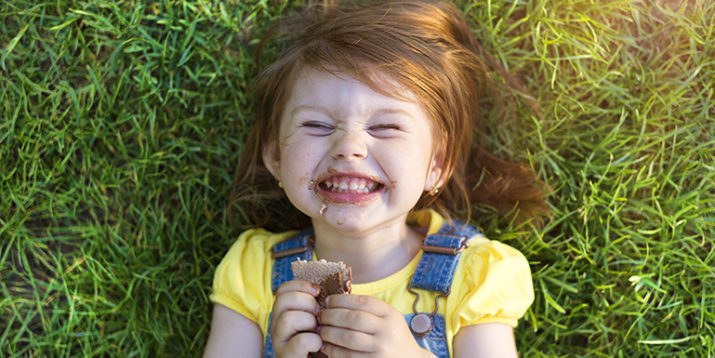 Finding food recipes and healthy snacks for kids that aren't loaded with preservatives, added sugars, and artificial colors and flavors is no easy feat.
While some food manufacturers have made strides to create cleaner foods for kids that focus on healthy, wholesome ingredients, there are still plenty of unhealthy options at the grocery store.
We pulled together a big list of fun healthy snacks for kids so you can win at snack time — and even get your kids to participate along the way!
And if you're looking for healthy kid-friendly recipes, check out this recipe roundup.
1. Greek Yogurt
While yogurt is a healthy snack, many brands marketed toward kids are loaded with sugar and other artificial additives.
Instead, choose plain Greek yogurt so you can flavor and lightly sweeten it with honey, maple syrup, or fresh fruit.
Another benefit of Greek yogurt? It has roughly twice the protein as non-Greek varieties to help keep kids full until lunch or dinner.
Kids can help: Customize their yogurt with their favorite toppings and mix-ins like chopped apple and cinnamon, sliced almonds and blueberries, or honey and walnuts.
But remember to watch topping portions; sugar is sugar, even when it comes from natural sources like honey and maple syrup.
2. Fruit & Veggies With Nut Butter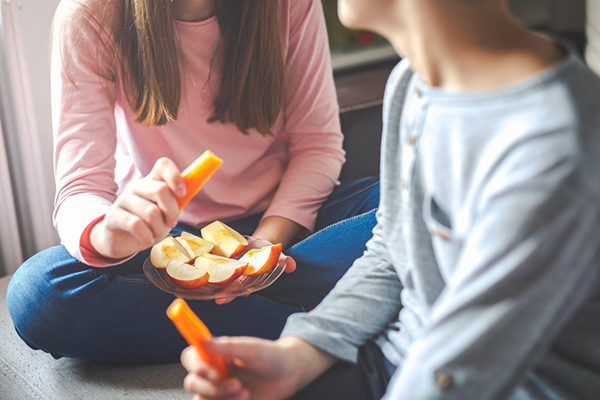 Nuts, a healthy source of fiber, vitamin E, unsaturated fats, and other key nutrients, make nut butters a no-brainer at snack time.
The smooth, creamy consistency of peanut butter, cashew butter, almond butter, and walnut butter (or really any seed or nut butter) pairs well with fruits like apples, bananas, and pears as well as crunchy veggies like celery and carrots.
Your little ones not feeling fruits or veggies? Whole-grain crackers work, too.
Note: When choosing a nut butter, check the label to see that there are no added sugars or other additives.
There should be only one ingredient: the nut or seed (and maybe some salt). Nut butters will have a natural oil separation — simply stir and refrigerate.
Kids can help: Spread nut butter between crackers to make a healthier "sandwich." Or teach them how to make homemade peanut butter in five minutes or less!
3. Chia Seed Pudding
While this pudding isn't like the chocolate and vanilla versions you may have eaten as a kid, it still has a fun pudding-like consistency that can be customized with your child's favorite flavors.
Chia seed pudding gets its thick texture because the omega-3-rich seeds absorb 10 times their weight in liquid.
Try this Raspberry Chia Pudding, which has seven grams of protein and 14 grams of fiber per serving to tide kids over until mealtime.
Kids can help: Hold science class at home — mix the pudding and watch as the seeds expand.
4. Edamame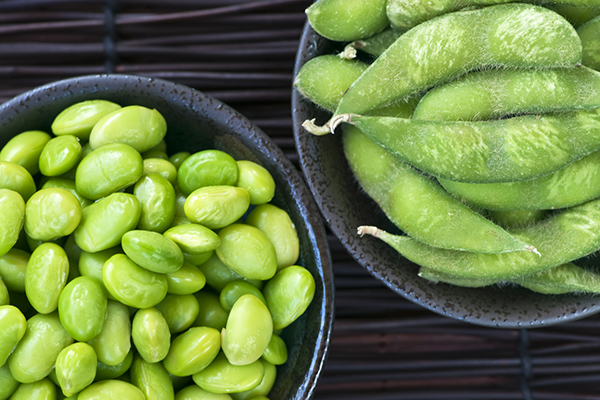 Edamame are young soybeans that boast 18 grams of protein per cup.
You can eat them on their own with a fresh squeeze of lemon, roast them until they're crunchy, or blend them into a smooth spread like hummus.
Kids can help: Have the little ones help de-shell the pods. Just be careful of rogue beans that may fly out of the shell if kids squeeze the pods too hard.
5. Roasted Pumpkin/Squash Seeds
When kids want a savory snack, it is possible to avoid the potato chip aisle.
Roasted pumpkin and squash seeds satisfy that need for crunch and contain a host of important minerals including calcium, magnesium, and potassium.
Before you roast the seeds, season them with spice combinations like cinnamon and nutmeg, garlic powder and curry powder, or the tried-and-true standby, salt, and pepper.
Kids can help: Coat the seeds with oil, spread them on a baking sheet in a single layer, and season them.
6. DIY Applesauce
Store-bought applesauce is crazy convenient, but nothing beats the homemade stuff. You can also cut tons of sugar and preservatives by making applesauce at home.
If you're feeling extra creative, add in other fruits like peaches and pears.
Kids can help: Wash apples and mash the cooked and cooled apples.
7. Whole-Grain Cereals
Taking your kids down the cereal aisle can be a risky move.
Research shows cereals marketed to kids are placed on lower shelves (i.e. kid eye level), which means all those brightly colored boxes full of sugar and refined carbohydrates may put your parenting willpower to the test.
However, there are healthier alternatives: Look for cereals made with basic ingredients (including whole grains) and void of artificial colors, preservatives, and flavorings.
You can even use whole-grain cereals to make healthier homemade trail mix with nuts, seeds, dried fruit, and roasted chickpeas or edamame.
For a treat version, add some chocolate chips.
Kids can help: Whip up a batch of healthy trail mix with their favorite whole-grain cereal. (See #9!)
8. Sliced Turkey and Chicken
Sliced deli meat is one of the easiest ways to boost protein intake. Kids can either eat it on its own, rolled into whole-wheat wraps with a little mustard, or in a protein snack box with hard-boiled eggs and cubes of cheese.
While deli meat is convenient, many brands include sodium and preservatives.
We're not about to suggest you roast your own bird and invest in a professional-grade deli meat slicer, but look for varieties that are nitrate-free, low-sodium, and less processed.
Kids can help: Roll chicken and turkey into wraps with slices of cheese and mustard.
9. Homemade Trail Mix
This DIY healthy snack for kids requires no cooking skills and has endless possibilities, depending on what you have on hand and what flavors you like.
Grab a big bowl and mix healthy ingredients, like unsalted peanuts, walnuts, almonds, pecans, sunflower seeds, unsalted popcorn, raisins, dried berries, unsweetened shredded coconut, dried apricots, oats, and whole-grain cereal.
Divvy into small containers or bags for snack time.
Kids can help: Select ingredients from the store or the pantry and add them to their own unique mix.
10. Whole-Grain Mini Pizzas
While most pizza doesn't fall under the healthy snack category, this happy medium has all the components of pizza — but it's healthier.
Use a fork to separate a whole-grain English muffin, top both halves with a low-sugar tomato sauce, fresh mozzarella, and sliced veggies, and then bake in the toaster oven.
Or, try this Pita Pizza recipe that uses pita bread to make healthy snacks for kids.
Kids can help: Choose toppings and assemble pizzas.
11. Smoothies
Smoothies are the perfect vehicle for all kinds of healthy foods: fruit, yogurt, and even veggies.
Just make sure your kid's healthy smoothie doesn't turn into a dessert shake with add-ins like gobs of peanut butter and chocolate.
Stick with plain Greek yogurt, fresh or frozen fruit, oats, chia seeds, and greens like kale and spinach (they won't taste it, we promise!).
Kids can help: Wash and prepare fruit for freezing, add ingredients to the blender, and blend the smoothie.
12. Baked Sweet Potato Fries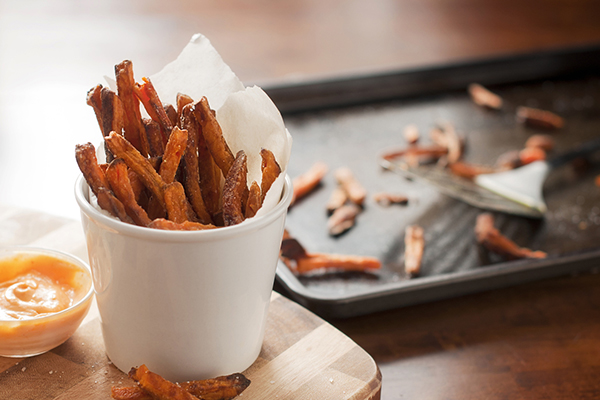 This easy-peasy snack is a healthier take on everyone's fast-food favorite. You can make these fries sweet with cinnamon and a touch of maple syrup, or savory with chili powder and sea salt.
Since these fries are baked — rather than cooked in oil — they're crunchy on the outside and tender on the inside, without all the unhealthy fat.
They're a healthy snack for kids, or a dinnertime side dish they won't refuse.
Kids can help: Season cut potato slices and layer on a baking sheet.
13. Blender Muffins
Making muffins doesn't get much easier than this: Toss all your ingredients straight into a blender, blend until smooth, and gently fold in any combination of nuts, seeds, and/or fruit, including walnuts, almonds, pumpkin seeds, blueberries, chopped apple, or dried cranberries.
These Blueberry Banana Blender Muffins have no refined sugar (oats serve as the base) and no oil (Greek yogurt and bananas keep the final product moist).
They're great for lunchboxes, too — just freeze the cooled muffins, pack one in the morning, and it will thaw by lunchtime.
Kids can help: Choose their favorite fruit, nuts, and other toppings to fold into the muffin batter.
14. Kale Chips
We're not gonna lie: These "chips" aren't even close to the ones made out of spuds.
But they are crunchy and a little salty, and they're an easy way to boost your kid's vegetable intake.
Learn how to make kale chips here.
Kids can help: Tear kale leaves from stems, massage oil, and seasoning into leaves, and arrange them on a baking sheet.
15. Veggies and Hummus
Can't get your kids to eat their veggies? Hummus can help.
Carrots, celery, cucumbers, and sugar snap peas are all great dippable veggies for homemade hummus.
Chickpeas, the main ingredient in hummus, are a great source of fiber.
Kids can help: Flavor hummus with toppings and mix-ins like lemon, roasted red peppers, or sesame seeds.
16. Baked Apple Chips
This satisfying, crunchy snack is sweet and simple, not to mention high in fiber. Baked apple chips require just one ingredient: apples.
You can sprinkle a little cinnamon or nutmeg on the apples before baking for added flavor.
Kids can help: Toss the apples in cinnamon and layer the slices on a parchment-lined baking sheet.
17. Zucchini Fries
This alternative fry veers even farther from the fries your kids may know and love, but they've still got the crunch and flavor kids and adults love.
Kids can have fun getting their hands messy in the egg mixture and shaking the zucchini sticks in the bag of dry ingredients.
Kids can help: Coat the zucchini sticks in egg and then shake in flour, cornmeal, and seasoning mixture.
18. Popsicles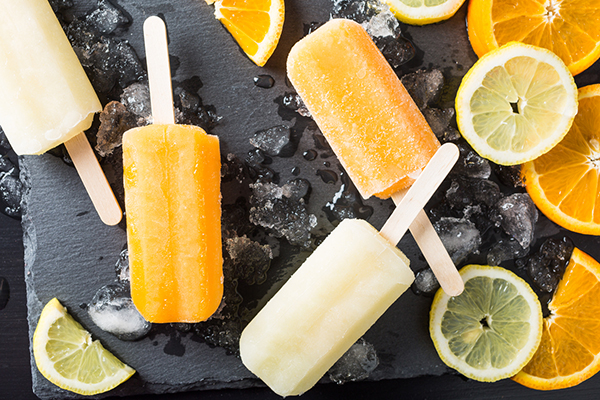 Skip the ice cream section at the store and make your own custom frozen novelties with fresh fruit, Greek yogurt, and natural sweeteners like honey.
Try out some of our favorite popsicle recipes: vanilla berry coconut, lemonade, kiwi, and watermelon. For an even easier popsicle alternative, try these frozen banana pops.
Kids can help: Choose ingredients and pour the popsicle mixture into molds.
19. Popcorn
By air-popping corn at home, you can control how much oil goes into the final product. This Cinnamon Spiced Popcorn recipe uses coconut oil and nutmeg for a sweet take on popcorn.
Or create your own savory popcorn with chili powder or grated Parmesan cheese.
You can substitute olive oil or even a mix of olive oil and a little butter to mimic that movie-theater taste.
Kids can help: Pop the corn kernels and season their homemade popcorn.
20. Ants On a Log
We already mentioned the dynamic duo that is peanut butter and veggies, but we have to dedicate a separate entry for this classic healthy snack for kids.
Simply fill cut celery sticks with peanut butter (or another nut butter) and top with raisins. Or you make Ladybugs on a Log by swapping the raisins for low-sugar dried cranberries.
Kids can help: Spread the peanut butter inside the celery and top with dried fruit.
21. Homemade Energy Bars
When it comes to granola or energy bars, homemade is the way to go.
By making them from scratch, you can dictate how much sugar (and whether or not that sugar comes from natural sources) goes into each serving.
Plus, you can ditch any other unnecessary additives like artificial flavors, colors, and chocolate coatings that turn your snack into a glorified candy bar.
Try out these Cranberry Chewy Bars with cranberries, walnuts, and applesauce. Get more recipes here.
Kids can help: Combine ingredients and press the mixture into a baking pan.
22. Roasted Chickpeas
Chickpeas are a great source of plant-based protein, iron, magnesium, potassium, and fiber.
And when you season and roast them, you've got yourself a crunchy, flavorful snack that's high in protein and fiber, and void of artificial ingredients found in many snack-aisle staples.
These Maple Chai Roasted Chickpeas are sweet and a little spicy for kids with more adventurous palates.
Kids can help: Coat the chickpeas in oil, spread them on a baking sheet in a single layer, and season them.
23. Sunflower Seeds
These seeds are loaded with vitamin E, an antioxidant that helps support a healthy immune system. One-half cup of these little seeds serves up roughly a third of the daily recommended value for vitamin E.
And they're a perfect road trip snack: For older kids, serve them in their shells and you'll keep little hands in the backseat busy, so you can focus on the road.
24. Dried Apricots
Why fight your child's sweet tooth when you can satisfy it naturally with vitamin A-rich apricots?
One-quarter cup of this chewy fruit boasts 23 percent of the daily vitamin A kids need for healthy eyes and skin.
If your kids aren't quite convinced, tell them to think of it as nature's answer to fruit leather.
25. String Cheese
If you have tweens and teens, chances are they aren't getting all the calcium they need for sturdy bones.
Munching on string cheese can help: Each piece packs roughly 15 percent of kids' daily calcium quota.
26. Salmon Jerky
If your kids are like most children, they probably aren't eating anywhere near their two recommended weekly servings of fish.
That's where salmon comes in: It's low in mercury, yet one of the highest omega-3 containing fish around. Think your kids won't bite?
Try baking a batch of our Salmon Jerky. It's an easy — and tasty — way to help your kids get their fish fix.
The Bottom Line on Healthy Snacks for Kids
When kids eat healthier snacks — and avoid the sometimes tempting processed stuff — they get more of the healthy protein, fat, whole grains, fruit, and vegetables they need to stay full and happy.