Simple No-Cook Snack Boxes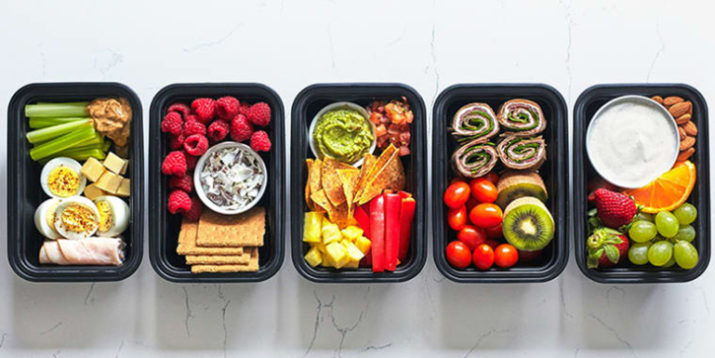 No time for meal prep? (Not even a no-cook meal prep or one you could make in 90 minutes or less?)
If that's the case, all you need are some nutritious, simple no-cook snacks to get you through hectic days — and keep you from hitting the vending machine or fast-food window.
These no-cook snack boxes are easy to put together and are filling enough to pass for a regular meal, or you can snack on them throughout the day.
Each has protein or healthy fats to help satisfy hunger and fiber to keep you feeling full longer.
We made sure they pack lots of color and flavor too, to appeal to your taste buds when that mid-afternoon rumble in your tummy cries out for "FOOD!"
Pro tip: If you're looking for a fast, no-cook healthy snack for kids, try Daily Sunshine, the Beachbody smoothie formulated especially for them.
It's made with a fruit and vegetable blend, plant-based protein, and healthy fats. It comes in two tasty flavors: Chocolate and Strawberry Banana.
For adult kids, simply whiz up a Shakeology shake that can be blended with fruit, leafy greens, or all-natural nut butter.
But if you've got a few extra minutes, put together one of these healthy snack boxes for when those hunger pangs hit!
Give Me Protein Snack Box
What's in this snack: 2 hard-boiled eggs. 4 oz. deli turkey, 1 oz. cheese, 1 cup celery sticks with 1 Tbsp. peanut butter
Container Equivalents 1 Green, 2 Red, 1 Blue, 3 tsp.

Fruits and Nuts Snack Box
What's in this snack: ¾ cup plain 1% Greek yogurt mixed with 1 tsp. honey and ½ tsp. cinnamon, ½ cup strawberries, ½ cup nectarine or orange wedges, ½ cup green grapes, 12 raw almonds
Container Equivalents 1½ Purple, 1 Red, 1 Blue

Easy Roast Beef Pinwheels
What's in this snack: ¼ cup goat cheese, 4 oz. sliced roast beef, ½ cup spinach rolled up in 1 6-inch whole wheat tortilla and sliced into pinwheels, ½ cup cherry tomatoes, 1 kiwi (or plum or small tangerine)
Container Equivalents 1 Green, ½ Purple, 1 Red, 1 Yellow, 1 Blue

Chips and Dips Snack Box
What's in this snack: ½ cup baked corn tortilla chips (or these homemade tortilla chips made from 2 corn tortillas), ¼ cup guacamole, ¼ cup pico de gallo, ¾ cup bell pepper sticks, ½ cup pineapple cubes
Container Equivalents 1 Green, ½ Purple, 1 Yellow, 1 Blue

No-Cook Snacks for the Sweet Tooth
What's in this snack: 1 cup raspberries (or blueberries), 4 chocolate or plain Graham crackers (1 sheet), 1 Tbsp. cacao nibs mixed with 2 Tbsp. unsweetened coconut flakes
Container Equivalents 1 Purple, 1 Yellow, 1 Orange, 3 tsp.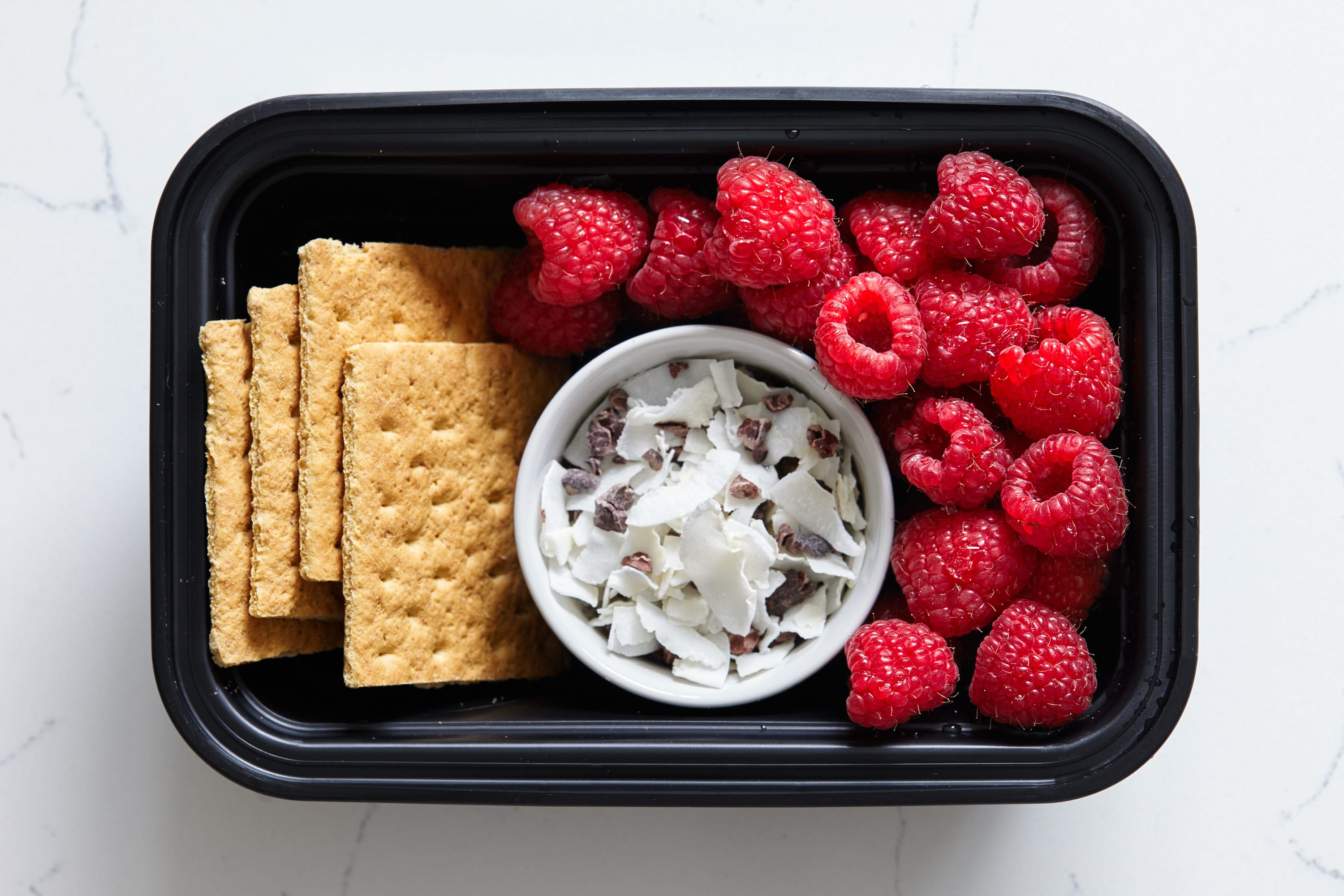 Save
Save
Save