If I don't have breakfast, I'm useless for the majority of the day.
But, I also don't have much time in the morning. As a result, I've become a pro at making quick, easy breakfasts, like three-ingredient scrambled eggs, overnight oats, and most recently, chia pudding.
That last one might sound like it's meant to be a snack or dessert, but chia pudding is actually perfect for a fast, healthy breakfast. Just like overnight oats, chia pudding is simple to make, requires no cooking, and can be customized with an endless variety of toppings. And, from a health standpoint, chia seeds are phenomenal. One ounce of chia seeds contains 4 grams of protein, 11 grams of fiber, and a ton of healthy omega-3 fatty acids, which are believed to help prevent heart disease.
Raw, the powerful, tiny seeds are hard and crunchy but after they sit in liquid for a few hours, they absorb up to 12 times their weight in moisture and plump up a texture that resembles pudding. But to really get the best consistency, you need the correct ratio of chia seeds to liquid. Too many and you'll end up with solid chunk of chia seeds; too few: chia soup. Once you combine the chia seeds with liquid, you'll need to let the mixture rest in the refrigerator for at least four hours before enjoying. To serve, top with your favorite fruits, nuts, or seasonings or layer them parfait-style for an Instagram-perfect breakfast.
To make the best, basic chia pudding, follow the recipe below. To spice things up and ramp up the flavor, take a look at some of our staff's favorite variations.
Chia Seed Pudding
Total Time: 4 hrs. 10 min.
Prep Time: 10 min.
Cooking Time: None
Yield: 2 servings, about ¾ cup each
Ingredients:
1½ cups unsweetened almond milk
1 Tbsp. raw honey
⅓ cup chia seeds
½ tsp. pure vanilla extract (optional)
Preparation:
1. Combine almond milk, honey, chia seeds, and extract in a medium bowl; mix well.
2. Cover bowl; refrigerate for at least 4 hours or overnight, mixing after 2 hours.
3. Divide evenly into 2 servings.
Tip: If you add cocoa powder or Shakeology, more liquid may be required.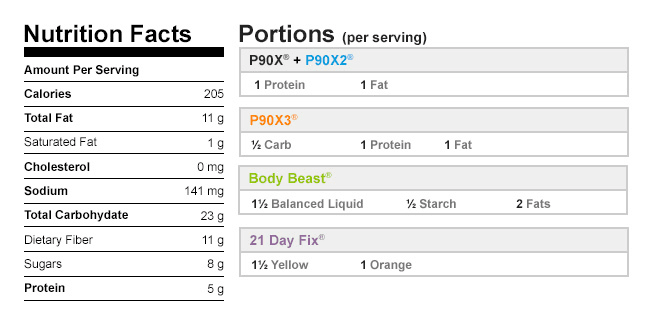 Our favorite variations:
Rebecca Swanner, Editorial Director
One layer made with 1 oz. dark chocolate chips and almond milk, topped with a layer of diced strawberries, topped with a layer made with ½ tsp. matcha and almond milk. Finish by adding more diced strawberries and 1 tsp. silvered almonds.
Denis Faye, Senior Director of Nutrition Content
Shakeology, cinnamon, and any kind of extract
Kirsten Morningstar, Senior Content Editor
Cocoa powder, cinnamon, and raspberries
Hannah Rex, Editorial Assistant
Turmeric, cinnamon, and mango
Richard Andrew, Senior Director of Research and Development
1/3 cup shredded coconut
1 Tbsp. almond butter
Pinch salt
Three grinds of pepper mill
If you have questions about the portions, please click here to post a question in our forums so our experts can help. Please include a link to the recipe you're asking about.
Save
Save