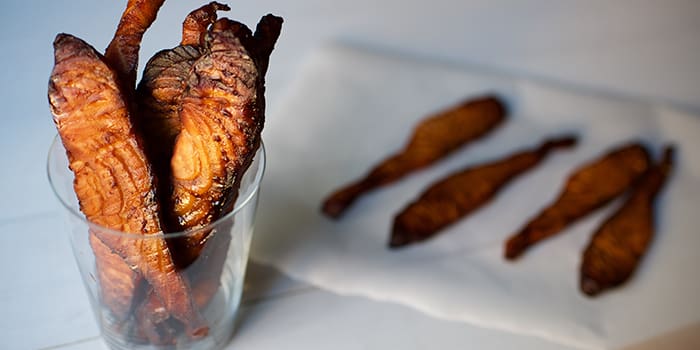 This high-protein snack wins on so many different levels. The flavor is outstanding, using an array of bold spices. The preparation is simple – it just requires combining a few ingredients in a bag and letting them marinate overnight. And the final product has a moist, chewy texture that would rival even the best store-bought salmon jerky.
Total Time: 3 hrs. 20 min.
Prep Time: 20 min.
Cooking Time: 3 hrs.
Yield: 10 servings, about 2 oz. each
Ingredients:
½ cup fresh lemon juice
¼ cup white wine vinegar
3 Tbsp. reduced-sodium soy sauce
2 Tbsp. raw honey
½ tsp. Worcestershire sauce
½ tsp. hot pepper sauce (like Tabasco) (optional)
2 medium shallots, finely chopped
2 tsp. ground paprika
1 tsp. crushed red pepper flakes (optional)
¼ tsp. sea salt (or Himalayan salt)
2 (15-oz.) raw wild salmon fillets, bones removed, skinless, cut lengthwise into
½-inch wide strips
Nonstick cooking spray
Preparation:
1. Combine lemon juice, vinegar, soy sauce, honey, Worcestershire sauce, hot pepper sauce (if desired), shallots, paprika, red pepper flakes, and salt in a resealable plastic bag or a large sealable bowl; mix well.
2. Add salmon, shake thoroughly, refrigerate for 8 to 12 hours. Turn bag occasionally.
3. Preheat oven to 200° F.
4. Line large baking sheet with parchment paper. Lightly coat with spray. Set aside.
5. Drain and discard marinade. Place salmon on a paper towel; pat dry.
6. Place salmon on prepared baking sheet. Bake, turning halfway through, for 2 to 3 hours, or until crisp.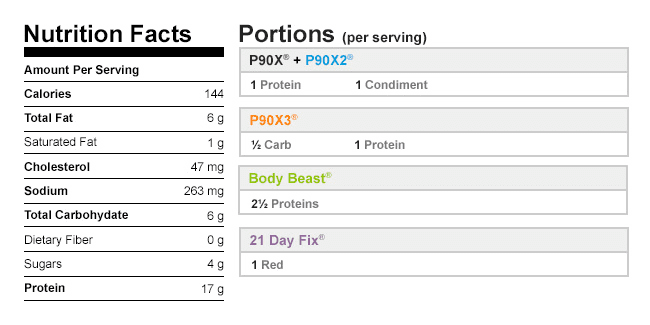 If you have questions about the portions, please click here to post a question in our forums so our experts can help. Please include a link to the recipe you're asking about.
Photos by Kirsten Morningstar
Save