21 Day Fix Snack Hack: Cinnamon Spiced Popcorn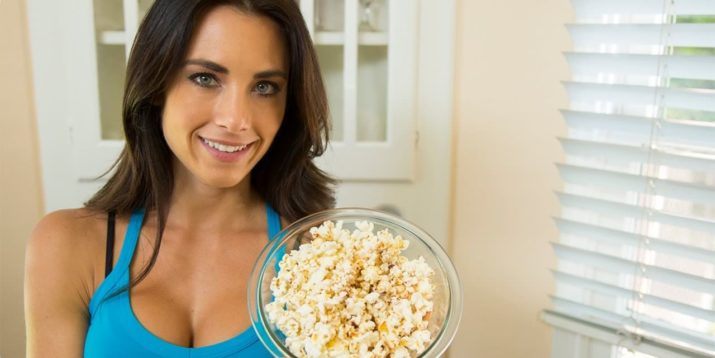 Popcorn is a healthy snack, as long as it's not coated in oil or butter! Watch how Autumn gives her 21 Day Fix-approved popcorn more flavor with herbs and spices, and hear some of her favorite flavor combinations. Get the full recipe below.
Click here to subscribe to my channel and see more of my videos!

Cinnamon Spiced Popcorn
Total Time: 10 min.
Prep Time: 10 min.
Cooking Time: None
Yield: 1 serving
Ingredients:
3 cups air-popped popcorn
1 tsp. extra-virgin organic coconut oil, melted
½ tsp. ground cinnamon
¼ tsp. ground nutmeg
Preparation:
1. Place popcorn in a large bowl.
2. Drizzle with oil; mix well.
3. Sprinkle with cinnamon and nutmeg; mix well.
Tips:
• Substitute your favorite spices (like pumpkin pie spice, chile powder, cayenne pepper, or paprika) for cinnamon and nutmeg.
• Substitute extra-virgin olive oil for coconut oil if desired.
Nutritional Information (per serving):
Calories: 139
Total Fat: 6 g
Saturated Fat: 4 g
Cholesterol: 0 mg
Sodium: 2 mg
Carbohydrates: 20 g
Fiber: 4 g
Sugars: 0 g
Protein: 3 g
P90X/P90X2 Portions
1½ Single Serving Snack
P90X3 Portions
1 Carb
1 Fat
Body Beast Portions
1 Starch
1 Fat
Portion Fix Containers
1 Yellow
1 tsp.
Not familiar with Portion Fix? Find out how Portion Fix can make losing weight simple.
If you have questions about the portions, please click here to post a question in our forums so our experts can help. Please include a link to the recipe you're asking about.
Save