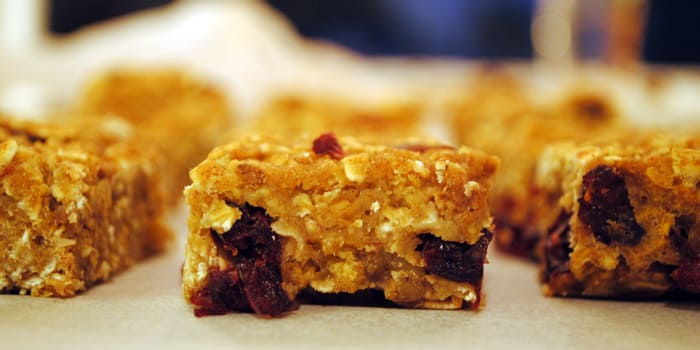 These chewy bars are tart and savory, thanks to the addition of cranberries, walnuts, and cinnamon. And they're less than 100 calories per serving!
Total Time: 42 min.
Prep Time: 20 min.
Cooking Time: 22 min.
Yield: 18 servings, 1 bar each
Ingredients:
1 cup low-fat granola
1 cup old-fashioned rolled oats
½ cup whole wheat flour
1 tsp. ground cinnamon
1 large egg, beaten
1 cup unsweetened applesauce
¼ cup raw honey
½ cup dried cranberries
½ cup chopped walnuts
Preparation:
1. Preheat oven to 350° F.
2. Combine granola, oats, flour, and cinnamon in a large bowl; mix well. Set aside.
3. Combine egg, applesauce, and honey in a medium bowl; mix well.
4. Add oat mixture to egg mixture; mix until just blended.
5. Fold in cranberries and walnuts.
6. Spread mixture into 8 x 8-inch baking pan.
7. Bake for 20 to 22 minutes, or until firm.
8. Cut into 18 bars.
Nutritional Information (per serving):
Calories: 87
Total Fat: 2 g
Saturated Fat: 0 g
Cholesterol: 10 mg
Sodium: 22 mg
Carbohydrates: 16 g
Fiber: 1 g
Sugars: 8 g
Protein: 2 g
P90X/P90X2 Portions
1 Single Serving Snack
P90X3 Portions
1 Carb
Body Beast Portions
1 Starch
Portion Fix Containers
1 Yellow
Not familiar with Portion Fix? Find out how Portion Fix can make losing weight simple.
If you have questions about the portions, please click here to post a question in our forums so our experts can help. Please include a link to the recipe you're asking about.