32 Thanksgiving Vegetable Side Dishes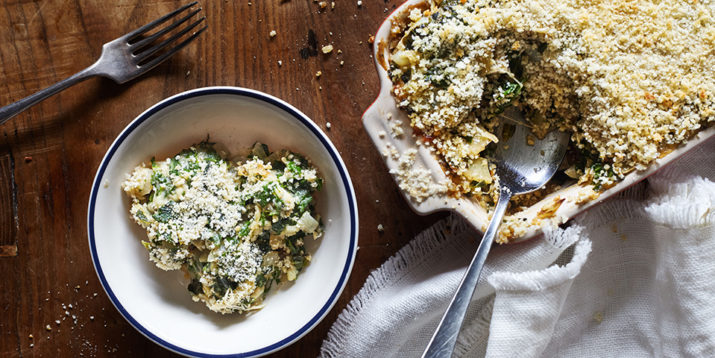 Turkey gets a lot of attention on Thanksgiving, but it's the side dishes that are the real show-stoppers.
Turkey is a relatively lean protein, but it's the heavy, creamy, cheesy side dishes and buttery desserts that can add up to thousands of calories.
In fact, the average American eats 4,500 calories on Thanksgiving!
So give yourself — and those you love — the gift of lighter, healthier side dish options this Thanksgiving.
Here are 32 of our favorite Thanksgiving vegetable side dishes
Thanksgiving Vegetable Side Dishes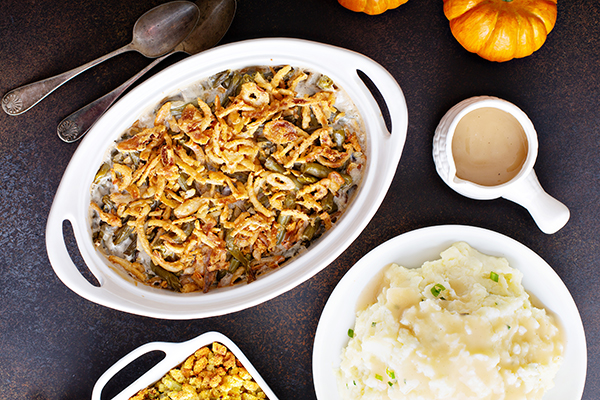 1. Green Bean Casserole
We created a lighter version of the classic green bean casserole with mushrooms and crispy onions, and we think it tastes even better than the original!
Make the crispy onions part of your repertoire to serve on top of meats or other veggie dishes. Get the recipe.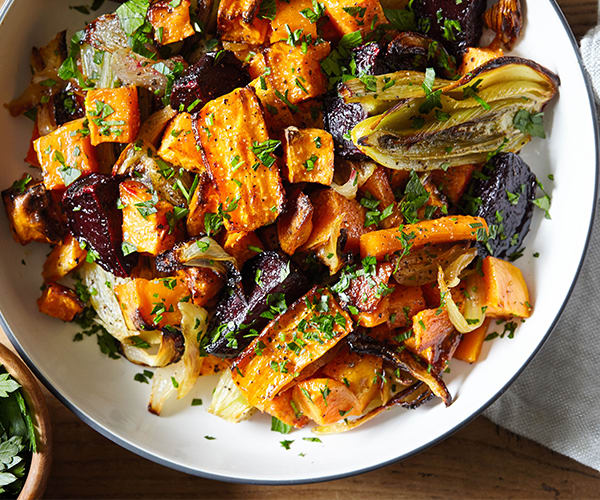 2. Roasted Vegetables
These jewel-toned roasted veggies feature an irresistible caramelized flavor: moist and tender on the inside, with a delicious golden-brown exterior.
Oven-roasted veggies can turn even the pickiest eaters into big fans. This roasted vegetable recipe features a delicious combination of carrots, beets, sweet potatoes, fennel, and onion.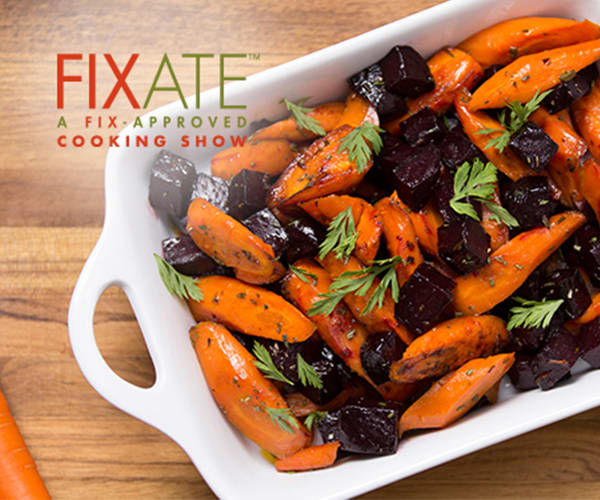 3. Honey-Roasted Carrots and Beets
These two root vegetables come together to make a sweet and simple side dish. This recipe was created by Autumn and Bobby Calabrese for FIXATE, so you know it's going to be tasty and good for you! Get the recipe.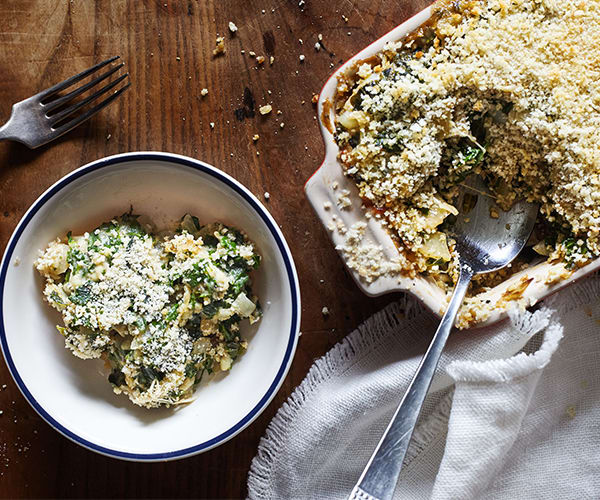 4. Collard Greens Au Gratin
This simple preparation of collard greens in a creamy, cheese sauce, topped with breadcrumbs and baked until golden brown, is a perfect veggie addition to your Thanksgiving spread. Get the recipe.
5. Roasted Cauliflower Mash
This twist on mashed potatoes is made with a non-starchy veggie, and no cream or butter — yet, it's every bit as yummy as traditional mashed potatoes. Only 46 calories per serving. Get the recipe.
6. Greek Yogurt and Scallion Mashed Potatoes
Potatoes contain nutrients in their flesh and skin, plus the red potato skins in this mashed potato recipe add color, flavor, and texture.
Bonus? No peeling! Just make sure to give each potato a good scrubbing before you cook them.
Instead of loading them with butter and cream, we added lots of protein-rich Greek yogurt. Chopped scallions simmered in almond milk imbue every bite with flavor; they taste like the creamy inside of a loaded baked potato.
Kick things up a notch and crumble crispy turkey bacon on top.
7. Brussels Sprouts With Roasted Grapes
These two ingredients are unexpectedly delicious together, and it's a welcome way to add a little bit of fruit to your feast.
Brussels sprouts take on a nutty, sweet flavor when they caramelize, and the roasted grapes burst in your mouth. Get the recipe.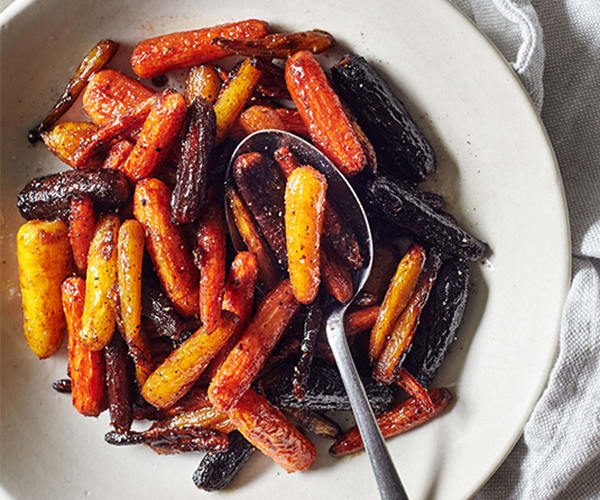 8. Roasted Rainbow Carrots With Maple Glaze
These crisp-tender roasted rainbow carrots are topped with a sweet maple and balsamic glaze that will make you want to lick your plate clean!
This is a sweet and colorful dish that will pair perfectly with turkey. Get the recipe.
9. Rosemary Roasted Yams
With so many things to cook on Thanksgiving Day, this is one dish that will save you tons of time (and money!), and make a big impact on dinner guests.
Simply roasting yams or sweet potatoes with rosemary is an easy way to prepare them that will make your whole house smell delicious. Get the recipe.
10. Cauliflower Pumpkin Casserole
This combination of cauliflower and a cheesy pumpkin sauce has all the comfort of a casserole without the fat! Sharp cheddar and Dijon mustard give the sauce tons of flavor. Get the recipe.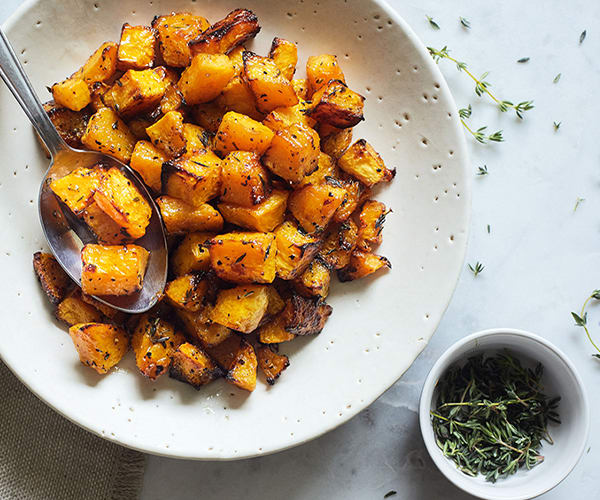 11. Roasted Butternut Squash
Butternut squash is a simple and satisfying side dish, and all you need to enhance its already delightful flavor is some fresh thyme, salt, and pepper. Get the recipe.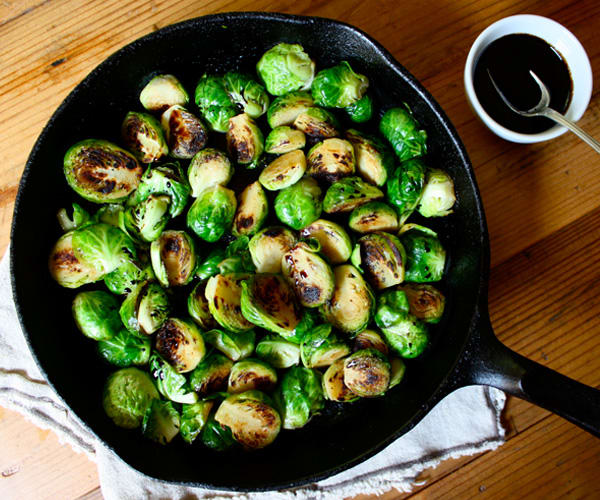 12. Brussels Sprouts With Balsamic Glaze
It doesn't take a lot of effort to bring out the wonderful flavor of Brussels sprouts. This simple recipe uses only light seasonings and lets the sprouts shine.
A garlic-balsamic glaze makes a dramatically flavorful sauce to drizzle on top. Get the recipe.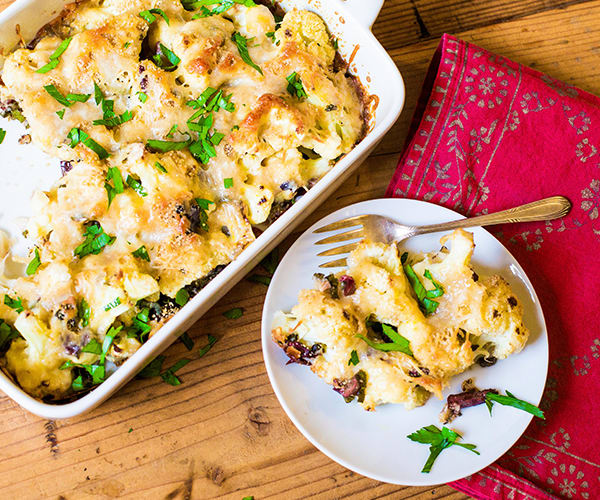 13. Sicilian-Style Cauliflower Casserole
This savory cauliflower casserole with bold Mediterranean flavors is hearty enough to be the centerpiece of any meal, but it can also make an excellent side for a Thanksgiving dinner. Get the recipe.
14. Roasted Butternut Squash With Cranberries and Feta
Creamy feta cheese and tangy cranberries, and an unexpected touch of cinnamon make this a wonderful side dish to complement any festive meal. Get the recipe.
15. Roasted Green Beans With Garlic
It only takes three ingredients to "wow" any crowd with a fresh, roasted green beans dish that's full of flavor and light on calories. It's so good, it might just become your go-to side dish for the whole year. Get the recipe.
16. Roast Sweet Potatoes With Figs and Goat Cheese
Roast up some sweet potatoes, toss them with juicy fall figs, sprinkle a touch of goat cheese on top, and you've got yourself a side dish that's perfect for your Thanksgiving table. Get the recipe.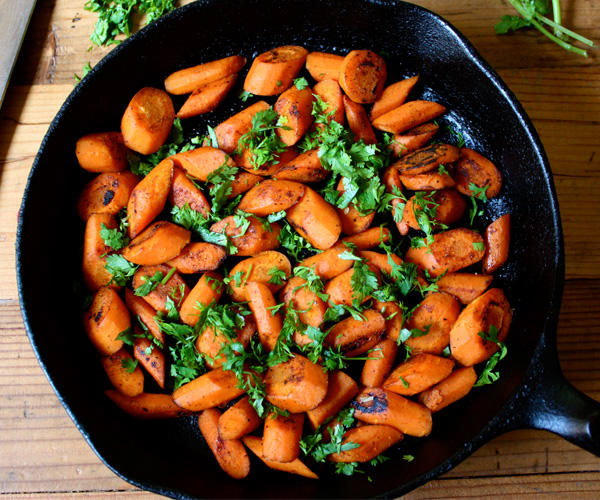 17. Caramelized Carrots With Curry Spice
Plain carrots transform into an irresistible side dish with the help of cilantro and three simple spices. Get the recipe.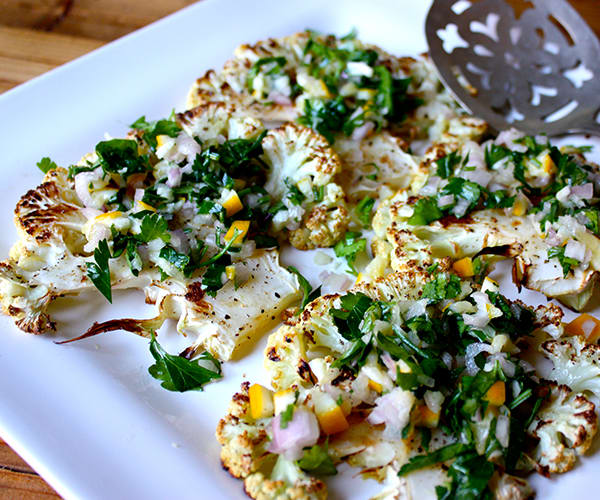 18. Roasted Cauliflower Steaks With Fresh Gremolata
Roasted thick slices of cauliflower taste sweet and hearty, and the addition of gremolata, a classic Italian garnish made from lemon, garlic, and parsley, makes this anything but an ordinary side dish. Get the recipe.
19. Sweet Potato Bites
Short on time, and maybe even ingredients? These Sweet Potato Bites take just 30 minutes to make, and they only require five ingredients that you probably already have in your pantry! Get the recipe.
20. Succotash
This is a simple side dish that can be adapted in many ways. For this version, we use corn, lima beans, onions, red bell pepper, garlic, and basil. But you can swap in your favorite vegetables (or add more veggies to the mix)! Get the recipe.
21. Braised Kale
Give kale (or chard!) a place in your Thanksgiving lineup with this recipe for veggie lovers.
Onion, garlic, and crushed red pepper imbue braised kale with a ton of flavor.
This is a vegetarian dish that you'll want to have in every bite you take! Get the recipe.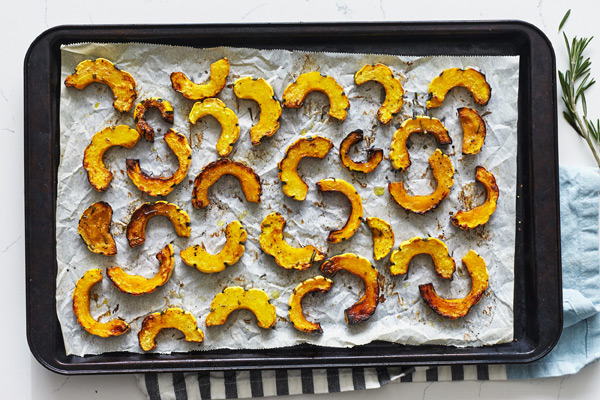 22. Rosemary Roasted Delicata Squash
The flavor and texture of roasted delicata squash are luxurious, without the need to mask or enhance it with sugars or sauces.
A touch of olive oil and a dusting of chopped, fresh rosemary impart a fragrant aroma and allow the natural sweetness of the squash to shine. Serve it with any lean protein, on winter greens, or as a simple side dish for Thanksgiving — or any meal.
23. Roasted Winter Vegetables
Why roast just one vegetable when you can make it a party with winter squash, parsnips, sweet potato, carrots, beets, and sweet onions? Get the recipe.
24. Curried Cauliflower
Give cauliflower a little love this Thanksgiving with this simple, flavorful dish that's spiced with a touch of curry. If curry powder seems like an exotic flavor in a more traditional menu, you can substitute with cumin, paprika, or even garlic powder. Get the recipe.
Side Salads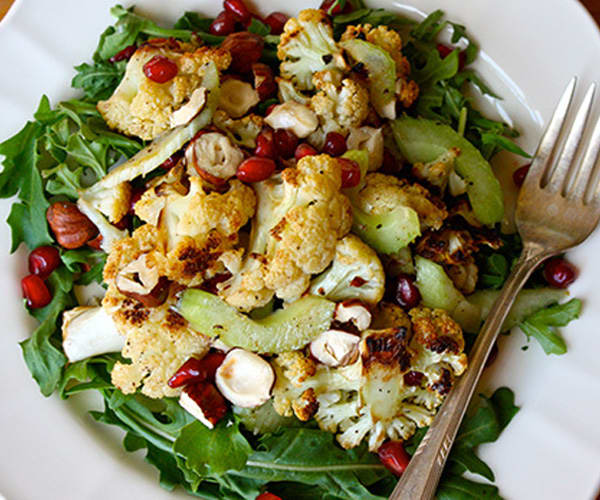 25. Roasted Pumpkin Salad With Lentils and Goat Cheese
Salad deserves a place on your Thanksgiving table, but it had better be delicious or it will get passed over like burnt dinner rolls! Surprise everyone with this pretty salad that will have people reaching for seconds. Get the recipe.
26. Roasted Cauliflower Salad With Pomegranate and Hazelnuts
With juicy pomegranate seeds, sweet roasted cauliflower, hazelnuts, and a cinnamon-spiked dressing, this colorful salad is a real attention grabber. Get the recipe.
27. Beet, Fennel, and Walnut Salad
For a quick salad side dish, whip up this 15-minute recipe. The bright hue of the beets will make any plate pop with color, complementing the rest of your Thanksgiving meal. Get the recipe.
28. Sweet Potato Salad
Crunchy apple, fresh herbs, and a lightly sweet homemade vinaigrette give this sweet potato and arugula salad a refreshing flavor that will be right at home next to turkey and stuffing. Get the recipe.
29. Lentil and Feta Salad
Fresh herbs, creamy feta, and hearty lentils create a trifecta of perfection in this recipe. Lighten your to-do list on Thanksgiving Day by making this a few days in advance. Let it sit in the refrigerator until it's ready to be served. Get the recipe.
Soups
30. Butternut Squash Soup With Ginger
Soup is a perfect appetizer to satisfy a hungry Thanksgiving crowd while the turkey is still roasting. This silky butternut squash recipe made with ginger will be a hit. Get the recipe.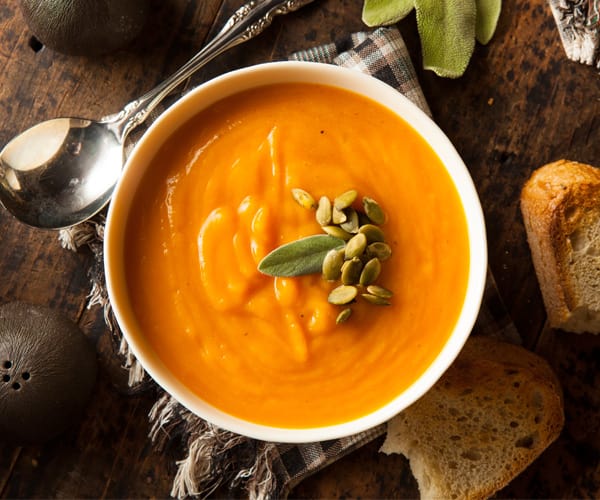 31. Pumpkin and Red Lentil Soup
Savory pumpkin soup is a wonderful way to start a holiday meal. This recipe gets extra protein and fiber from red lentils, but all you'll care about is how good it tastes. Get the recipe.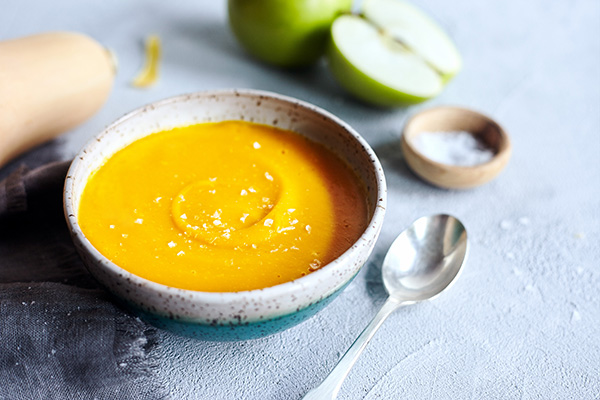 32. Apple Butternut Squash Soup
Butternut squash is creamy and rich all on its own, but apples take this soup up a notch by adding a sweet flavor to the mix. Get the recipe.