Sicilian-Style Cauliflower Casserole
This recipe was inspired by a baked penne and cauliflower dish that was served to me by my Sicilian friend, Roberto.
He called it simply, pasta al forno, the Italian term for food baked in an oven.
I liked the combination of ingredients so much that I thought they could stand on their own without the carby pasta.
(Roberto would definitely protest the omission; he believes that pasta is a basic human right and an essential part of every dinner.)
Eating cauliflower rice and cauliflower crust pizza has taught me that the mild flavor of the humble cauliflower can be a perfect replacement for starchy foods.
Roasting the cauliflower al forno makes it sweeter and juicier, and gives it a mildly nutty flavor.
Garlic, briny capers, kalamata olives, a generous helping of fresh sage, and tangy lemon zest add the quintessential essence of Mediterranean cuisine.
A pinch of crushed red pepper flakes gives it a welcome touch of heat, but you can leave them out, or, if you like things spicy, go ahead and add a little more.
All of the ingredients are placed in a casserole dish and topped with mozzarella, Parmesan, and breadcrumbs before going into the oven.
You'll know it's done when the cheese is melted and speckled golden brown. Just before serving, sprinkle the top with chopped fresh parsley, which adds color and balances the richness of the cheese.
For more protein, pop it in the oven with these super simple Baked Chicken Breasts, and everything will finish cooking at the same time.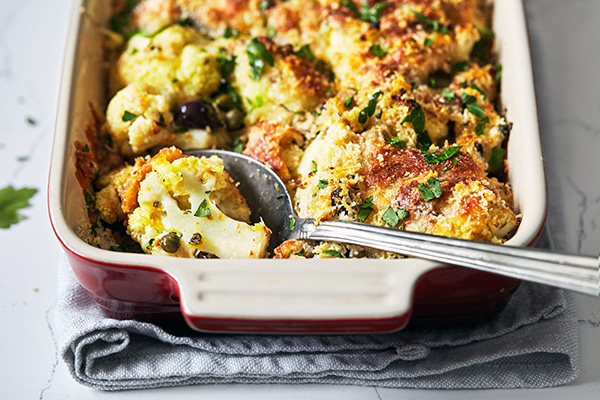 For a different take on this recipe, slice the cauliflower-like bread into four ½-inch thick steaks (like we did in this recipe).
Arrange the slices on a baking sheet coated with nonstick cooking spray, and drizzle them with 2 tsp. olive oil. Bake for 10 minutes, then flip each piece over and top evenly with the rest of the ingredients.
Bake for 15–20 minutes more. The result is a dramatic – and satisfying – knife-and-fork meal.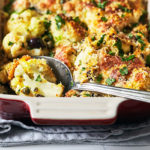 Sicilian-Style Cauliflower Casserole
The humble cauliflower can be a delicious replacement for starchy foods like pasta. This Sicilian-Style Cauliflower Casserole is the perfect example.
Prep Time 15 mins
Cook Time 28 mins
Total Time 43 mins
Servings 4 servings, about 1 cup each
Calories 209 kcal
Ingredients
nonstick cooking spray
2 tsp. olive oil
1 medium cauliflower, chopped (about 1½ pounds)
sea salt (or Himalayan salt) and ground black pepper (to taste; optional)
1 Tbsp. capers, chopped
10 kalamata olives, chopped
2 cloves garlic, finely chopped
¼ tsp. crushed red pepper flakes (optional)
3 Tbsp. fresh sage, chopped
½ tsp. finely chopped lemon peel (lemon zest)
¼ cup whole-wheat bread crumbs
2 oz. shredded mozzarella cheese
2 oz. shredded Parmesan cheese
2 Tbsp. chopped flat-leaf parsley (for garnish; optional)
Instructions
Heat oven to 350° F.

Lightly coat a 2-quart baking dish with spray. Set aside.

Heat oil in large nonstick skillet over medium-high heat.

Add cauliflower; cook, stirring occasionally, for 5 to 8 minutes, or until cauliflower begins to soften.

Add capers, olives, garlic, crushed red pepper (if desired), sage, and lemon peel; mix well.

Place cauliflower mixture in baking dish. Top with bread crumbs, mozzarella and Parmesan cheeses. Bake for 15 to 20 minutes, or until cheese is melted and bread crumbs are golden brown.

Garnish with parsley if desired; serve immediately.
Recipe Notes
High Protein, Lacto-Ovo Vegetarian
The Nutrition Facts box below provides estimated nutritional information for this recipe.
Nutrition Facts
Sicilian-Style Cauliflower Casserole
Amount Per Serving (1 serving)
Calories 209 Calories from Fat 99
% Daily Value*
Fat 11g17%
Saturated Fat 5g31%
Cholesterol 18mg6%
Sodium 683mg30%
Carbohydrates 14g5%
Fiber 4g17%
Sugar 4g4%
Protein 13g26%
* Percent Daily Values are based on a 2000 calorie diet.
Container Equivalents
1 Green
½ Yellow
1 Blue
½ tsp.
2B Mindset Plate It!
A great veggie and FFC side as part of lunch.
If you have questions about the portions, please click here to post a question in our forums so our experts can help. Please include a link to the recipe you're asking about.
Photos by CocoJoe Productions