Roasted Cauliflower Steaks With Fresh Gremolata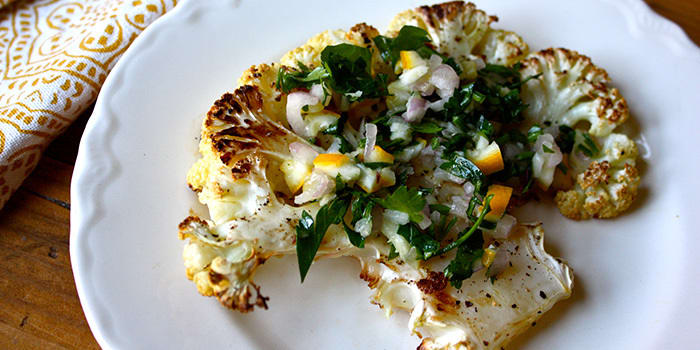 Gremolata might be your new favorite condiment.
Gremolata is a classic Italian garnish made from ingredients you might already have in your kitchen: lemon, garlic, and parsley.
On their own, they may seem ordinary, but chopped finely and mixed together and you have a zesty, herbal, garlicky topping. (Ours has diced shallots for even more flavor.)
A spoonful or two on top of meats or vegetables gives foods bright, fresh flavor.
We roasted thick slices of cauliflower so they taste sweet and hearty, then top these "steaks" with gremolata.
Choose a nice, large head of cauliflower for the best results. If you can't find a large enough cauliflower to cut into thick steaks like this, I recommend cutting it into florets and roasting as directed below.
Pro tip: Keep an eye on cauliflower near the end of the cooking time to prevent burning. Brown, caramelized edges taste wonderful, but once they burn, they'll taste charred.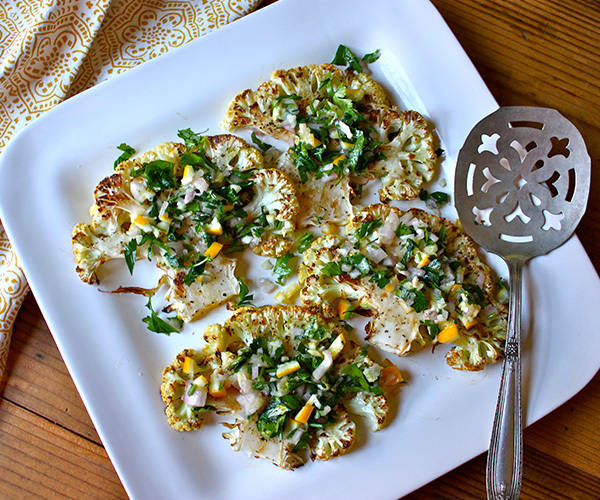 Roasted Cauliflower Steaks With Fresh Gremolata
Prep Time 15 mins
Cook Time 35 mins
Total Time 50 mins
Servings 4 servings, 1 'steak' each
Calories 108 kcal
Ingredients
1 large cauliflower
4 tsp. olive oil, divided use
½ tsp. sea salt (or Himalayan salt), divided use
½ tsp. ground black pepper
2 Meyer lemons, 1 sliced into rounds; 1 finely chopped (including peel)
¼ cup finely chopped fresh flat-leaf (Italian) parsley
1 medium shallot, finely chopped
1 clove garlic, finely chopped
Instructions
Preheat the oven to 450° F.

Trim 1-inch off end of cauliflower, leaving stem intact. Cut cauliflower into four ½-inch thick slices.

Place cauliflower on a large baking sheet. Drizzle with 2 tsp. oil. Season with ¼ tsp. salt and ¼ tsp. pepper. Top with lemon slices.

Bake for 20 minutes. Turn with a spatula. Bake for an additional 10 to 15 minutes, or until cauliflower is tender-crisp and browned.

While cauliflower is baking, combine remaining 2 tsp. oil, chopped lemon, parsley, shallot, garlic, remaining ¼ tsp. salt, and remaining ¼ tsp. pepper in a medium bowl; mix well.

Top each cauliflower steak with 1 heaping tsp. of lemon mixture.
Nutrition Facts
Roasted Cauliflower Steaks With Fresh Gremolata
Amount Per Serving (1 serving)
Calories 108 Calories from Fat 45
% Daily Value*
Fat 5g8%
Saturated Fat 1g6%
Sodium 351mg15%
Carbohydrates 15g5%
Fiber 5g21%
Sugar 5g6%
Protein 5g10%
* Percent Daily Values are based on a 2000 calorie diet.
Portion Fix Containers
2 Green
1 tsp.
If you have questions about the portions, please click here to post a nutrition question in our forums so our experts can help. Please include a link to the recipe.
Photos by Kirsten Morningstar