Dishes that are "au gratin," like this casserole of collard greens au gratin, sound a lot fancier and more complicated than they actually are.
Au gratin is the French term used to describe a dish that's layered with cheese (and sometimes butter, cream, or bechamel sauce), sprinkled with breadcrumbs, and baked in the oven — there's no better way of getting in your daily greens than with a side of cheese and breadcrumbs, right?!
You can make just about anything au gratin. Potatoes are the most famous, but pasta, fish, and all variety of vegetables can get the cheese and breadcrumbs treatment.
In terms of healthy sides, traditional au gratin dishes don't normally make the cut.
But luckily for you, this recipe uses simple techniques and inexpensive, healthy ingredients so you can make any night a special occasion.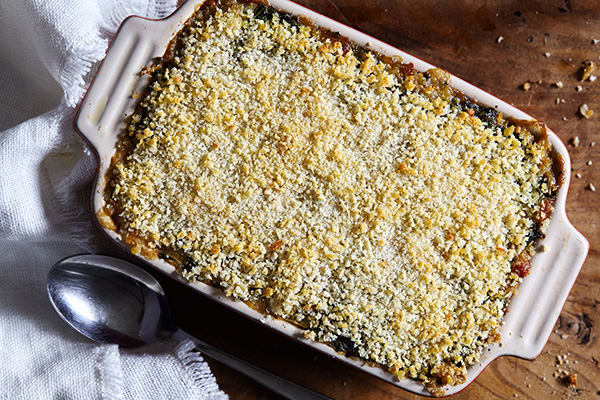 The first step to this delicious dish is to blanch the collard greens — very quickly boil the greens to soften the leaves.
Then, you'll strain the greens and dunk them into a bowl of ice-cold water to arrest the cooking process.
Blanching helps vegetables cook very quickly while retaining their vibrant color.
Pro tip: You can make this recipe in advance — prep everything except the breadcrumb topping and store in the fridge overnight. When you're ready for dinner, simply sprinkle with breadcrumbs and pop it into the oven.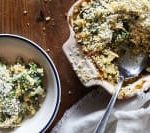 Collard Greens Au Gratin
Prep Time 20 mins
Cook Time 45 mins
Total Time 1 hr 5 mins
Servings 6 servings, about ½ cup each
Calories 143 kcal
Ingredients
nonstick cooking spray
hot water
½ tsp. sea salt (or Himalayan salt), divided use
2 bunches collard greens, center ribs and stems removed (approx. 6 cups)
2 Tbsp. olive oil, divided use
1 medium onion, chopped
4 cloves garlic, chopped
2 Tbsp. whole-wheat flour
1 cup unsweetened almond milk
¼ tsp. ground nutmeg
¼ tsp. ground white pepper
¾ cup grated Parmesan cheese
¼ cup whole-wheat panko breadcrumbs
Instructions
Preheat oven to 400º F.

Lightly coat a 2-quart baking dish with spray. Set aside.

Heat water and ¼ tsp. salt in large saucepan over high heat.

Add collard greens; cook for 3 to 5 minutes, or until tender-crisp and bright green. Drain collard greens and place in an ice bath for 10 minutes.

Drain collard greens; squeeze dry with paper towels. Coarsely chop. Place in a large bowl. Set aside.

Heat 1 Tbsp. oil in medium nonstick skillet over medium-high heat.

Add onion; cook, stirring frequently, for 4 to 5 minutes, or until onion is translucent.

Add garlic; cook, stirring frequently, for 1 minute. Remove from heat. Set aside.

Add onion mixture to collard greens; mix well. Set aside.

Heat remaining 1 Tbsp. oil in same skillet over medium-high heat.

Add flour; cook, whisking frequently, for 2 to 3 minutes, or until flour is light brown.

Slowly add almond milk, whisking constantly. Season with remaining ¼ tsp. salt, nutmeg, and pepper. Bring to a boil, whisking frequently. Reduce heat to medium-low; gently simmer, stirring frequently, for 5-10 minutes, or until thickened.

Add almond milk mixture and cheese to collard green mixture; mix well. Place in prepared baking dish.

Top evenly with bread crumbs.

Bake for 18 to 22 minutes, or until sauce is bubbling.
Recipe Notes
Tip: To make an ice bath, fill your sink (or a large bowl) with ice and cold water.
Nutrition Facts
Collard Greens Au Gratin
Amount Per Serving (1 serving)
Calories 143 Calories from Fat 81
% Daily Value*
Fat 9g14%
Saturated Fat 3g19%
Cholesterol 11mg4%
Sodium 422mg18%
Carbohydrates 10g3%
Fiber 2g8%
Sugar 1g1%
Protein 7g14%
* Percent Daily Values are based on a 2000 calorie diet.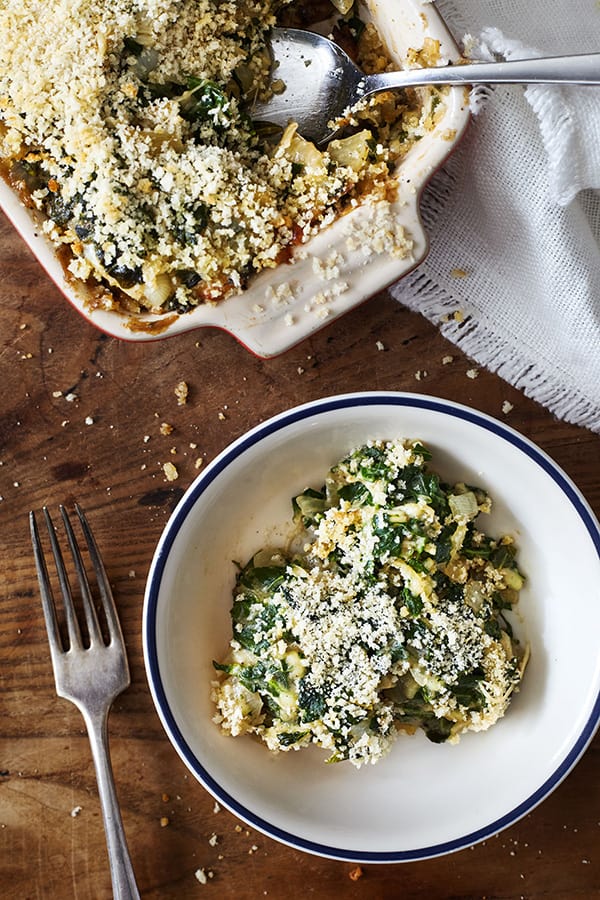 Container Equivalents
½ Green
½ Yellow
½ Blue
1 tsp.
2B Mindset Plate It!
A great veggie and FFC side as part of lunch.
If you have questions about the portions, please click here to post a nutrition question in our forums so our experts can help. Please include a link to the recipe.
Photographs by Anguel Dimov and Brianne B of Natural Girl Modern World