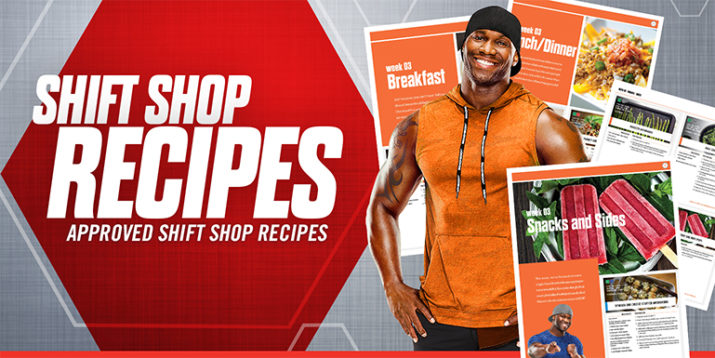 Welcome to the SHIFT SHOP!
Chris Downing's breakthrough rapid-rebuild program has helped thousands of people of all fitness levels see maximum results in minimal time.
And now he's bringing you four brand-new workouts to take the "shift" to a whole new level.
You'll still use Chris' breakthrough "ramp-up" method of increasing your daily workout by 10 minutes every week, but this time we've added a Prep Week and new workouts designed to test your speed and strength as you get faster and stronger.
The new SHIFT SHOP workouts are available on Beachbody On Demand.
SHIFT SHOP Nutrition
The SHIFT SHOP nutrition plan is an important part of achieving your best results.
The plan features a moderate calorie deficit and keeps things super clean, progressively eliminating grains, legumes, and some of the more decadent carbs.
By Week 3, you'll be working hard on a protein-leaning, minimalist diet designed to keep you fueled and fit.
Here's a look at some of the recipes available in the SHIFT SHOP recipe booklet that will make it easy for you to reach your goals.
Pro tip: Doing multiple rounds of the SHIFT SHOP? Double or triple recipes and freeze them so you'll be all prepped for upcoming weeks.
SHIFT SHOP Recipes: Week 1
During the first week, you won't be eating grains, but you'll still have protein and fat to keep you feeling full and plenty of carbs (mostly in the forms of fruits and veggies) to give you energy.
Week 1: Breakfast Recipes
Egg dishes are an easy way to stick with the SHIFT SHOP meal plan, so they're a staple of many of the breakfasts this week. Not a fan of eggs? Try the Turkey Hash in Week 2 or top 6 ounces of plain 2% Greek yogurt with berries.
Egg Scramble With Chicken
This protein-packed egg scramble is a great way to start the day. With fresh basil, Parmesan, and chicken breast, this flavorful and filling breakfast will help fuel your workouts. (*approved for Weeks 2 and 3)
Egg-White Omelet With Mushrooms, Tomato, and Cheddar
This hearty egg white omelet has a whopping 35 grams of protein and is just 224 calories. Also? Cheese. (*approved for Weeks 2 and 3)

Poached Eggs With Asparagus
Poached eggs are easier to make than you think. This poached egg recipe features two glorious poached eggs perched atop gently steamed asparagus spears and each serving has just 176 calories. (*approved for Weeks 2 and 3)
Week 1: Lunch and Dinner Recipes
Unless you were eating grain-free before the SHIFT SHOP, it's during your lunches and dinners you might notice the most dramatic difference in your meals.
Instead of grains, beans and sweet potatoes make up the bulk of the yellow containers to help provide you with longer-lasting energy.
Arugula Salad With Chicken and Black Beans
Avocado adds healthy fats and chicken and black beans load this hearty arugula salad with protein.

Chicken and Black Bean Burrito Salad in a Mason Jar
Love burritos? This Chicken and Black Bean Burrito Salad in a Mason Jar tastes just like a burrito minus the tortilla wrap.
Slow Cooker Beef Chili
This set it and forget it with this Slow Cooker Beef Chili that has 31 grams of protein.

Tuna and White Bean Salad
With 24 grams of protein and 8 grams of fiber, this Tuna and White Bean Salad will help keep you satisfied between meals.

Rainbow Salad in a Mason Jar
This colorful rainbow salad mixes up the texture and colors with carrots, cabbage, cucumber, and garbanzo beans.
Buffalo Chicken Tenders With Blue Cheese Dip
This healthier version of Buffalo Wings will help you stay away from unhealthy happy hour snacks while you're in the SHIFT SHOP!
(*approved for Weeks 2 and 3)
Week 1: Side Dishes, Snacks, and Dessert Recipes
Doing the SHIFT SHOP doesn't mean giving up all your snacks, desserts, and sides. We even have a No-Churn Chocolate Peanut Butter "Ice Cream" that's SHIFT SHOP approved.
Sweet Potato Skins With Chicken and Spinach
These Sweet Potato Skins with Chicken and Spinach always hit the spot!
(*approved for Week 2)

Cloud Bread
Can you believe Cloud Bread is made almost entirely of protein? It's true! (*approved for Weeks 2 and 3)

Homemade Hummus
Making this Homemade Hummus from scratch is easy and fast — all it takes is 10 minutes and a blender or food processor.

No-Churn Chocolate Peanut Butter Shakeology Ice Cream
Who can resist Chocolate Peanut Butter Shakeology Ice Cream? No ice cream maker required! (*approved for Weeks 2 and 3) 
 SHIFT SHOP Recipes: Week 2

You made it through Week 1. CONGRATS!
Now, on to Week 2. This week to help accelerate your results, starchy carbs are cut back even further and beans, lentils, and legumes are off the table.
But you still have sweet potatoes and regular potatoes and lots of protein-packed recipes to keep you feeling fueled and satiated. Get ready to SHIFT!
Week 2: Breakfast Recipes
It's the last week for sweet potatoes, so you'll see lots of them in this week's breakfasts. But don't hesitate to look through the Week 1 breakfasts if you want to change it up.
Sweet Potato Egg Cups
Our Sweet Potato Egg Cups are essentially mini frittatas that you can grab and go for breakfast or reheat for a quick and easy snack.

Turkey Hash
Our Healthier Turkey Hash is made with fresh ingredients and the perfect blend of spices. (*approved for Week 3)
Scrambled Eggs With Steamed Sweet Potato
This simple, easy Scrambled Eggs with Steamed Sweet Potato recipe is great if you're looking for a healthy, no-fuss breakfast recipe.
Power Protein Egg Cups
These Power Protein Egg Cups made with Turkey Bacon, onion, and red bell peppers make breakfast for the week easy since you can make a dozen at once! (*approved for Week 3)
Week 2: Lunch and Dinner Recipes
In Week 2, you get fewer Yellow containers, and protein and veggies become more center stage. In fact, did you know you can eat as many green container foods as you want?
That Green container number is the SHIFT SHOP guide is the minimum. Bring on the greens!

Pork and Sweet Potato Kabobs
A perfect summer cookout recipe, our Pork and Sweet Potato Kabobs are just 254 calories for two.

Grilled Chicken Dijon
Grilled or broiled this Grilled Chicken Dijon for an easy lunch. (*approved for Week 3)
Chicken and Cauliflower Fried Rice
Rice is a no-go on the SHIFT SHOP, but cauliflower takes on the texture and flavor of fried rice in this Chicken and Cauliflower Fried Rice recipe.
(*approved for Week 3)
Shrimp Stir-Fry
This fragrant Shrimp Stir-Fry is packed with broccoli, mushrooms, bell peppers, and other veggies and takes just under 30 minutes start to finish.
(*approved for Week 3)

Spinach Salad With Strawberries
Our recipe for Spinach Salad with Strawberries has only four ingredients and contains a whopping 40 grams of protein per serving. (*approved for Week 3)
Beef Pot Roast With Root Vegetables
This rich Beef Pot Roast with Root Vegetables makes a hearty meal the whole family will love.
Week 2: Snacks, Sides, and Dessert Recipes

Looking for something sweet? Fruit is not only sweet, it's also filled with fiber, nutrients, and water to help you stay hydrated.
(You're drinking half your body weight in ounces of water, too, though, right?!)

Cucumber Avocado Roll-Ups
Healthy avocado meets crunchy cucumber in these Cucumber Avocado Roll-Ups. Great for a light snack!
(Also approved for Week 3)
Grilled Fruit Kabobs
Skewer up some of your favorite summer fruits — like pineapple, nectarine, and plums — to make these delicious grilled fruit kabobs. (*approved for Week 3)

Grilled Watermelon Wedges
Watermelon is such a healthy, hydrating summer fruit! Grill up these Watermelon Wedges next time you fire up the barbecue! (*approved for Week 3)
Raspberry Banana Ice Cream
Tangy raspberry and creamy cashews are the X factor in our Raspberry Banana Ice Cream. (*approved for Week 3)
SHIFT SHOP Recipes: Week 3
Two weeks done, one more to go! You should feel fantastic about making it this far. You're putting your all into your workouts, you've transformed your diet, and you're seeing results.
This week, all Yellow containers foods are gone. But you get one more Red container and you can have as many Green container foods as you want.
Week 3: Breakfast Recipes

Just because you can't have Yellows doesn't mean breakfast has to be dull! Or return to recipes you've loved in previous weeks that are approved for Week 3!
Breakfast Caprese Omelette With Pesto
The classic Italian flavors of tomato and mozzarella come together in this tasty Breakfast Caprese Omelet.
Crustless Eggless Quiche
It might not have a crust, but this quiche is still rich, creamy, and delicious.

Egg White Omelet With Broccoli and Spinach
This Egg White Omelet with Broccoli and Spinach is a protein powerhouse (there are 32 grams in one serving).
Chicken and Spinach Scramble With Avocado
This Chicken and Spinach Scramble with Avocado recipe is simple, light, and loaded with protein!
Week 3: Lunch and Dinner Recipes
This week, the lunches and dinners we've included are all about lean proteins and veggies. Your starchy carb cravings might kick in, but stick with it. It's easier than you think and you'll be so happy you did!
Chicken Florentine
You need just five ingredients — olive oil, chicken, mozzarella, spinach, and garlic — to make this easy Chicken Florentine.

Turkey Lettuce Wraps
Crunchy lettuce wraps are where it's at! Fresh veggies and fragrant aromatics make these Turkey Lettuce Wraps super flavorful!

Chicken Breast With Sautéed Mushrooms
This savory Chicken Breast with Sautéed Mushrooms recipe is filling and delicious.

Bell Pepper Nachos
These Bell Pepper Nachos skip the chips and we think they're so good you'll be eating them even when you're done with the SHIFT SHOP!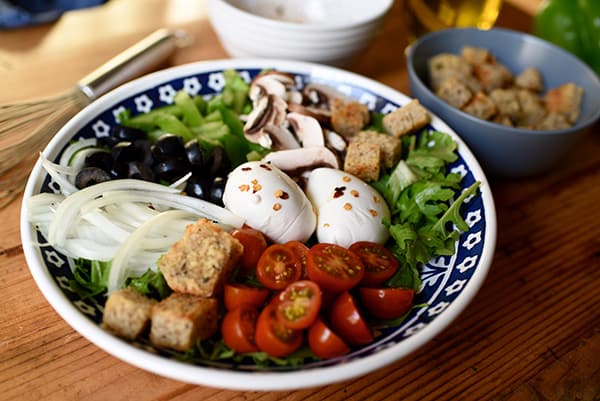 Vegetarian Pizza Salad
There's (almost) never a bad time to eat pizza, but in Week 3, dough is a no-no so try this Vegetarian Pizza Salad instead. Just skip the croutons.
Seared Ahi Tuna
This Seared Ahi Tuna recipe features must know step-by-step instructions to help you can master searing tuna! You'll be glad you added this technique to your repertoire.
Week 3: Side Dishes, Snacks, and Dessert Recipes

This week, we've focused on more veggie-based snacks to keep you going between meals. But if you're looking for fruit snacks, the Grilled Fruit Kabobs and Grilled Watermelon from Week 2 are still OK.

Spinach and Cheese Stuffed Mushrooms

These Spinach and Cheese Stuffed Mushrooms are so cheesy and delicious it's hard to believe they're just 25 calories a piece.

Roasted Asparagus
This one is all about technique. This Roasted Asparagus recipe will teach you how to make asparagus so it's crisp and flavorful, never soggy.

Kale Chips
Save time and money with these Kale Chips you can bake in the oven.
Strawberry and Mint Pops
These juicy Strawberry and Mint Popsicles are a yummy summer treat.
Shakeology Recipes
Shakeology is a healthy and delicious superfood nutrition shake that delivers vitamins, protein, minerals, antioxidants, probiotics, and more.
We encourage you to enjoy it during the SHIFT SHOP — here are some of our favorite Shakeology recipes!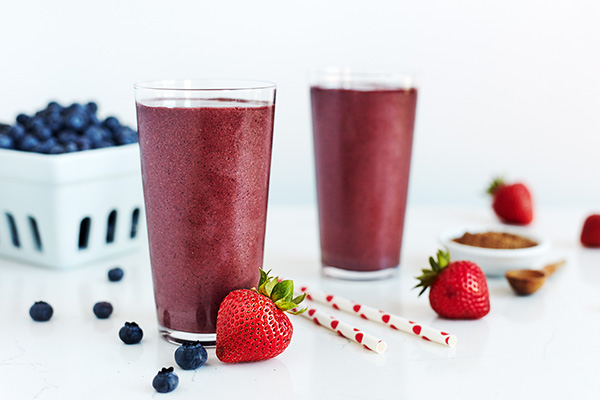 Strawberry Thunder Shakeology
This easy Shakeology recipe pairs chocolate and fresh berries.
Greek Strawberry-Banana Shakeology
Strawberry and banana are two classic smoothie flavors. Throw them together, add a little plain Greek yogurt and some Strawberry Shakeology, and you've got a healthy, high-protein smoothie.

Lemon Bar Shakeology
If you love lemon bars as much as we do, you'll love this smoothie too. Fresh lemon juice, Vanilla Shakeology, and a touch of lemon zest make this tangy smoothie a hit. Get the recipe for this Lemon Bar Shakeology smoothie.

Blueberry Brew Shakeology
Start your day with this little pick-me-up. Cafe Latte Shakeology blends with creamy almond milk in our Blueberry Brew Shakeology recipe.