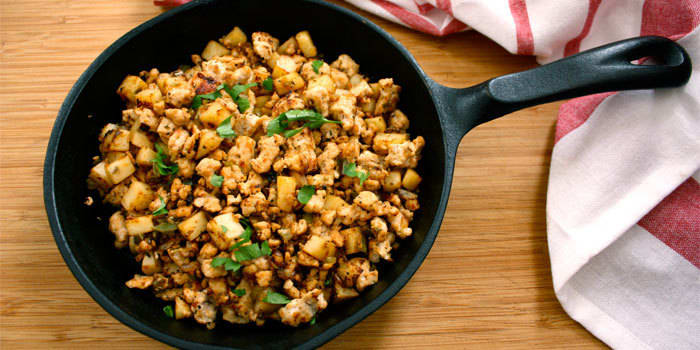 Our Healthier Turkey Hash is not your mother's canned breakfast protein, it's made from fresh whole ingredients and the perfect blend of spices.
This recipe contains much less oil and sodium than the traditional corned beef variety.
A  little ground turkey and a handful of veggies are all you need to spice up your breakfast routine and create a dish your family will reminisce about with your grandkids. (Really, it's that good!)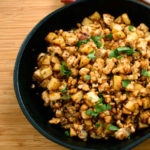 Healthier Turkey Hash
The next time you cook breakfast hash make it our Healthier Turkey Hash!
Prep Time 10 mins
Cook Time 15 mins
Total Time 25 mins
Servings 2 servings
Calories 187 kcal
Ingredients
1 tsp olive oil
4 oz raw 93% lean ground turkey breast
2 Tbsp chopped onion
2 Tbsp chopped green bell pepper
1 small potato, peeled, cut into ½-inch cubes
½ tsp dried oregano
½ tsp garlic powder
sea salt (or Himalayan salt) and ground black pepper (to taste; optional)
Instructions
Heat oil in medium skillet over medium-high heat.

Add turkey, onion, and bell pepper; cook, stirring frequently, for 4 to 5 minutes, or until turkey browns and onion is translucent.


Add potato, oregano, and garlic powder. Season with salt and pepper if desired; cook, stirring frequently, for 6 to 10 minutes, or until potato is tender.

Nutrition Facts
Healthier Turkey Hash
Amount Per Serving (1 serving)
Calories 187 Calories from Fat 63
% Daily Value*
Fat 7g11%
Saturated Fat 2g13%
Cholesterol 42mg14%
Sodium 200mg9%
Carbohydrates 19g6%
Fiber 3g13%
Sugar 2g2%
Protein 13g26%
* Percent Daily Values are based on a 2000 calorie diet.
Container Equivalents
1 Yellow
½ Red
½ tsp.
If you have questions about the portions, please click here to post a question in our forums so our experts can help. Please include a link to the recipe.