Raspberry Banana Ice Cream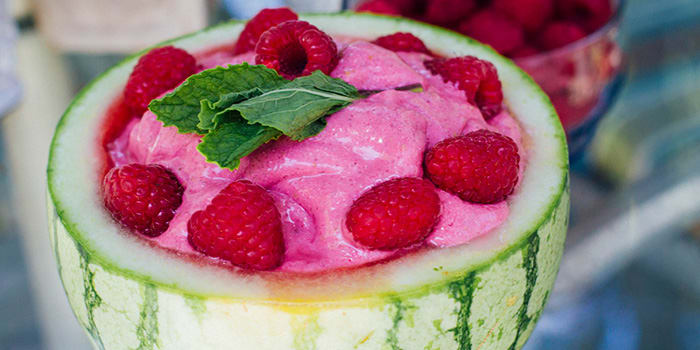 There is nothing better than finding sweet, summer raspberries at the peak of freshness.
If you've bought them at a farmer's market you might find that you have a few baskets and no apparent use for such bounty.
My favorite way to make use of this kind of market abundance is to make ice cream.
Our amazingly vibrant Raspberry Banana Ice Cream is a great recipe to whip up on a hot day. Its almost electric color is enough to get any kid excited.
This super-simple to make has only 3 ingredients and takes less than 10 minutes to prepare. Cashews are the secret to making this banana ice cream vegan-friendly, creamy, and delicious.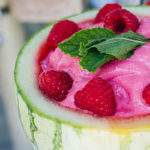 Raspberry Banana Ice Cream
Prep Time 10 mins
Cook Time 0 mins
Total Time 5 hrs 10 mins
Ingredients
2 large bananas cut into chunks
½ cup whole raw cashews
1 cup hot water
3 cups fresh (or unsweetened frozen) raspberries
water (optional)
Instructions
Place banana in plastic bag; freeze for 4 hours, or until completely frozen.

Place cashews in a medium bowl. Cover with water. Let stand for 30 minutes; drain.


Place drained cashews, frozen banana, and raspberries in blender; cover. Blend until smooth. Add water, 2 Tbsp. at a time, if needed for consistency.


Pour into a freezer-safe container; freeze until set.

Nutritional Information (per serving):
Calories: 187
Total Fat: 7 g
Saturated Fat: 0 g
Cholesterol: 0 mg
Sodium: 3 mg
Carbohydrates: 31 g
Fiber: 8 g
Sugars: 13 g
Protein: 4 g
Container Equivalents
2 Purple
½ Blue