Beef Pot Roast With Root Vegetables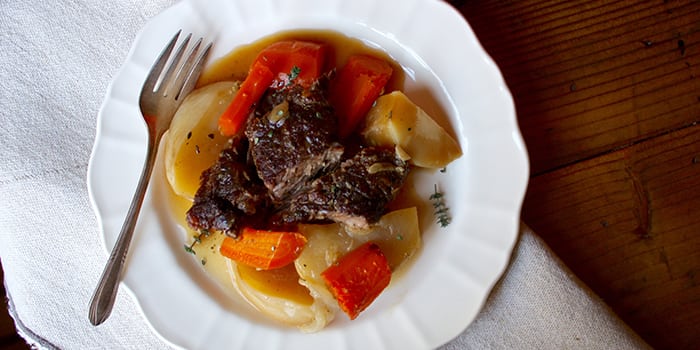 Beef Pot Roast is one of those comfort foods that delicious to tuck into on cold winter days. In this recipe, the dish gets a healthy makeover with a leaner cut of beer and the addition of more veggies. For this beef pot roast recipe, we replaced traditional beef chuck with leaner bottom round roast and replaced potatoes with parsnips and turnips that get sweeter and velvety soft as they cook.
Beef pot roast makes a hearty dinner for the whole family and provides plenty of leftovers to eat any way you like — try them in tacos!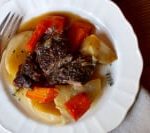 Beef Pot Roast With Root Vegetables
Classic beef pot roast gets a healthy makeover in this delicious recipe.
Prep Time 20 mins
Cook Time 1 hr 45 mins
Total Time 2 hrs 5 mins
Servings 8 servings
Calories 292 kcal
Ingredients
1 tsp. olive oil
2 lb. raw lean beef bottom round roast boneless, trimmed of excess fat
½ tsp. sea salt or Himalayan salt
½ tsp. ground black pepper
1 cup low-sodium organic beef broth or vegetable broth
2 medium onions cut into eighths
4 cloves garlic coarsely chopped
2 fresh thyme sprigs
1 bay leaf
2 medium carrots cut in half lengthwise and cut into 2-inch pieces
2 medium parsnips cut in half lengthwise and cut into 2-inch pieces
2 medium turnips peeled, cut into eighths
Instructions
Preheat oven to 350° F.

Heat oil in large oven-proof saucepot (or Dutch oven) over medium-high heat.

Season beef with salt and pepper.

Add beef to saucepot; cook for 3 to 4 minutes on each side, or until browned.

Add broth; cook, stirring frequently, for 2 to 3 minutes, loosening browned meat from the bottom of the pan.

Add onions, garlic, thyme, and bay leaf; cook, stirring frequently, for 2 to 3 minutes. Cover saucepot. Bake for 45 minutes.

Turn beef over. Add carrots, parsnips, and turnips. Bake for 40 to 50 minutes, or until meat and vegetables are tender.
Nutrition Facts
Beef Pot Roast With Root Vegetables
Amount Per Serving (1 serving)
Calories 292 Calories from Fat 81
% Daily Value*
Fat 9g14%
Saturated Fat 3g19%
Cholesterol 90mg30%
Sodium 367mg16%
Carbohydrates 14g5%
Fiber 3g13%
Sugar 6g7%
Protein 36g72%
* Percent Daily Values are based on a 2000 calorie diet.
Nutritional Information (per serving):
Calories: 292
Total Fat: 9 g
Saturated Fat: 3 g
Cholesterol: 90 mg
Sodium: 367 mg
Carbohydrates: 14 g
Fiber: 3 g
Sugars: 6 g
Protein: 36 g
Containers
1½ Red
1 Yellow
If you have questions about the portions, please click here to post a question in our forums so our experts can help. Please include a link to the recipe you're asking about.
Photo by Kirsten Morningstar