25 Healthy Big Game Snacks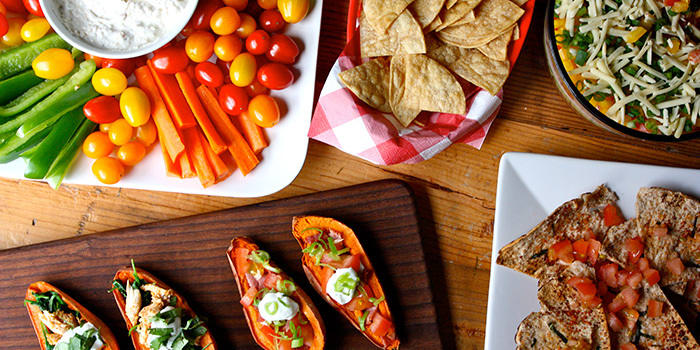 It happens every year. Mere weeks after resolving to lose the love handles, we face a day devoted to sitting on the couch and filling our bellies with hot wings, nachos, and beer. Americans consume more calories on Super Bowl Sunday than any other day of the year. The food, most of it smothered in cheese and dripping with fat, gets as much attention as the football game (and the commercials) and it's easy to eat an entire day's worth of calories by halftime.
We realize that this isn't going to be your healthiest day of the year and that, more than likely, you're going to indulge. We're here to help you minimize the damage, and get through it without totally sacking your fitness goals. You don't have to avoid every tempting platter of appetizers, but we've assembled 25 healthy recipes to give you an alternative to the unhealthy stuff.
Extra Points:
1. Don't arrive for kick-off with an empty stomach. Drink Shakeology or eat a light meal with lean protein before game time. This will help curb junk food cravings.
2. The best seat in the house is not front-and-center if there is a table filled with food within arms reach. Stake out a seat near the game but away from the junk.
3. Watch the game (and the commercials!). Talk to your friends. Cheer for your team. Heckle the other team. The more involved you are in the real action, the less likely you'll be to absentmindedly fill your face hole with Funyuns.
4. Beer will be flowing. Have a plan for how many you're going to drink before you start. Slow your intake, and ward off a Monday morning hangover by drinking tall glass of water between each beer.
5. Participate in our #BigGameWorkout! Use the hashtag on social media and follow along with others who are doing it too.
SNACKS
Sweet Potato Skins with Turkey Bacon
We replaced fried white potatoes with nutrient-packed, baked sweet potatoes in this light and healthy makeover of a popular bar snack. Instead of bacon and sour cream, our recipe uses turkey bacon and Greek yogurt. Get the recipe.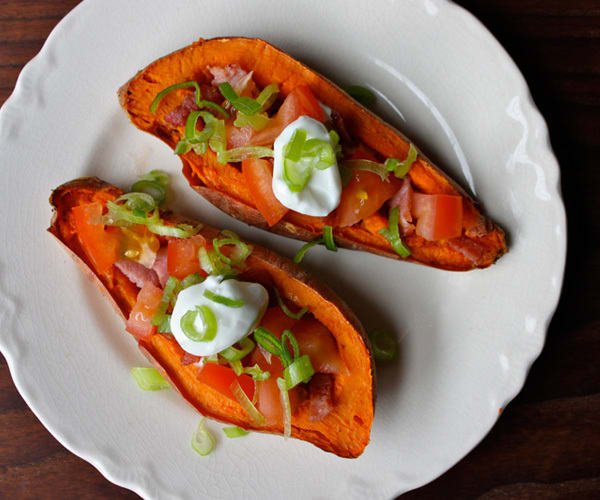 Sweet Potato Skins with Chicken and Spinach
Here's another way to make sweet potato skins that are healthy enough to eat as a meal! These are topped with spinach, spiced chicken, and cilantro. Get the recipe.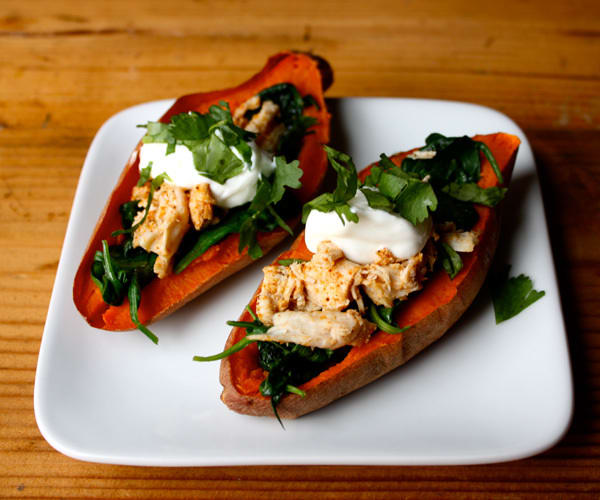 Buffalo Chicken Tenders
These tangy, spicy chicken tenders dipped in creamy blue cheese sauce are delicious enough to make you forget they're only 158 calories per serving. Get the recipe.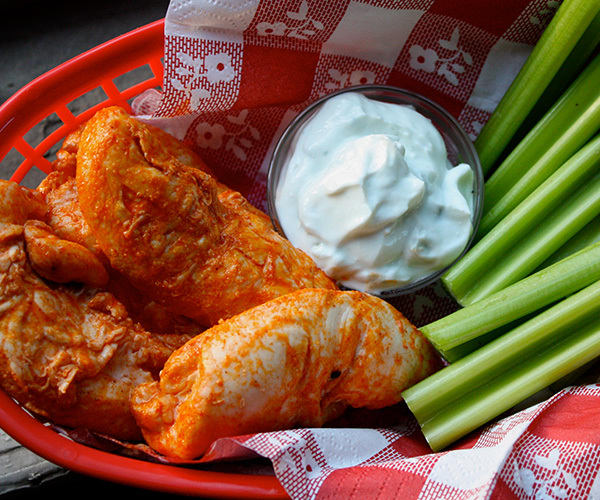 Nachos
These nachos are made with freshly-baked tortilla chips are pretty addictive, but only 258 calories per serving! Get the recipe.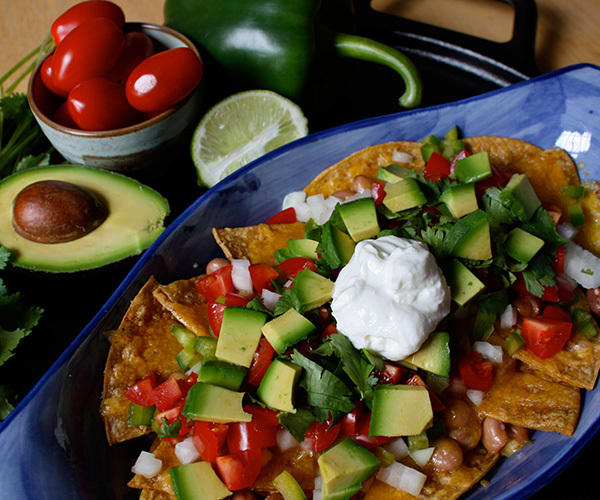 Almond Crusted Chicken Fingers with Honey Mustard Dipping Sauce
These chicken fingers are baked, not fried, and have a crunchy almond crust.  Get the recipe.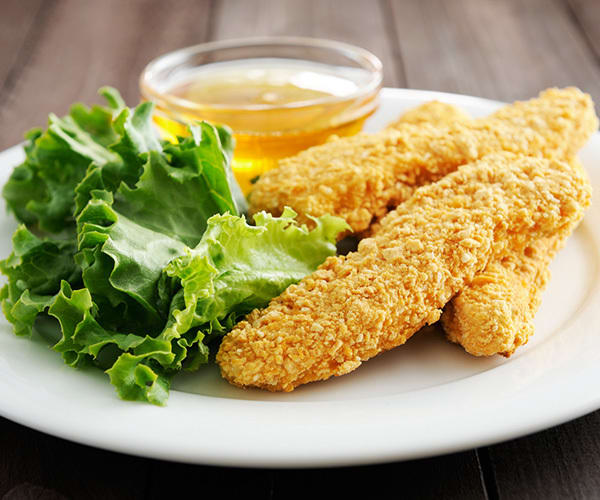 Pita Pizza
Pitas make an ideal pizza crust! These pita pizzas are topped with basil, peppers, and onion. Create a pizza station and let people top their own pitas with a variety of vegetables or lean proteins. Get the recipe.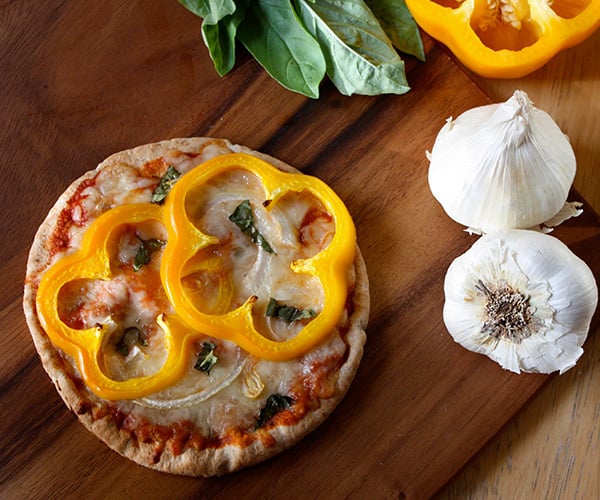 Habanero Chili
This hot, flavorful chili is tasty and filling. Get the recipe.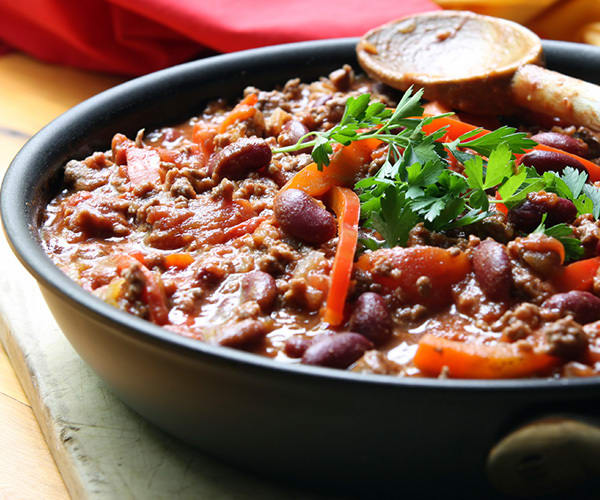 Chicken Satay with Peanut Dipping Sauce
The foodies at your party will appreciate this Thai appetizer made coconut milk, honey, and a touch of spice. Get the recipe.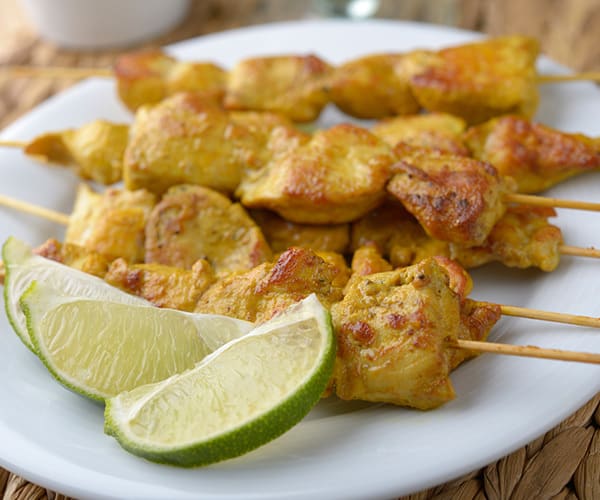 Hummus-Filled Eggs
These can be made with homemade hummus recipe below. I'll let you in on a little secret, when I photographed these eggs, the amount of hummus in the recipe didn't quite fill the center of the egg white, so I dropped a single garbanzo bean into the center of each to take up space…and I loved the texture it added. Get the recipe.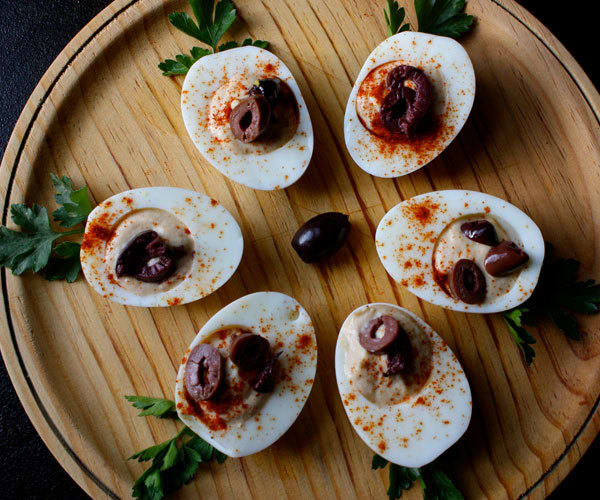 Bell Pepper and Cabbage Slaw
This tangy bell pepper and cabbage slaw takes minutes to make, and ensures that there is something healthy and light on the table that's not technically a salad. Add even more color with red cabbage and shredded carrot. Get the recipe.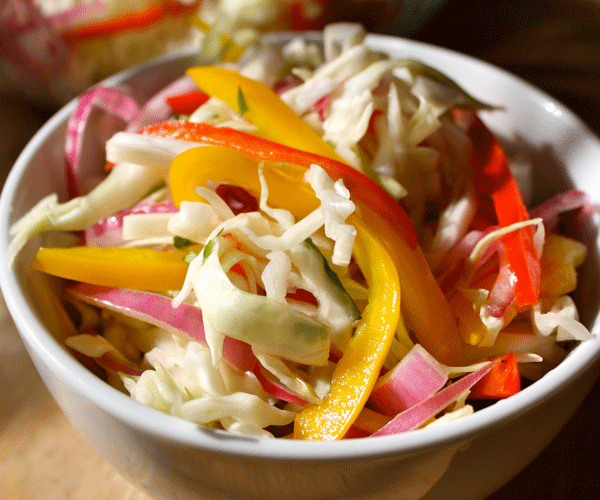 Shrimp Ceviche
This Baja California-style ceviche is made with shrimp, fresh lime juice, and refreshing cucumber. Make it as mild or spicy as you want by adjusting the chili peppers to your taste. Serving it in endive shells is a clever and crunchy alternative to tortilla chips. Keep your ceviche cool throughout a long football game by nesting your serving bowl in a larger bowl filled with ice. Get the recipe.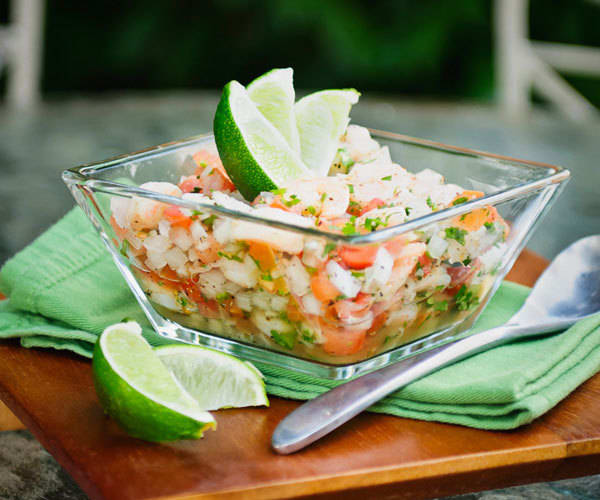 Teriyaki Salmon Bites
If you're rooting for a certain team from Seattle, make a statement with this Northwest-inspired appetizer. Get the recipe.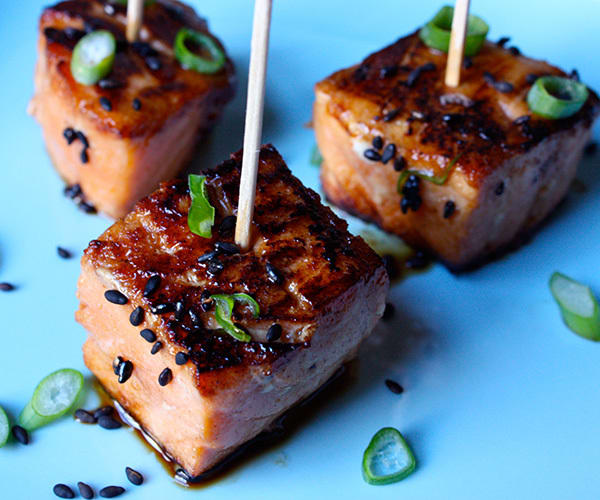 DIPS
Healthier Seven-Layer Dip
What is a game day buffet table without a seven-layer dip? We created a lighter version that has all of the flavor and only 136 calories per serving. Get the recipe.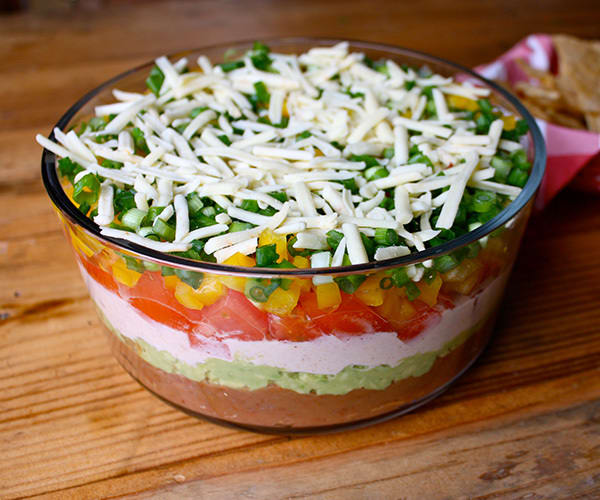 French Onion Dip
When I was a kid, French onion dip was the go-to appetizer at every party. Back then, we made if from a powdered mix and sour cream. I experimented with a healthier way to create this favorite dip from scratch using caramelized onions and nonfat yogurt. The result? It's even tastier than the original. Get the recipe.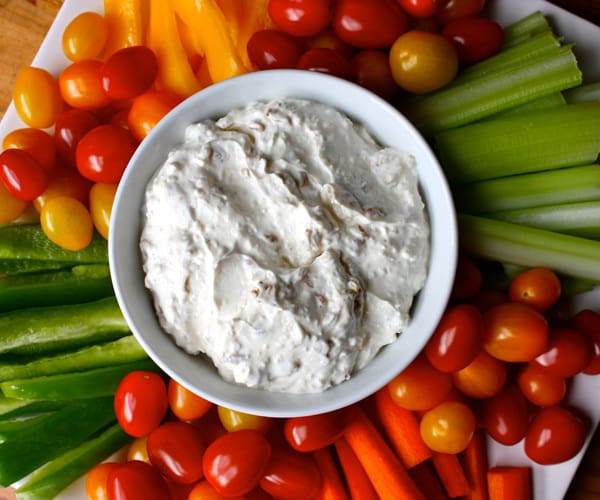 Chunky Salsa
Here's a new recipe for America's favorite condiment that gets extra crunch from bell pepper.  Get the recipe.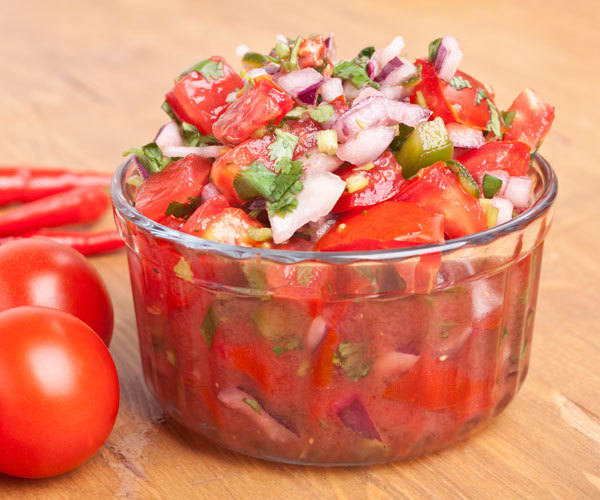 Guacamole
According to Wikipedia, 8,000,000 pounds of guacamole is consumed on Super Bowl Sunday. You might need to double this recipe! Get the recipe.
Spinach Dip
We created a lighter version of the classic spinach dip. Ours has only 32 calories per serving. Eat it with raw veggies like carrots, celery sticks, radishes, or sliced bell peppers. For a spicy kick, sprinkle with red pepper flakes before serving. Get the recipe.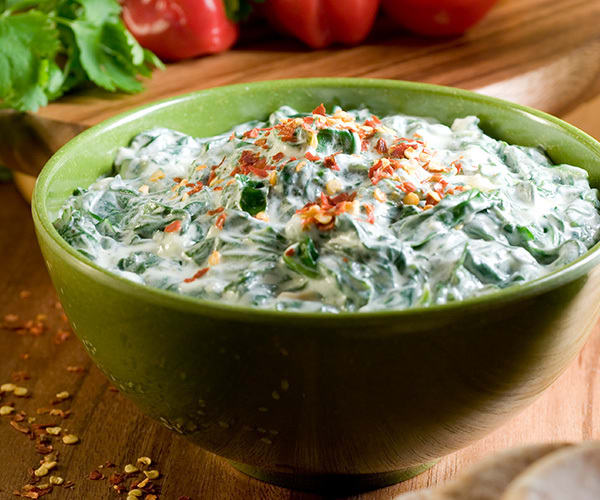 Homemade Hummus
Whip up a batch of this homemade hummus in less than five minutes! Get the recipe.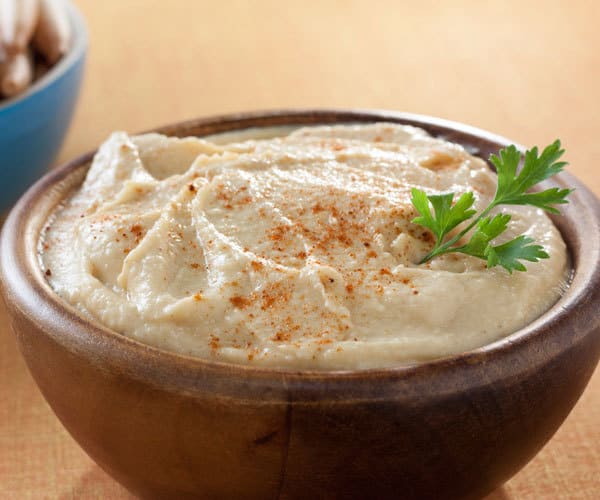 CHIPS, FRIES & NUTS
Baked Corn Tortilla Chips
These baked corn tortilla chips taste fresh and have a satisfying crunch you'll love, without the guilt. Serve with our seven-layer dip or dress them up with a squeeze of fresh lime and a touch of salt. Get the recipe.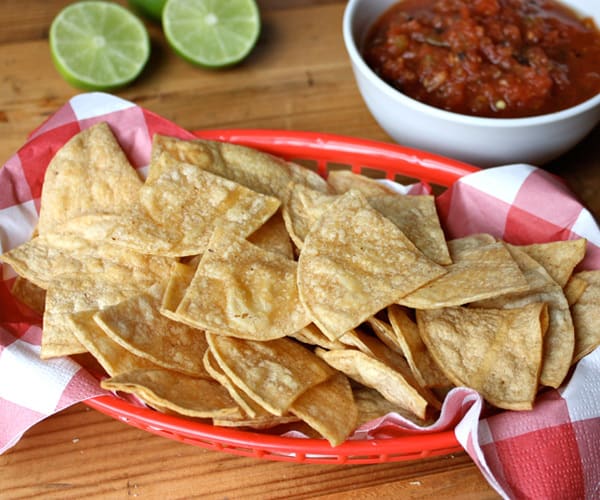 Kale Chips
Kale chips? At a football party? Trust us, these will disappear fast. Get the recipe.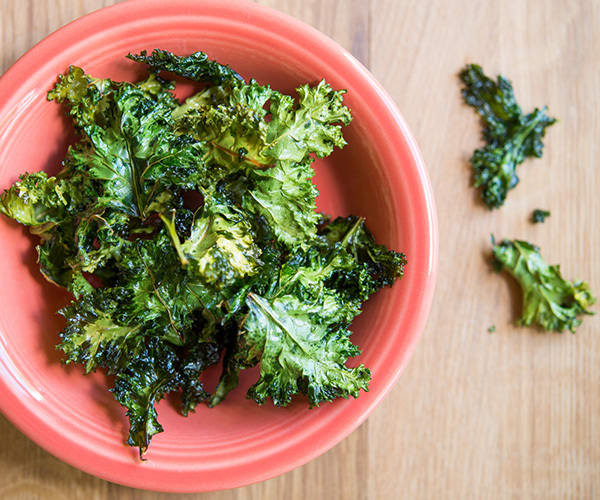 Tomato-Thyme Pita Crisps
With a light dusting of Parmesan cheese and baked-in herbs, these pita crisps are delicious on their own. Top them with a generous serving of chopped, fresh tomatoes and they become a great party appetizer. Get the recipe.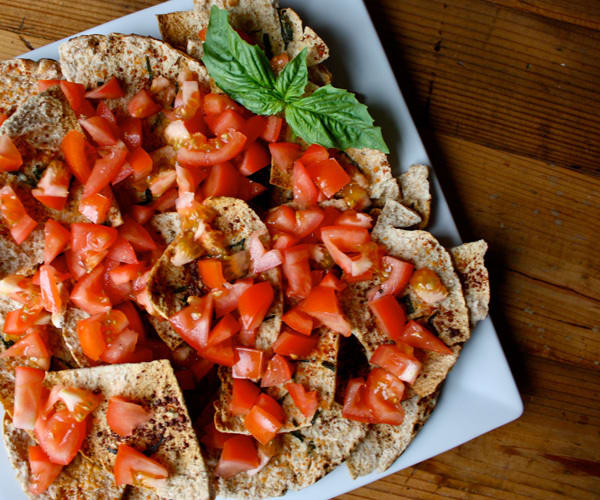 Spicy Sweet Potato Fries
Love sweet potato fries? Here's a healthier way to enjoy them. Serve with homemade chipotle ketchup. Get the recipe.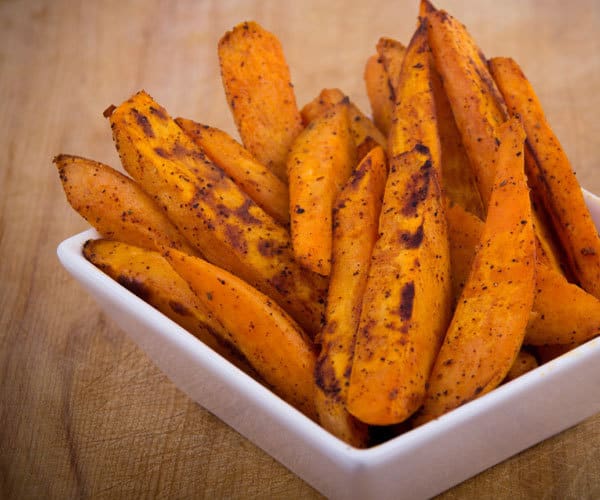 Zucchini Fries
This tasty snack has flavor and crunch. And, our zucchini fries have only 74 calories per serving! Get the recipe.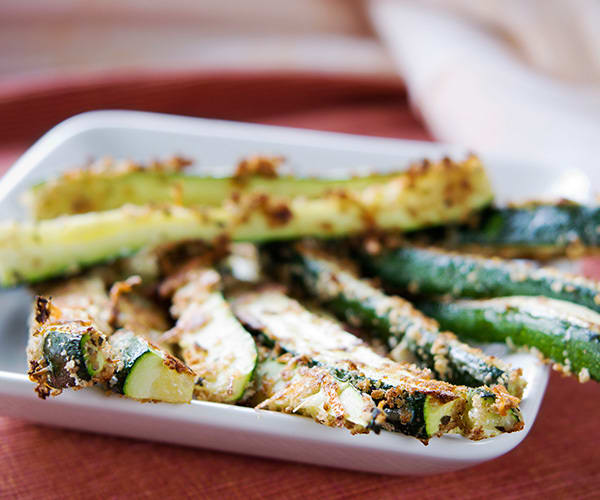 Spiced Nuts
These cumin, cinnamon, and cayenne-spiced nuts are sweetened with a touch of honey. Just mind the mindless munching as the calories add up fast. Get the recipe.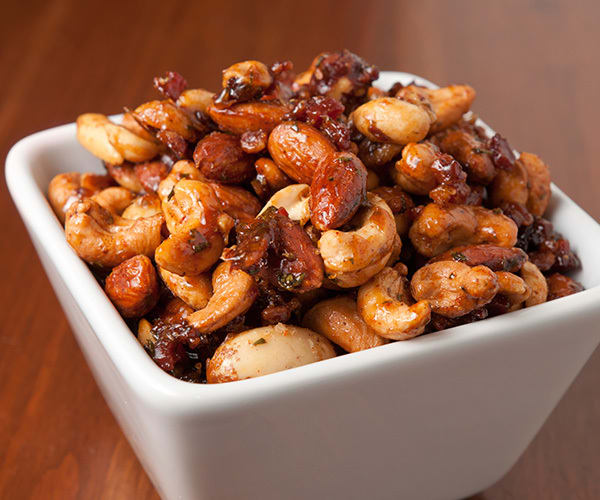 SWEET
Flourless Brownie Muffins
These dark chocolate muffins are delicious and surprisingly healthy. Get the recipe.