Healthier Seven-Layer Dip
Seven-layer dip was a regular feature of watching Saturday college football games with my dad when I was a kid. It's one of his favorite snacks, and my sweet mom would make it for us, served with restaurant-style tortilla chips. Dad doesn't like sour cream (or yogurt, or mayonnaise…weird, I know), so her version had a layer of diced onion, and black olives instead of peppers. It also had a LOT more cheese on top.
We asked our nutrition team to create this lighter version of seven-layer dip, that is heavy on fresh veggies, and uses nonfat refried beans and low-fat yogurt instead of sour cream. As a lifelong connoisseur of seven-layer dip, I can attest to its tastiness. The next time I make it I'll buy spicier beans and add chopped jalapeño, because that's how I roll.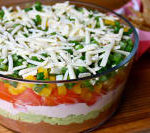 Healthier Seven-Layer Dip
Prep Time 10 minutes
Cook Time 15 minutes
Total Time 25 minutes
Ingredients
2 medium ripe avocados
2 Tbsp . fresh lime juice
1 dash sea salt (or Himalayan salt)
1 dash ground black pepper
8 oz low-fat plain Greek yogurt
2 tsp . all-natural taco seasoning , no salt added
1 (15-oz) can nonfat refried beans, warm
4 medium tomatoes , chopped
1 yellow pepper , chopped
1 bunch green onions , ends trimmed, sliced thin
2 Tbsp . shredded cheddar (or pepper jack) cheese (½ oz)
Instructions
Mash avocados in a medium bowl.

Add lime juice, salt, and pepper; mix well. Set aside.

Combine yogurt and taco seasoning in a medium bowl; mix well. Set aside.

Top serving platter with beans, avocado mixture, yogurt mixture, tomatoes, peppers, green onions, and cheese.

Serve with baked tortilla chips.
Nutritional Information (per serving; not including tortilla chips):
Calories: 136
Total Fat: 7 g
Saturated Fat: 1 g
Cholesterol: 2 mg
Sodium: 112 mg
Carbohydrates: 13 g
Fiber: 6 g
Sugar: 3 g
Protein: 6 g
P90X/P90X2 Portions
1 Vegetable
½ Fat
P90X3 Portions
1 Carb
1½ Fat
Body Beast Portions
1 Vegetable
½ Legume
1 Fat
Containers
½ Green
½ Yellow
1 Blue
If you have questions about the portions, please click here to post a question in our forums so our experts can help. Please include a link to the recipe you're asking about.
Photos by Kirsten Morningstar.